The number of big data projects enterprises are investing in or plan to invest in have increased to 76 percent in 2015 from 73 percent in 2014, according to a Gartner survey of 437 IT and business leaders. While the increase is small, what's perhaps more telling is that such initiatives are increasingly originating from financial, marketing and other business unit leaders, who are pressuring CIOs to collaborate with them to make sure the technology aligns with the company's strategy.
"People are becoming aware of the value of data, not just in IT but overall," Gartner analyst and report co-author Nick Heudecker, who conducted the research in June, told CIO.com. "They're creating data and using it as a competitive advantage."
[ Related: Clorox CIO discusses the real challenge of big data ]
Big data is the much-maligned, nebulous description for large amounts of information, including structured data stored in rows and columns, as well as unstructured data, such as text, video and social media. Reconciling the disparate data types to boost business insights and augment decision-making requires sophisticated processing. Big data is a crucial part of an enterprise's business technology plans to analyze anything from financial and supply chain data to parsing customer behaviors and spending patterns.
CIOs have company in initiating big data projects
Increasingly, CFOs, CMOs, COO, and chief data officers are introducing such analytics projects at their organizations, as they endeavor to meet CEO mandates to learn more about customers, Heudecker and co-author Lisa Kart wrote in their report. In 2015, CIOs triggered 32 percent of the big data projects, with business unit heads kicking off 31 percent of the projects. That's a shift from 2014, when research suggested that CIOs initiated 37 percent of big data projects, compared to 25 percent of projects that were started by business line leaders.
[ Related: CIOs Need to Snap Out of Complacency ]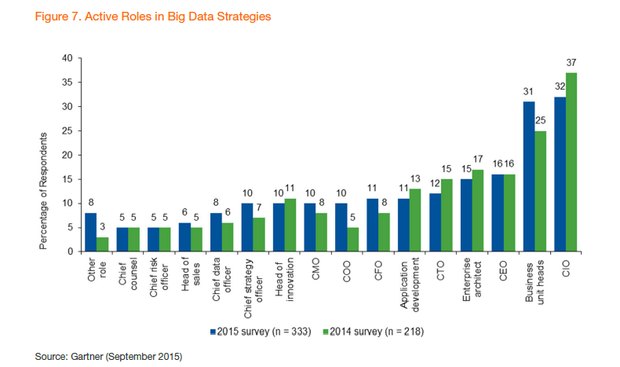 Initiating such projects doesn't necessarily mean the business leaders are purchasing and experimenting with analytics solutions of their own volition (though this certainly could be happening given the proliferation of self-service, cloud solutions on the market). Rather, they're asking IT department for a solution that can help them gain insight about customers or supply-chain data. CIOs must use their budgets and staff to fulfill these requirements.
Big data projects in motion
At Redwood Logistics, CIO Eric Rempel says he's getting more requests from the company's procurement team and other departments for ways to analyze data. For example, business leaders would like to be able to predict how a strike at a longshoreman's port might impact the company's pricing. He's building a big data repository, with the goal of giving nontechnical users the capability to query it for patterns and trends that an IT analyst not as familiar with the company's customers wouldn't necessarily be able to find. Rempel says he's currently evaluating several end user tools that will enable him to allow company employees and clients to query its data at their leisure. "We're going to let people slice and dice to find patterns on their own," he says.
[ Related: The CIO and CMO perspective on big data ]
That's already happening at organizations such as H.D. Smith, where the pharmaceutical wholesaler is using cloud software to analyze data about the products it sells to hospitals and small pharmacies. The company's partners and customers can query current inventory aging and expiration metrics, pricing, supply-chain performance and other details to optimize their operations.
"Providing a self-service way for our customers to gain valuable information about our operations matters to them," says CIO David Guzman, who is leading the big data project, a strategic priority for the company. Guzman says that while the cloud software has significantly helped the company from a financial and operational perspective, he declined to provide any metrics for the privately held H.D. Smith.
H.D. Smith may be unwilling to share the fruits of its analytics labors, but at least it knows what those fruits taste like. Of the organizations investing in big data, 58 percent expect investments to produce a positive return on their investment, but 24 percent of them are not currently measuring ROI and 11 percent don't plan to measure ROI at all.
"Measuring ROI is difficult at the best of times, and the exploratory nature of big data projects increases this difficulty," Heudecker and Kart wrote. "Some enterprises have likely tried to measure ROI, but were unsuccessful. This is consistent with the fact that the main big data challenge for the past three years has been determining value."