This week, Starbucks took another savvy move toward completely hooking me — and countless others caffeine fiends.
On Tuesday, the coffee giant rolled out the new Mobile Order & Pay feature nationwide in its iOS and Android apps. As the name implies, the feature lets you order a beverage or food item using your iPhone or Android device. Within a few minutes of ordering, you can swing by your nearby Starbucks and pick up your coffee or pastry. And the credit or debit card associated with your Starbucks loyalty card is automatically charged for the "fix."
[Related: Starbucks Powermat Support Could Sway Wireless-Charging Standards Battle]
My first mobile Starbucks order (nearly) went off without a hitch. After a late-morning workout on Tuesday, I launched the Starbucks iPhone app, tapped the "Order" option, and browsed the menu. The app showed me the available menu for its store on 24th and Noe Streets in San Francisco, my regular Starbucks spot.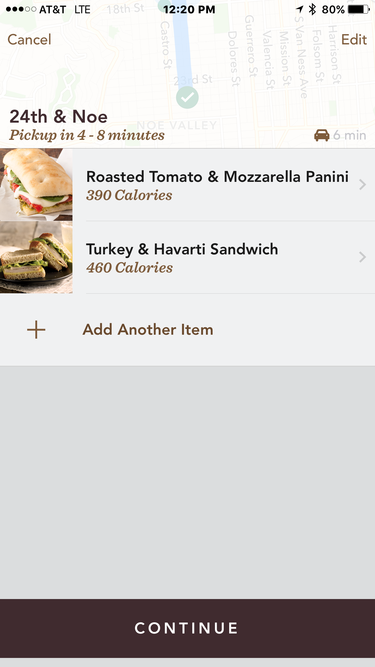 Though I was closer to a Starbucks on 18th and Castro Streets when I opened the app, it didn't show that shop as the default option. However, you can scroll through nearby Starbucks stores by flicking through locations on a map within the app. For each location, you see estimated drive times, as well as order pickup times, which typically range between 3 and 8 minutes.
It was lunchtime, so I scrolled down to the "Sandwiches, Salads & Wraps" category, under "Food," and chose a "Roasted Tomato & Mozzarella Panini." The app told me the sandwich would be ready within 4 to 8 minutes, and it proved to be accurate.
When I walked into the Starbucks, I went directly to the pick-up area. A friendly clerk asked if I was James, I said that I was, and she handed over my order and a receipt (with my name on it). That was it.
Starbucks latest to offer mobile-order option
Starbucks started rolling out the Mobile Order & Pay feature in Portland, Ore., in December 2014. The Seattle-based company is far from the first retailer to offer order-ahead options via a mobile app. Taco Bell, Chick-fil-A, McDonald's, and Dunkin Donuts provide similar options. And lots of local restaurants let you "order ahead," or receive delivery, using apps such as the appropriately named OrderAhead.
Even so, Starbucks has a long track record of being savvy about mobile — it started offering Wi-Fi to customers back in 2001 and was one of the first large retailers to experiment with wireless charging pads in stores — and this latest move is likely to significantly boost sales.
Business Insider says mobile order-ahead options can increase the average order value, among other benefits. For example, "Taco Bell's app orders are 20 percent higher on average compared to in-store because consumers are more likely to add toppings to their orders or send in group orders via the app," according to Business Insider.