9 Tips for CIOs as Summer Vacations Hit
Have trouble leaving the office behind when you go on vacation? Here are nine tips to help give CIOs peace of mind when they (and their staff and fellow employees) head out for summer R&R.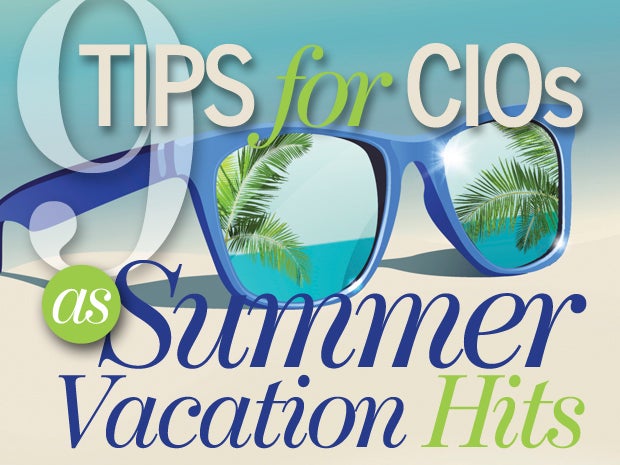 Many CIOs have trouble leaving the office behind, even when they go on vacation. And losing key personnel for a week or two can be just as bad. There are always fires to put out, and with nearly every business function now dependent on IT, even a small bottleneck can be costly. As you and your staff and fellow employees prepare to set that out-of-office message, here are nine tips that will help you gain peace of mind.
Pass the Baton of Ownership of Processes Early
If an employee who maintains a critical process plans to take some off, have them pass the baton to their temporary replacement before the vacation starts.
"Pass the baton early," says Jim Psota, CTO and co-founder of Panjiva, provider of an intelligence platform for global trade professionals. "If there's a critical process that needs to be handled by a temporary owner during the primary owner's vacation, have the temporary owner own the process well before the owner is gone so he/she is around to answer the inevitable questions that arise."
Manage Expectations and Plan Ahead
Some members have key expertise in certain areas that everyone else depends on. When they're out of the office, work can grind to a standstill unless you've accounted for the absence in your plans.
"Often in IT and engineering teams, there are many dependencies between people, especially those with special and rare expertise," Psota says. "When key folks are out, projects often slow down significantly. Plan ahead to mitigate the slowdown — and manage everyone's expectations appropriately."
Encourage Truly 'Unplugged Vacations' for Your Team
A well-rested team is a productive one and a worn-out one makes mistakes. That's true for you and all the way down the line. Make sure you and your team cut the cord during vacations. If you have to check your email, do it early in the morning or at night. Give a trusted lieutenant a phone number to reach you if there really is an emergency that requires your attention.
"While it may be tempting for your dedicated team members to check in while they are away, encourage them to stay offline so they are recharged when they come back," Psota says. "A relaxed and refreshed team will be more productive (and happy) overall."
Take the Strain Off IT With Self-Serve App Stores
Sometimes it seems like spikes in demand for IT services always come when you or portions of your staff are out of the office or otherwise unavailable. A self-serve app store can help free up your staff for other tasks.
"Give your employees the power — opportunities like self-serve app stores can put the power in the hands of your workforce and minimize the strain on the IT team," says Mark Blackburn, CIO of 1E, a specialist in IT cost reduction. "Make sure you're not a bottleneck when you're out of the office for any app requests that come in."
Keep Your Software License Records Up to Date
Don't let your day at the beach be ruined by the unexpected arrival of an auditor. Keep your records up to date and you can relax knowing that it's handled.
"Keep your house in order and make sure you have a clear understanding of the software that's running from an individual- to an enterprise-wise level," Blackburn says. "This will help you and your second-in-command be ready for any unexpected audits that pop up while on vacation."
Deploy Automated Power Management Tools
Let's face it, employees frequently don't turn off their PCs when they leave for the night, let alone an extended vacation. You need tools that give your department total control of the entire PC estate, giving you the capability to view detailed power reports and eliminate waste from all PCs, including those left on when employees go on vacation.
"Automated control of PC power management will help your department keep tabs on the entire PC estate and remotely wake up PCs to streamline updates, improving the lifespan, health and security of the IT estate — all while you relax on the beach," Blackburn says.
Ensure Your Organization Has Access to Important Files
Don't let work grind to a halt just because an employee on vacation is the only one with access to an essential file or document.
"With employees high-tailing it to the beach this summer, don't be left without access to their important files," says Rob May, CEO of cloud backup service provider Backupify. "As more and more enterprises take their data to cloud services like Box, Google Apps and Salesforce, it's increasingly critical for CIOs to have a backup plan in place. Doing so allows them to ensure they are able to retrieve key documents for employees when other workers are not in the office to log in."
Automate Information Governance With a Platform
Your organization's regulatory compliance and risk management needs can't go on break even when you do. A platform can help you automate many of the processes involved.
"Don't let information governance take a vacation," says Bassam Zarkout, CTO of information governance specialist RSD. "IG is an ongoing process, especially as companies constantly acquire data, and a platform is needed to constantly stay on top of policy maintenance and company information."
Get Your Corporate Information Governance Policies in Order
A platform can help you keep on top of policy maintenance, but you need the information governance policies in the first place.
"Make sure you create policies for your data that include retention, disposition, lifecycle, ownership, data loss prevention, security, privacy, classification and metadata," Zarkout says.
Copyright © 2014 IDG Communications, Inc.
Next Up: Check out these related slideshows