10 Biggest CIO-CMO Relationship Hurdles
To reach digital customers, CIOs and CMOs have to get a lot of things right. They need to work together with speed and precision. Unfortunately, at many companies the partnership between these two executives is still a work in progress.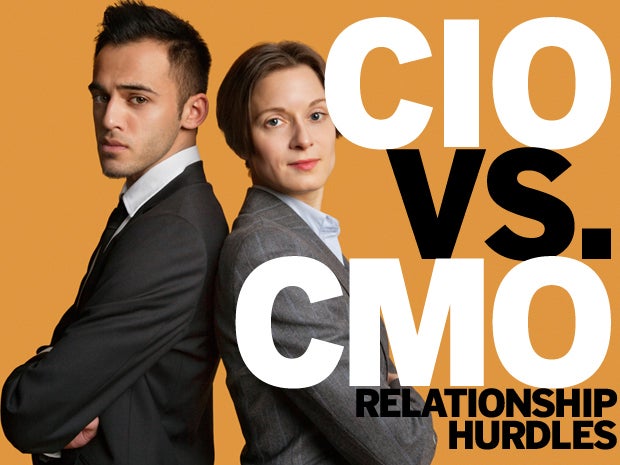 Can the CIO and CMO play nice? They need to work together to reach the right digital customers that big data has identified, at the right place such as social, mobile or a physical location, and at the right moment the customer is ready to purchase something, usually about a five-second window. That's a lot to get right. It'll require teamwork, speed and precision between the two executives. Unfortunately, this relationship has got problems.
CIO Says, 'The CMO Lacks Vision'
Hurtful words damage a relationship like a knife in the back, and in the executive-leadership world, nothing stings worse than being told you lack vision. Among CIOs and CMOs, the war of words has begun. One out of four CIOs says the CMO lacks the vision to anticipate new digital channels, while two out of five CMOs say the CIO lacks the urgency needed to respond to shifting market conditions, according to an Accenture survey.
Money Matters: The Tech Budget
Lots of marriages get derailed over finances, and the CIO-CMO relationship is no different. Gartner fanned the flames predicting that CMOs will spend more on IT than CIOs by 2017. Truth is, a greater portion of the CMO's budget is being allocated for technology, while the CIO's budget remains largely flat, according to The CIO-CMO Omnichannel,  a study conducted by CIO.com, EPAM Systems and The CMO Club. The technology budget has become a major point of contention.
Mars vs. Venus?
The conflict between the CIO and CMO is more than merely battling over the technology budget, rather it's a war of the ages. "Dig deeper, and you start to see stark differences between CMOs and CIOs," says Rich Karlgaard, author of The Soft Edge: Where Great Companies Find Lasting Success. "CMOs tend to be female while CIOs tend to be male, so you have a war of the sexes going on. Then you realize CMOs are liberal arts types while CIOs are technologists."
Personality Disorder
Gender stereotypes can get a little creepy, yet there's clearly a clash of personalities among CIOs and CMOs. Hence, we turn to the definitive source for answers, Myers-Briggs. The CIO and CMO share a lot of personality traits, which makes sense given that both hold leadership positions. However, Myers-Briggs points out one critical difference: variations in the perception of speed and willingness to fail. For more, check out Inside the Minds (and Personalities) of CIOs and CMOs.
Communication Conundrum
Stop us if you've heard this from your significant other: "Are you listening to me? Did you understand a word I've said?" Similarly, The CIO-CMO Omnichannel, a study conducted by CIO.com, EPAM Systems and The CMO Club, found that the CIO and CMO are often speaking different languages, or at least interpreting words differently. Consider the word "agile."
What the CIO hears: "A software development methodology that is highly flexible but also requires deliberately ambiguous definitions of timelines and deliverables."
What the CMO hears: "A desired state of operations, in which the company can change direction and move rapidly as market conditions change."
Rogue Project Failures
Technology projects that crash and burn can quickly upend the CIO-CMO relationship. Failures usually lead to more failures followed by nasty finger-pointing, whereby a CIO blames a business leader for a rogue project gone bad. Many CIOs complain that projects outside of their control constantly run into problems that undermine the bottom line, according to The CIO-CMO Omnichannel, a study conducted by CIO.com, EPAM Systems and The CMO Club. To be fair, CMOs recognize that they need a trusted technology consultant to help them with their projects. For more, check out CIOs Must Become Technology Consultants.
Battle Over Ownership
At the heart of a power struggle lies ownership. In the CIO-CMO conflict, both seek to own enterprise mobile apps and the underlying technology platform. In The CIO-CMO Omnichannel, a study conducted by CIO.com, EPAM Systems and The CMO Club, there appears to be some confusion over ownership. Among CIOs, 86 percent feel they own mobile apps; among CMOs, 76 percent believe they do.
"It would be easy to see such a strong overlap in reported ownership as a conflict," says The CIO-CMO Omnichannel study. "Instead, it can be viewed as an appreciation for the mounting importance of mobile within an organization."
The Apple Way: CMO in Charge
For CMOs, there's nothing like having the most successful tech company since the turn of the millennium on your side. When the debate about who's in charge turns volatile, the CMO can make a powerful argument: Apple values marketers over chief information orifices (as Steve Jobs once called them). For Apple, there is no question who should be doing whose bidding. For more, check out Apple's History Offers Insight Into CMO-CIO Relationship.
Will CIOs Hand Over the Innovator's Crown?
Innovators rule the tech world, but who is doing the innovating in the CIO-CMO relationship? The nod goes to the CMO, who must move quickly to come up with actionable, innovative technology solutions to meet customer demand and hit revenue goals, according to The CIO-CMO Omnichannel, a study conducted by CIO.com, EPAM Systems and The CMO Club. 
"We are adopting a less typical, and more tech-focused structure," says the CMO of a major international airline. "It is going to make us more agile, and it's certainly going to make us develop better things for the customer." (That's "agile," meaning the ability to change directions and move rapidly as market conditions change; see slide 6.)
Let's Go Fast! Let's Slow Down!
In many personal relationships, one person often wants to speed things up while the other wants to slow things down. Such is the case with the CMO-CIO relationship. In an Accenture survey, 43 percent of CMOs complain that the technology development process is too slow, while an equal percent of CIOs say marketing requirements and priorities change too often for them to keep up. The hard part is finding the right cruising speed that satisfies everyone.
Copyright © 2014 IDG Communications, Inc.
Next Up: Check out these related slideshows