IT Provides Business Edge in Battle of Archrivals
In retail, manufacturing and logistics there are no bigger rivals than Home Depot vs. Lowe's, GM vs. Ford, FedEx vs. UPS, respectively. We look at how these fierce competitors are exploiting IT to gain an advantage.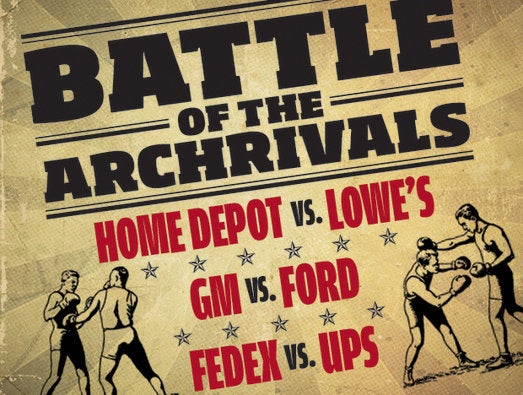 IT Provides the Firepower
In this era of digital disruption, it's no secret that technology can create winners and losers. These days, companies in a wide variety of industries boast about their tech prowess in TV commercials and Wall Street briefings. Here we look at the fiercest of rivals in three industries -- retail, manufacturing and logistics – and examine how each company is exploiting IT to gain an edge. Home Depot CIO Matt Carey, for example, sees competitive advantage in software for scheduling store employees and algorithms to govern product stocking. But each company has weaknesses, too, and must watch out for IT advances at obvious competitors and out-of-the-blue disruptors.
Home Depot vs. Lowe's: The Business Challenges
Home Depot: The biggest and most profitable hardware chain in the world, Home Depot was hit hard in the Great Recession and only recently began to recover. A push for in-store employees to spend 60 percent of their time interacting with customers is intended in part to combat perceptions that rival Lowe's is more customer-friendly.
Lowe's: Lowe's profits went up and down during the recession but sales stayed steady. Far fewer Lowe's stores dot the landscape compared to Home Depot, so Lowe's wants to boost customer loyalty by tailoring products to local tastes and by deploying mobile apps that let employees track customer projects and suggest products.
Home Depot vs. Lowe's: IT Bragging Rights
Home Depot:
Omnichannel efforts include the BORIS (buy online, return in store) and BOSS (buy online, ship to store) programs, which complement the BOPIS (buy online, pick up in store) system launched in 2011.
A project to create a mobile mapping app aims to help consumers more easily find items in Home Depot's cavernous stores.
Lowe's:
Store employees carry iPhones with a bar-code scanner and credit-card swiper to help consumers find products, check prices, identify rebate offers and order out-of-stock items.
An overhauled fulfillment system can deliver in-stock e-commerce orders within 24 hours at regular shipping rates for 90 percent of Lowe's U.S. markets.
Home Depot vs. Lowe's: The Outlook
Home Depot has whittled the time between an online order and pick-up down to two hours, coordinating with customers through email. But the future may be in Lowe's twist on the idea: drive-thru service. Customers of Lowe's headquarters store in North Carolina can place orders online and pull up at window to receive their products.
In customer service overall, Lowe's outranks Home Depot, says Bruce Temkin, managing partner of Temkin Group, a customer experience research and advisory company. Lowe's in-store personal touch propelled it to a rank of 15th last year on Temkin Group's annual survey, compared to Home Depot's 24th. "Consumers don't care about a big honkin' database. They care about their experience," he says.
Ford vs. GM: The Business Challenges
Ford: Automakers face sobering trends: consumers are holding onto vehicles longer and driving fewer miles per year. Ford has momentum, catching up to General Motors in sales and profits. One reason: letting drivers plug their own devices into their cars so that they're always connected to their "personal cloud."
GM: With a reputation as a bureaucratic behemoth, GM must attract a new generation of car buyers keen on conservation and connectivity. The company held a hackathon with AT&T last year to encourage software developers to build apps for its vehicles. GM eschews IT outsourcing under Senior Vice President & Global CIO Randy Mott, who is building up the internal IT staff and skills.
Ford vs. GM: IT Bragging Rights
Ford:
The current version of the SYNC communications and entertainment system is based on a version of Windows built specially for cars. But Ford reportedly plans to drop Windows for BlackBerry's QNX operating system, starting with 2016 cars. The AppLink feature lets drivers connect their smartphones to the system to run apps and share data.
Driver-assist and crash-avoidance technology built into vehicles is analytics on wheels, processing data and adjusting the system in real time.
General Motors:
OnStar, a proprietary in-car communications system, provides navigation services and monitors for safety problems for 6.5 million members.
A deal with AT&T will expand OnStar to support 4G LTE cell service next year, which will enable infotainment features such as weather data and Internet radio.
Ford vs. GM: The Outlook
Ford and GM are vying for position in the nascent world of the connected car. GM's original OnStar system was wholly proprietary, but it now includes the same QNX system Ford reportedly plans to use. GM's OnStar, launched in 1996, is successful but was positioned as safety technology. GM must shift the message to convey that OnStar also includes infotainment with an app-like interface, says Gartner analyst Thilo Koslowski.
Ford opened a Silicon Valley lab to work with Facebook, Google and Microsoft, while GM created a new Connected Consumer business unit led by a former Dell executive. While the car companies need tech partners, they have to be careful not to give up too much control over the connectivity, Koslowski says.
FedEx vs. UPS: The Business Challenges
FedEx: FedEx and UPS are looking at Amazon.com crouching nearby as a potential rival. The online retailer is working with USPS to deliver packages on Sundays. FedEx has partnered with the post office, too, for delivering light packages in a deal that generated $926 million in revenue for FedEx last year.
UPS: Both delivery companies were deluged by last-minute online shopping late last year, but UPS saw more delays than FedEx. UPS estimates that late and missed deliveries cost it $125 million to $150 million in refunds, plus $50 million in lost revenue. UPS has assigned its COO to figure out how to prevent such trouble; first up is better data sharing with business customers to identify potential problems sooner and adjust personnel and systems.
FedEx vs. UPS: IT Bragging Rights
FedEx:
The Delivery Manager system launched last year is FedEx's answer to UPS MyChoice. Delivery Manager lets customers change package routing, including designating a new delivery place and time, requesting a hold at a FedEx office and signing in advance.
SmartPost is a business where FedEx hands light packages off to the U.S. Postal Service for customer delivery.
UPS:
UPS My Choice, launched in 2011, lets users customize deliveries by, for example, rerouting packages, changing delivery instructions or confirming a 2-hour delivery window.
Orion is an analytics system that uses sensors, databases and sources like maps and package details to figure out the most efficient routes for UPS drivers.
FedEx vs. UPS: The Outlook
Both companies keep finding new ways to open up their data and systems to consumers and businesses, creating new opportunities to sell services. But FedEx and UPS should both watch out for Amazon, says R "Ray" Wang, principal analyst at Constellation Research. Messed-up deliveries this past holiday season showed the rivals they must better collaborate with their biggest customers. And both apply technology to do that, Wang says. But they'll always be one step removed compared to Amazon, which is, of course, the king of online retailers. Wang says: "If you shape the demand, which Amazon does, you know exactly what the reality is."
Copyright © 2014 IDG Communications, Inc.
Next Up: Check out these related slideshows