2014 State of the CIO
One quarter of the 722 CIOs surveyed report that the IT group is perceived by colleagues as a true business peer--or even a game-changer--that can create and launch new products and open new markets.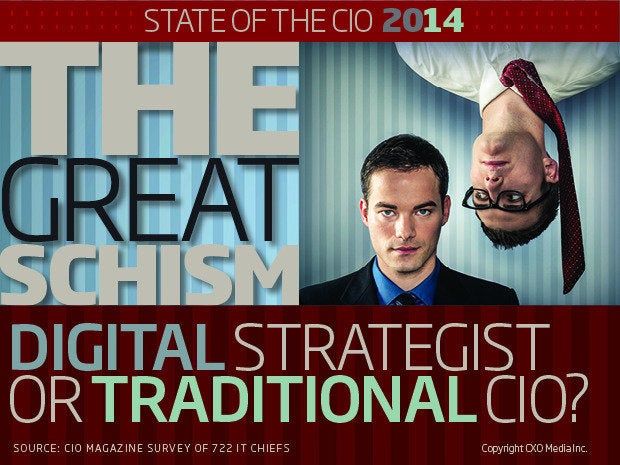 State of the CIO 2014
Our 13th annual State of the CIO research reveals a big split. One quarter (25 percent) of the 722 CIOs we surveyed report that the IT group is perceived by colleagues as a true business peer—or even a game-changer—that can create and launch new products and open new markets. These first-class CIOs are driving business innovation, cultivating partnerships and developing business strategy. But toiling far from that exalted place, we find the 48 percent of CIOs who acknowledge that their IT groups are viewed as a more traditional cost center or IT service provider.
Two Different Jobs?
CIOs viewed as business peers or game-changers (a combined 25 percent of our survey respondents) are focused on a much different set of activities than CIOs who run IT groups that are viewed as back-office operations (48 percent). The first group works on business innovation and strategy; has an excellent relationship with the CEO; and focuses on external activities such as meeting with customers. Life isn't so grand for the back-office CIOs, who are focused on internal operations, trying to control IT costs and managing IT crises.
Some Feel Sidelined
The vast majority of CIOs agree that their role is more challenging, and more important than ever to the business. But then there's that significant minority of CIOs who feel sidelined (28 percent). Digging into our survey results, those "sidelined" CIOs are more likely to head up a "cost center" IT group – probably under intense pressure to cut IT costs – at the same time they're watching shadow IT increase. The sidelined CIOs also say that they're asked to be more innovative, but aren't sure how to do that. These are troubling signs at a time when businesses need innovation to avoid being wiped out by digital disruption.
Looking Good
Two of the most widely watched metrics for CIOs are tenure and reporting structure. Our 13th annual State of the CIO research shows that (on average) CIOs have been in their current positions nearly six years. And 44 percent of CIOs report to the CEO, up from 38 and 39 percent in 2012 and 2013, respectively, while fewer CIOs report to the CFO (18 percent, compared to 23 and 21 percent in 2012 and 2013).
The CEO's Top Priorities
CEOs naturally want CIOs to help the company meet its financial goals and to finish that #%@! enterprise software project in the coming year. And while customer focus is a high priority, nearly half of the CIOs in our survey (47 percent) have difficulty getting their IT staff to be more business-oriented and customer-facing. This figure climbs to 50 percent for respondents outside North America, significantly higher than the 42 percent for North American respondents. CIOs who can't drag technical staff into this new world sometimes just have to replace them.
Top Priorities, Global Differences
Our global survey of CIOs shows some differences in the priorities of CIOs in North America versus other locations. More than three quarters of North American IT executives will be seeking ways to improve the use of data and analytics (76 percent), significantly higher than their peers outside of North America (69 percent). CIOs in regions outside of North America appear to be more focused on performance and cost: 46 percent report that improving the IT budget performance will be a high priority, compared to 35 percent of North American CIOs; and 37 percent rate cutting overall IT costs as a high priority, compared to 23 percent of North American CIOs.
Innovation: Not So Easy
While innovation ranks within the top 5 most frequently cited priorities for CIOs, our State of the CIO survey results suggest innovation may prove challenging for some; fewer than half (48 percent) of the CIOs we surveyed have a well-defined process for innovation, and nearly 4 out of 10 (37 percent) say they are asked to be innovative but are not clear how to accomplish that. Furthermore, 68 percent find it tough to find the right balance between business innovation and operational excellence.
Compensation Matters
Sixty-one percent of CIOs in our survey have part of their compensation tied to a specific corporate revenue or profit goal. These CIOs also report having far different priorities and expectations than the 38 percent of CIOs whose pay is not tied to financial performance. Those priorities and expectations fall into the category of strategic, outward-facing items, such as improving products and services, addressing increasing competition and enabling growth in emerging markets. The 61 percent are also more likely to command higher salaries and spend time cultivating the IT-business partnership.
C-Level Socializing
One of the stark divides among game-changer CIOs and cost-center CIOs is in the area of building IT's relationship with business peers. Game-changers are more likely to build those C-level business relationships by attending industry events together and socializing outside of work, whereas cost-center CIOs are more likely to give their business peers some advice (which may not be welcome). The State of the CIO survey also found that North American CIOs are significantly more likely than their peers outside of North America to spend their time working on the IT-business partnership (48 percent, vs. 38 percent), as are CIOs in large companies.
Copyright © 2014 IDG Communications, Inc.
Next Up: Check out these related slideshows