Microsoft has been stomping furiously through the mobile app world these days like Godzilla on guarana supplements. The company most recently updated its OneNote note-taking app for iPad. The latest version includes a set of new features designed to help OneNote catch up with — maybe even surpass — its popular rival, Evernote.
OneNote now includes intuitive drawing tools, which are easily accessible from its Draw menu. You can quickly choose a marker, color or thickness, and then start circling and annotating images, Web pages and more. The Palm Rejection menu makes sure your palm doesn't mess up your handwriting or digital pen input, and you can choose from among three different orientations for each hand.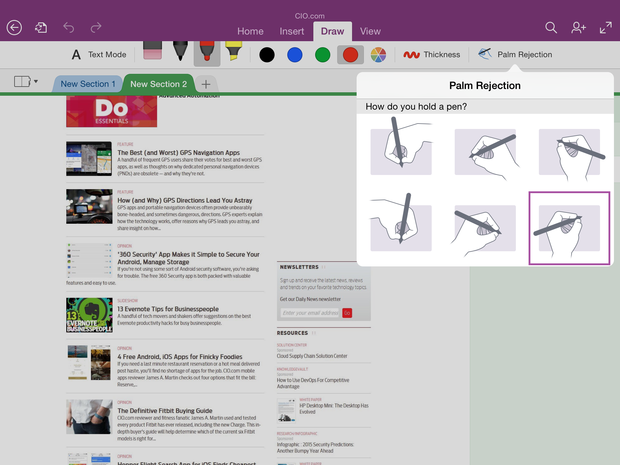 On my iPad, OneNote's drawing tools are easier to access than Evernote's utilities. To call up annotation tools in iOS Evernote, for instance, you tap an image to select it, tap the annotation icon, and then choose the tool you want (such as a pointer, text box, and so on). If you don't tap an image in a note, you won't even know that it's possible to annotate.
OneNote for iPad also now has optical character recognition (OCR) for pictures with text, including screenshots of Web pages you capture using the iPad. This feature is also available in the recently updated iPhone version, but that version doesn't offer the same drawing tools. In my tests, OneNote's OCR works just as well as Evernote's, though the keyword-search function in OneNote sometimes delivers broader results.
In short: OneNote has improved since I reviewed it nearly two years ago. The app's straightforward interface is easier to learn and navigate than Evernote. Microsoft recently made it free to use OneNote across all platforms and devices, including Windows PCs, tablets and phones; Macs; iOS; and Android. (Evernote is also mostly free, though some advanced features are behind a paywall.) OneNote syncs across devices nicely, and the service has been available, in some form or another, since 2003, so it's unlikely that it will disappear, as Springpad did last year.
Evernote's probably not going anywhere either, given the large and growing ecosystem of apps built to integrate with it, not to mention its devoted user base. (See my recent article, "13 Evernote Tips for Businesspeople.") For now, I'm still sticking with Evernote, because I already store a huge amount of information there. If you're just beginning to consider a note-taking app, though, OneNote and Evernote are equally (bad pun alert) noteworthy.