Editor's note: Traction Watch is a new column focused obsessively on growth, and is a companion to the DEMO Traction conference series, which brings together high-growth startups with high-potential customers. Companies can apply here to showcase, or those similarly obsessed can register here to attend.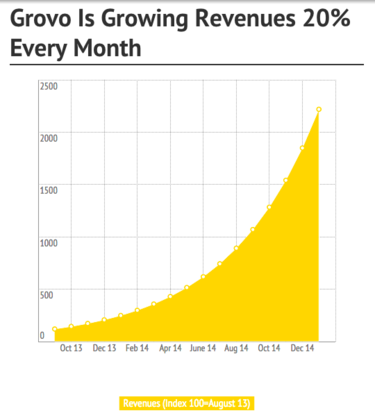 With a name like Grovo, you'd expect some serious growth numbers.The micro-training platform uses 60-second videos to help large corporations teach employees new skills. For the past 17 months, the company has grown 20% in revenues month-on-month. That comes to nearly 800% annualized growth!
At the beginning of 2010, the New York-based startup had just 25 employees. They now have 120. And, they recently announced $15M in Series B funding.
What's the secret? As anyone who has built a successful startup can attest, growth happens as a result of smart decision-making. In Grovo's case, two early decisions proved to be crucial: 1) to go after larger enterprise customers first, and 2) to build a team around recruitment from the get-go.
Sure, many other factors help a company grow quickly. It's a no-brainer that you need a well-honed product with differentiating features and some good financial backing, and luck certainly plays a part. Yet, it's often the decisions a company makes on a day-to-day basis that cause phenomenal, out-of-this-world growth.
For Grovo, one of those key decisions involved focusing on Fortune 500 companies. Any small company can start "small" with similarly-sized businesses, but Grovo wanted to go big. Major corporations such as Chevron, Pitney Bowes, ReachLocal, and Sotheby's International Realty now use the micro-training platform. They expanded quickly and have customers all over the world. In fact, a key part of their growth is that they have customers in 190 countries.
Jeff Fernandez, the CEO and cofounder, says another smart decision had to do with new hires.
They have four recruiters on staff, which is extremely unusual for a small company. (Most startups barely have one recruiter; in most cases, the recruiter also happens to be the CEO.) He takes the time to personally interview every new candidate, no matter how busy he gets.
"You have to lay the foundation well before you think you'll need it," says Fernandez. "We built a talent team very early — when we were at about 40 people. The recruiters helped us quickly scale the organization with exceptional people who match our standard of performance."
Fernandez says Grovo invested heavily in ramping up their engineering, content-creation, and product teams to build a core foundation. That meant they were ready for the growth, rather than being surprised by it and not ready to scale employee headcount as quickly. This basic building block means a successful product can be supported by a large enough staff.
Of course, having a product that produces results also helps. Fernandez says one example is that Sotheby's International Realty found that the micro-training videos reduced the time employees spent on operational tasks by 20%. Ray Jimenez, who wrote the book 3-Minute Learning back in 2006, revealed how micro-learning can reduce overall training costs by 50%, and increase understanding of new tasks by up to 300%. Grovo has found a micro-niche for this kind of micro-learning, and it is paying off in spades so far.
This year, the company plans to add more sales managers and focus on new customer acquisition. It will be interesting to see how their decision making leads to even more growth. Someday, they could become one of those Fortune 500s they've been targeting.