Samsung's upcoming mobile payment service, Samsung Pay, is one of the most interesting new features in the company's latest smartphones, the Galaxy S 6 and Galaxy S 6 edge. However, though Samsung announced the service at an elaborate event prior to the Mobile World Congress in Barcelona this week, the company did not provide all of the details on how it will work — or when it will be available.
[Related: Hands On With the New Samsung Galaxy S 6, GS6 edge]
We did some digging and came up with the following four things that anyone interested in Samsung Pay, whether they're potential users, curious parties or loyal Apple Pay patrons, needs to know.
Samsung Pay Supports NFC and MST, BUT …
The main competitive differentiator, and competitive advantage, for Samsung Pay compared to the popular Apple Pay is its support of magnetic secure transmission (MST) technology.
Samsung acquired the tech when it purchased mobile payments provider, LoopPay, last month. MST can, in theory, be used at 90 percent of U.S. retailers that already use magnetic strip tech at their point-of-sale (PoS) terminals, according to Samsung. Those retailers also won't need to upgrade their terminals, as they do if they choose to support NFC — a major sticking point for the payments technology. LoopPay also says many more payment card issuers support its service than Apple Pay.
Here's how MST works, according to the LoopPay website:
"MST technology generates changing magnetic fields over a very short period of time. This is accomplished by putting alternating current through an inductive loop, which can then be received by the magnetic read head of the credit card reader. The signal received from the device emulates the same magnetic field change as a mag stripe card when swiped across the same read head. LoopPay works within a 3-inch distance from the read head. The field dissipates rapidly beyond that point, and only exists during a transmission initiated by the user."
The catch with LoopPay is that you need to buy a separate hardware component that either attaches to your device in the form of a smartphone case (priced between $75 and $90, including the required "LoopPay Card") or clips onto a key ring as a fob ($30). When asked, Samsung was not clear on whether the Galaxy S 6 smartphones support MST without an accessory. The company also conspicuously left those details out of its Samsung Pay press release.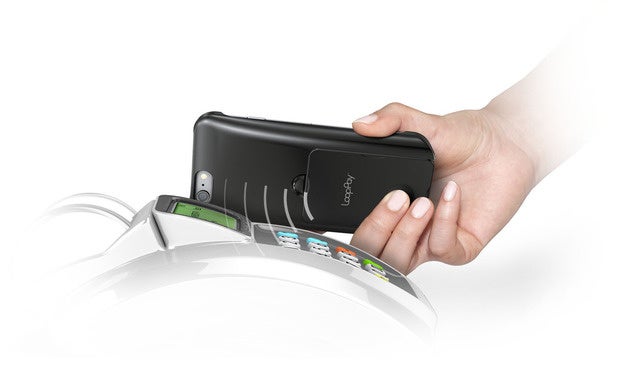 That could mean one of two things: 1) Samsung is scrambling to make built-in MST work, but it's unsure whether or not it's going to happen and doesn't want to commit to anything; or 2), GS6 users will need to use a special case or key fob, and Samsung is still strategizing on how to convince potential GS6 buyers, and the press, that it's not a big deal.
This is a big deal, however, and the need for an add-on accessory will greatly diminish the user experience and overall value of Samsung Pay.
It's also notable that Samsung acquired LoopPay less than a month ago, and building that technology into devices it had already been working on for many months on such short notice would be a tall order.
We'll continue to follow up with Samsung on this point, and will update this post as soon as possible.
Samsung Pay Will NOT be Available for April GS6 Launches
Samsung's Senior Director of Product Management, Shoneel Kolhatkar, said at a GS6 press event last week in New York City that Samsung Pay will not be available for the initial U.S. launch.
[Related: Samsung Galaxy S 6, GS6 edge in Pictures]
"This will not be ready for launch, from a go-to market strategy, but the technology and hooks will be in place, so that it's future proof," Kolhatkar said.
In other words, we don't know when Samsung Pay will be available, so it could be a while before we know all of these nitty-gritty details.
MST Is MORE Secure Than Traditional Magnetic Strip Tech
Though the MST tech in Samsung Pay communicates with the same magnetic strip PoS readers many retailers have been using for years, the Samsung Pay app introduces a new step in the process, called "tokenization," which improves and enhances the overall security of your payment information.
In simple terms, the Samsung Pay app embeds your payment information in a secure token that's sent to the PoS readers instead of your actual payment card data, so retailers (and fraudsters who hack them) never have direct access to that information. Your payment information is never stored on your device, either, according to Samsung.
Different threats apply to mobile payments users than traditional credit or debit card owners, but as far as sharing payment data with retailers goes, Samsung Pay should be more secure, whether you use MST or NFC.
You Can Use Your Fingerprint for Samsung Pay Authentication, BUT …
Samsung Pay works with the fingerprint reader on the Galaxy S 6 and GS6 edge phones, and according to Samsung, that scanner is improved and enhanced, compared to the fingerprint readers on its previous Galaxy smartphones.
[Related: Galaxy S 6 Designer Says GS6 Phones Are 'New Face of Samsung']
The new fingerprint reader requires only a touch of the finger for authentication, instead of the long, straight swipe past Samsung scanners called for. That should be a good thing, because it's painful to use those older scanners — at least compared to Apple's Touch ID. However, we'll have to wait and see just how well the new fingerprint reader works.
AS