While many CIOs and CMOs don't see eye to eye, in the pharmaceutical industry they're not even in the same room. That's what happens in certain industries where strict regulations lead to conservative marketing habits, where CIOs traditionally serve the needs of salespeople, not marketers.
Now comes the digital consumer revolution that has catapulted the CMO and new-fangled marketing tech into the driver's seat. CEOs of even pharmaceutical companies are closely watching the action and hoping the CMO and CIO can work together.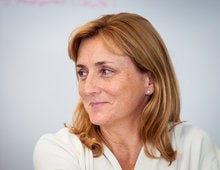 "A lot of CEOs get the fact that there's a great opportunity in having a consistent brand from a digital perspective… and that the support of the CIO is necessary," says Anne O'Riordan, senior managing director of Accenture's life sciences industry group.
The digital consumer revolution cries out for every CMO and CIO to align, but in the pharmaceuticals industry, in particular, this misalignment looms as one of the largest to overcome, according to an Accenture global survey of 22 CIOs and 24 CMOs. The key finding: While pharma CIOs have the highest desire across industries to align with marketing, pharma CMOs rank among the lowest in their desire to collaborate with IT.
[Related: Digital Marketers Must Own the Customer Lifecycle]
A big part of the problem is a legacy of not working together.
"There's a historical aspect to it," O'Riordan says. "The salesforce has traditionally been the area of most investment. The CIOs and the IT community focused a lot of their energy and capabilities to help the salesforce be more effective."
CIOs and CMOs on Different Journeys
The relationship is between the CIO and sales, not the CIO and CMO. Today, this is still the case. The Accenture survey found that CIOs are helping salespeople capitalize on the mobile and digital consumer revolution. CIOs are tackling everything from security requirements to global capabilities related to the revenue pipeline.
Meanwhile, CMOs are separately doing their share to support salespeople with paper-based marketing collateral, not through an assortment of digital and mobile channels. There isn't a lot of room for marketers to do creative branding, either. Pharma marketing messages have to stay strictly on point and conform to regulations meant to thwart overstated promises.
This leads to a conservative marketing department that has little understanding about technology and the digital consumer revolution. So it should come as no surprise that one in four pharma CMOs thinks marketing lacks the vision for anticipating new channels. Less than a third of CMOs feel very well-prepared to exploit opportunities presented by digital marketing channels, says the Accenture survey.
"The CIO has gone on a journey of IT that the CMO has not necessarily gone on," O'Riordan says.
Not only is a pharmaceutical company's internal marketing department lower on the food chain relative to the sales department and has been operating in a constrained and supportive role, there hasn't been much interaction with the IT department. Even website development that falls under marketing was probably outsourced to an agency.
"Traditionally, marketing, sales and IT departments are very separate, which is different in pharmaceutical companies than you would find in, say, consumer goods or even banking where the marketing side is much integrated with IT and has been for years," O'Riordan says.
CMOs Can't Handle the Tech
With the digital consumer revolution, though, every CMO has been thrust into the spotlight. Pharma CMOs are woefully unprepared. They haven't learned what CIOs already know about the power of customer data and analytics in a digitized world. In Accenture's survey, more than half of CIOs see analytics as the top driver of integration, but CMOs rank it near the bottom. Also, 62 percent of CIOs see managing big data as a key priority, compared to 42 percent of CMOs.
[Related: CIOs and CMOs Must Join Forces to Win Digital Consumers]
It's not just about big data and analytics, either. The Accenture survey found that a whopping 67 percent of pharma CMOs don't even see IT as a strategic partner. While eight out of 10 pharma CIOs see the need for greater alignment of CIO-CMO goals, performance metrics and budgets, less than half of pharma CMOs feel the same way.
With CIOs and CMOs in other industries struggling to align their departments, you'd think the pharma CIO-CMO gap is practically insurmountable. But O'Riordan doesn't see it that way. There is an inflection point, she says, when pharma CMOs move from paper to digital and unleash analytics capabilities. They'll realize the many benefits of communicating with the consumer in the digital world.
"There are a few structural and organizational things that need to happen, but it's not impossible," O'Riordan says, adding, "Once they digitize the data and they're able to control it, you're going to have an 'aha' moment."