The collective ad revenues for the top three social networks in the United States reportedly increased by more than four times the growth of the country's overall online advertising market in 2014.
"When you look at ad growth for Twitter, LinkedIn and Facebook they all really outpaced the online ad market as a whole," according to Seth Shafer, research analyst at SNL Kagan, the media and communications firm that conducted the new ad market research.
Facebook, Twitter and LinkedIn reportedly combined for $6.12 billion in ad revenue in 2014, which is a 66.3 percent year-over-year increase. The entire U.S. online ad market grew by an estimated 15.6 percent last year, to $49.41 billion, according to the research.
Social outpaced U.S. online ad market
During the past three years, Facebook generated more than four out of every five dollars earned in ad revenue by all three social companies. It accounted for 82 percent of the trio's combined U.S. ad revenue in 2014, 81.9 percent in 2013 and 83.5 percent in 2012, SNL Kagan says.
Facebook's U.S. ad revenues equaled $5.02 billion last year, while Twitter brought in $816.4 million and LinkedIn generated $282.9 million, according to the research.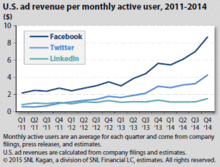 Facebook also leads the pack when it comes to ad revenue per monthly active user (MAU) in the United States. In the final quarter of 2014, Facebook earned an average of $8.67 in ad revenue per MAU in its home market. Twitter and LinkedIn generated $4.25 and $1.51 per MAU, respectively, in the United States, according to SNL Kagan.
Shafer says the three companies solve problems that have plagued the mobile advertising industry for years.
"The social media guys have users throughout the day logging onto their phones, logging onto their tablets, logging in and logging out on their desktops," Shafer says. "That gives publishers a really easy way to highly target ads to those users. They can follow them across all those devices and tailor targeted ads to them based on that."