It's hard to believe it's been a year since we lost Patrick J. McGovern, IDG's founder, chairman and friend. (IDG is CIO.com's parent company.) Affectionately known throughout his company, and beyond, simply as "Pat," McGovern's business successes are well chronicled and evident by the time-tested success of both IDG and IDC. For those of us who knew Pat even a little, and even for many who didn't, he was so much more than "business as usual." On the anniversary of his passing, I hope you'll forgive me if my tribute seems a bit overly sentimental.
Shortly after Pat passed away last year, longtime tech journalist and former IDGer Harry McCracken wrote an insightful piece for Time.com. It describes Pat's humble greatness much better than I ever could. In describing Pat's annual tradition of handing out Christmas cards and bonuses, McCracken summed up Pat's overall approach to IDG and its employees.
"I don't think he did these things because he was naturally outgoing — if anything, he seemed to be on the reserved side — but because he believed that one of his responsibilities as IDG chairman was to make other staff members feel good about their work," McCracken wrote.
That sentence struck a chord with me when I read it a year ago, and it has stayed with me ever since. In all of those annual encounters, it never dawned on me that it didn't come naturally to Pat to shake hundreds of hands and make even more comments. He simply thought it was the right thing to do.
[Related: Patrick McGovern on How He Wants to Be Remembered ]
Pat was a brilliant businessman and technologist, and if his attributes ended there he'd still go down as one of the greats of business and technology publishing. However, what made Pat, well, Pat was that he cared. IDG has 10 corporate values, among them: "Show respect for the dignity of each individual." That's the one I'll always associate with Pat. His insistence on conducting annual employee surveys wasn't because he was following a business school exercise. They were, and still are, a sincere attempt to gain insight and generate action items.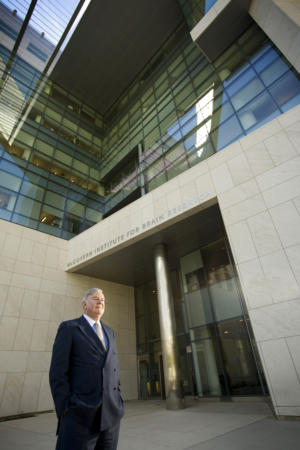 We write extensively about leadership on CIO.com. It can be a journalistic no-no, of course, to write about your own company, which in the case of Pat is unfortunate. I don't think Pat spent a lot of time thinking about leadership. I could be wrong, but I believe Pat just sincerely cared about people and valued their contributions, and he made sure everyone knew it through his actions. There wasn't anything overly complex in Pat's approach to leadership. Having a philosophy is one thing, and executing it consistently — in good times and in bad times — is quite another.
Pat was an MIT guy, not a Harvard Business School guy. In practice, he seemed like he could have been both, mixing technology vision with a keen business sense like no one else I've ever worked for or with — and I've gotten around a bit in my career.
I consider myself fortunate to have met Pat in the mid-80s, when IDG Communications purchased Wayne Green Publishing, a small technology publishing company I worked for in Peterborough, N.H. During the next several years, I saw Pat at various management meetings and around the holidays. Even though we were a tiny division of IDG, Pat always made a point to attend our Christmas parties. He didn't just drop by; he often danced the night way. I think Pat always enjoyed his Peterborough visits because we published several small magazines (Microcomputing, 80 Micro, inCider and several others), and we were always launching new publications when new computers were announced. Our small group embodied the "Let's try it" attitude that is another of Pat's corporate values.
My most vivid and, at the time, heart-stopping memory of Pat came on a Saturday morning. The phone rang at about 10 a.m. This was long before caller ID, and you had to answer the phone to see who was calling. (I can practically see you millennials out there shaking your heads.) It was Pat. I had met him several times but we were hardly Saturday morning phone buddies. Pat had heard there were some morale issues at our division, and he simply wanted to check up on things. Why did he decided to call me, or how he got my home number, I'll never know.
I left IDG in the mid-90s and returned in 2011. I was fortunate enough to see Pat a couple of additional times before he passed away. I can't say I originally came to IDG because of Patrick McGovern, but he was definitely part of the reason I returned.
I'm not sure how many current IDGers know any of the company's 10 Corporate Values, but I know them all — I remember them because I know that they weren't just words to Pat. It's hardly unique for companies to have corporate values, but having corporate values by which the founder and chairman lived every day of his life is special. So, in honor of you, Pat, here are your, our and my corporate values. (Even if you've never been an IDG employee, or never will be, I think they are worth a look.)
1. Remain dedicated to our mission of providing exceptional information services on information technology 2. Show respect for the dignity of each individual 3. Invest in our people through training and career development 4. Produce products of the highest quality 5. Strive for excellence in customer service 6. Keep close to our customers and qualified prospects 7. Be responsive to changes in our marketplace 8. Keep the corporate staff lean 9. Encourage autonomy through a decentralized management style via locally managed business units 10. Foster an action-oriented "Let's try it" attitude
Again, I apologize for getting a bit sentimental about the one-year anniversary of the death of the majority-owner of a multibillion-dollar international company. With Pat gone, it won't happen again.
More memories of Pat
In further remembrance of Pat, here are a few quotes from CIO colleagues who also knew him.
"I guess the thing that always impressed me about Pat was how he took the time to make every single employee feel like they mattered. He was genuine and sincere, he made sure you knew everybody and every job counted in his eyes." — Sheryl Hodge, associate online editor, CIO.com
"Two things always stuck out to me about Pat McGovern, who I met and spoke with many times: 1) His physical stature and the energy that kind of surrounded him. He really was 'larger than life,' in both his actions and accomplishments, and the fact that he was a really big, imposing guy. 2) I'll never stop being impressed by how he visited all of the business units, and spoke to almost every employee, around the holidays. He also had a great memory, and he always had something personal to say to each person. I can remember him commenting on things I'd said to him in the past during these holiday meeting. I have no idea how he remembered what I, one of countless employees he met, said to him a year or two before. " — Al Sacco, senior editor, CIO.com.
"Among many amazing memories of Pat, my favorite is the time he spoke at a local ASBPE event, where he was accepting the society's 2004 Lifetime Achievement Award. When asked what career he would have pursued if he didn't become a world-renowned technology publisher, he didn't hesitate for a second. 'I would have been a journalist,' he said, going on to describe the depth of his admiration for crusading reporters and editors. He was quite the crusading publisher, as well. When Computerworld ran afoul of one big tech vendor (which pulled its ads from IDG publications worldwide in retaliation for a story the vendor's CEO disliked), McGovern's response was to send the editor in chief one of his famous 'Rainbow Memos' praising the fact that we kept our readers interest foremost and didn't bow to advertiser pressure. He was a great man, and is greatly missed." — Maryfran Johnson, editor in chief, CIO magazine and events