One in five monthly active Instagram users have tinkered with a photo collage application at least once, according to Instagram. So the company's free standalone Layout app for iOS, released last week, was inevitable. The app makes it extremely easy to create photo collages and then share them on Instagram.
Given the many ways brands use Instagram, Layout is also an inevitable addition to the social media marketer's toolbox. Victoria's Secret, Sephora, and Shutterfly are already using Layout to spice up their Instagram images, according to Marketing Land.
Even though Layout is new, it feels familiar — in a good way. It takes no time at all to create collages using photos from your iOS Camera Roll. You can also use the app's Photo Booth feature, which takes up to four selfies in a row and then gives you options to position them in collages. This feature alone is fun, and I suspect it is already a hit among late-night revelers.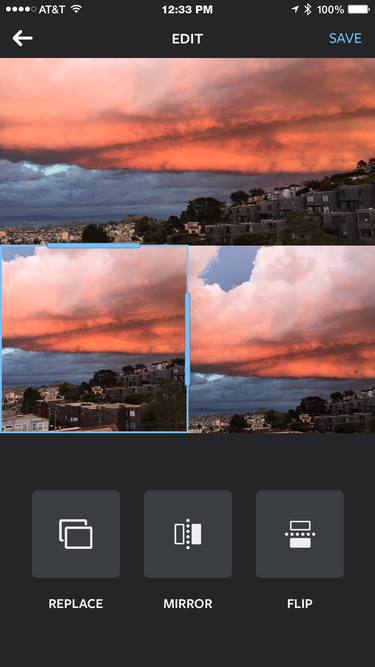 After installing Layout and giving it access to your Camera Roll, you see your pictures all lined up, ready for collaging. Three buttons are available for organizing Camera Roll images: "All," which shows all photos; "Faces," for pictures with people in them; and "Recents."
You tap the images you want to collage, up to a total of nine, and you can choose from 16 different layouts. Once you select a layout, you can easily replace any of the included images with others from your Camera Roll. The "Mirror" feature lets you reorient images vertically, and "Flip" lets you turn them upside down. You can tap images to drag and reposition them, and pinch to zoom or shrink them.
You simply click "Done" to save finished collages to your Camera Roll or click "Share." The buttons for sharing on Instagram, Facebook and more are prominent. Tapping the Instagram button bumps you into the Instagram app, where you can apply filters before sharing your collages. The "More" button lets you share the image via text message, email, iCloud, or from other apps or services you may have installed, such as Evernote, Gmail and Hootsuite.
The Instagram Layout app is just one of many photo-collage tools. Twitter released an image collage feature during the spring of 2014, and brands including GE, Chips Ahoy and YouTube have used it for social media marketing. Diptic is another popular option. Other free photo collage apps, such as Photo Grid for Android and iOS and Pic Collage for Android and iOS, offer some features Layout lacks, such as the ability to turn photos into video slideshows or animated GIFs.
Still, if you focus on Instagram in your social marketing efforts — and according to "the most followed CMO on Twitter" Ted Rubin, you should — Layout is the ideal tool to help your images grab more eyes.