Like Apple's mobile wallet, Passbook, its Touch ID fingerprint reader seemed like a yawner when it was first introduced on the iPhone 5s in 2013. Gradually, though, both have worked their way up to the top of my frequently-used-iPhone-features list.
Touch ID has become particularly useful since the fall of 2014, when Apple released an API that lets third-party app developers build fingerprint authentication via Touch ID into their apps. Here are some of my favorite Touch ID-compatible apps.
Amazon
Say what you will about the e-commerce giant, but Amazon's iOS app saves me money. When I'm in a store like Walgreens or Target, I use Amazon's app to scan the barcodes of products I intend to buy. Frequently, Amazon's price is cheaper, and I can either buy the product immediately using the app or add it to my wish list. (In other words: Yes, I'm showrooming.)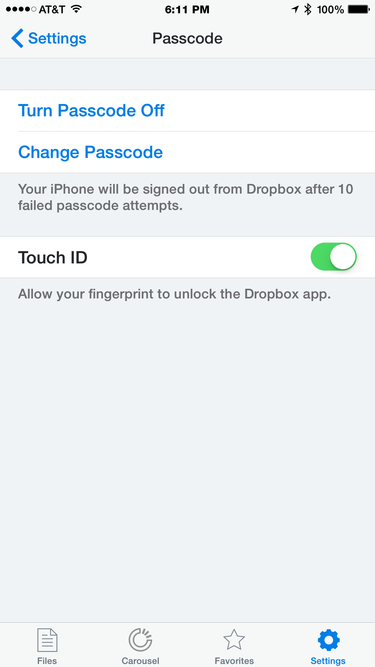 With all this e-commerce activity, it's (somewhat) reassuring that the Amazon app uses Touch ID for authentication. While the app keeps you signed in for convenience, certain actions, such as managing your wish list, trigger Touch ID, and you need to authenticate to proceed.
Dropbox
I store just about everything in Dropbox, so I appreciate the ability to add another layer of protection (at least on my iPhone and iPad) for my files. After you enable Touch ID within the app's settings, it prompts you for a fingerprint when you want to access your cloud storage.
Evernote
Evernote became one of my most-used iOS apps this year, and I've come up with a ton of unique ways to use it. I throw a lot of information into my Evernote notebooks, so I use Touch ID for a little extra mobile security. Heads up, though: Passcode lock and Touch ID protection are only available with a $5 per month Premium account.
Mint
Intuit's free Mint app is an easy way to manage finances, and it lets you add cash expenditures on the spot. I'm glad it offers Touch ID authentication, but I wish the company's Quicken iOS app also offered it.
Many banking apps support Touch ID, including Amex Mobile. Here's a list of some more Touch ID apps that are worth a look:
And if those aren't enough for you, read "3 great iOS apps that use Apple's Touch ID finger scanner."