Baseball, America's pastime, is known for its tradition and long history. But in today's marketplace, relying on age-old practices could result in a strikeout for Major League Baseball. With opening day just a few days away, the length of professional baseball games is a growing issue. The average time has risen over the last 30 years from two hours and 44 minutes to three hours and 7 minutes per game, according to statistics from Baseball-Reference.com. However, the cause for concern has escalated in the last three years, where games have been steadily exceeding the three-hour mark.
"Part of baseball's historical charm as a sport is its lack of timekeeping," says Ben Shields, a lecturer in managerial communication at the MIT Sloan School of Management and author of The Sports Strategist: Developing Leaders for a High-Performance Industry and The Elusive Fan: Reinventing Sports in a Crowded Marketplace. "In a bygone era that was actually its key differentiator against other sports, but it's become more of a concern in today's attention-span-challenged marketplace."
[Related: Inside Fantasy Baseball at ESPN ]
Besides the increasing length of games, fans have more distractions, including mobile apps, on-demand content and the at-home experience, which could hold them back from full engagement with the actual game. Casual fans also may be less inclined to attend or watch baseball on TV because games require a significant time investment.
It's not the time, it's the (lack of) action
Panelists at the MIT Sloan Sports Analytics conference last month discussed the importance of the casual fan base. "The time between actionable moments is too long for the casual fan," said Dave Cameron, managing editor of FanGraphs, a sports statistics website. "If a game is three hours long because of interesting events, great. If not, then that's a problem."
[Related: 10 social media accounts sports fans should follow ]
To study the pace of the game and investigate solutions to address the problem, teams and the league are hoping new technology results in a home run for fans. For the 2015 season, MLB is rolling out a slew of changes, including a digital clock to keep pitchers and batters on track so they don't extend commercial breaks. For example, a batter has to be in the batter's box within two minutes and 25 seconds from when the commercial break starts. If he fails to comply, he will receive a warning and a possible fine.
Shields says the clock and other changes will serve as pilot projects to collect and analyze data. "Even though [the clock] is a rudimentary technology, I can assume they will be measuring this with rigor to inform future measures [of] the pace of the game."
[ Related: 8 ways big data and analytics will change sports ]
MLB's media division, MLB Advanced Media (MLBAM), is tapping technology to try to engage and retain longtime fans, as well as casual fans who have become impatient with the length of games. Last season, it launched Statcast, a statistical tracking system that shows real-time numbers during games. For example, overlays appear on the TV screen during games to show the speed of the base runner or the distance of a home run, among other statistics.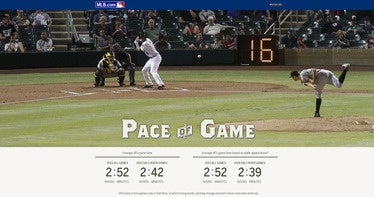 MLBAM also offers mobile apps including At Bat (which provides statistics, standings, and live audio and video streaming) and Ballpark (which offers stadium check-ins, mobile ticket purchases and more). Shields says new technologies like these add to the fan experience as the league works on its length of games issue. "Resolving the pace of game issue is not just about reducing the time of each game, it's also about ensuring that stadium attendees are engaged, surprised and delighted from the minute they walk in to the minute they leave, regardless of what happens on the field."
Changes hit close to home for baseball purists
However, not everyone is happy about the prospect of controlling the length of baseball games. Some fans feel that it goes against the tradition, rules and enjoyment of the game.
At the MIT event, Dan Brooks, founder of BrooksBaseball.net, a statistics tracking website, pointed to the tension of a hitter stepping out of the batter's box to try to figure out the next pitch or a pitcher taking a minute to walk off the mound. "I don't know if that would be any more fun if [the game] was 15 minutes faster."
MLB and its partners could also lose out on additional revenue from advertising and in-stadium sales, and fans could view the time constraints as a disruption to their favorite players' routines. Sandy Alderson, general manager of the New York Mets, also speaking at the MIT event, uses Boston Red Sox fan favorite David Ortiz as an example: "The problem is not [David] Ortiz. He's part of the entertainment value of a [Red Sox] game. We may watch him do his whole thing, but when the backup shortstop is doing it, we're not interested. Ortiz gets a little latitude, but the other 99 guys who are doing it are not fun to watch."
Shields says the changes will help guide MLB's future decisions, but only time will tell whether it will result in better control over length of games. "On one hand, from a business standpoint, [MLB] is one of the most innovative technology businesses in any industry with its successful MLB Advanced Media arm," Shields says. "On the other hand, because of its hallowed history, [baseball] will likely remain one of the sports that holds its purity most dear. Change in that is often a long-term process."