Hot on the heels of Instagram's new Layout photo collage app for iOS comes Slate, a slick new iPad app from Adobe. Both free apps are incredibly easy-to-use visual storytelling tools for marketers, communications professionals, small businesses, and individuals.
Slate lets anyone — from the design-skilled to the design-deficient, like me — create a visually compelling story. The finished product is hosted on Adobe servers, though you decide whether it's visible to everyone or only those with whom you share the link. You can share the presentation using Twitter and Facebook, or via email and text, or embed it on your website or blog.
(Check out my Slate production, "San Francisco Skies," for an example of what the app does.)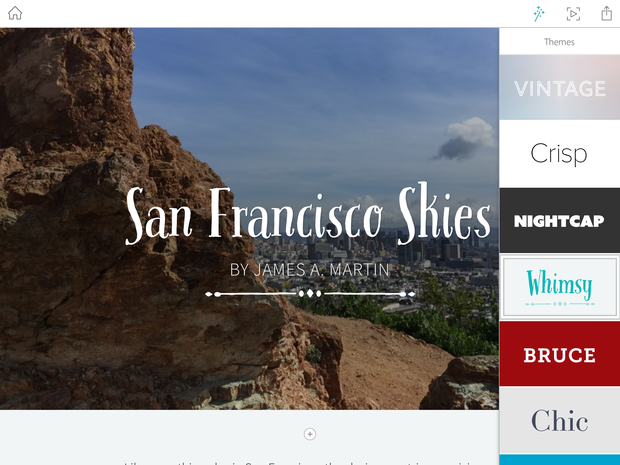 It's simple to create a story. To start, you tap a giant "+" button next to "Create a New Story." Then you add a title, subtitle and a photo from your iPad or Adobe Creative Cloud, Lightroom, or Dropbox account. The first photo serves as your "cover" image.
Slate includes 11 display themes, nearly all of which are simple and elegant, though I'm not so sure about the "Bruce" theme.) As you build your story, you can add freestanding text and captions by typing or via voice input.
Images can be displayed in various ways: inline, full screen, window, or full width. If you change your mind about an image you've added, you just tap the pencil icon to replace it or the trash can icon to remove it from the story. However, you need to be sure you're satisfied with the layout as you move along, because there's no undo.
Slate stories are "responsive," in that they look good on smartphones, tablets and computer screens.
I can see lots of business uses for Slate. Manufacturers could create visual stories about their products. Service-oriented companies might put together customer success stories or visual guides to their services. Realtors could showcase new properties for sale. Of course, business don't lack these capabilities, but Slate makes them extremely easy.
Adobe Voice is another free iPad app for creating multimedia presentations. Per its name, Adobe Voice lets you add audio annotations, however, and its finished presentations play like videos; Slate doesn't do either of these things. Voice recently got some new features, including motion graphics and the ability to see metrics on the number of times your Voice videos were viewed or liked.
Unfortunately, Android users are out of luck with both apps — they're only available for iOS — and the 11 themes feel a little limiting. The apps also do not support Google Drive, Microsoft OneDrive, or other cloud-storage services. Still, Slate is a great initial release, and it gives businesses and individuals more ways to tell their stories in visual form.