In the battle for the title of Best Mobile Scanner App, it's OneNote vs. Evernote all over again, thanks to two iOS apps released last week.
Microsoft Office Lens is a new mobile scanning app that's available for iOS. (Office Lens is also available as a beta release for Android.) Using your iOS camera, you scan photos, documents or whiteboards. The app is good at detecting edges and cropping automatically, and both features save you a few steps. In my tests, its optical character recognition (OCR) feature worked well — as long as the text is printed. With handwritten notes you're out of luck, and that makes the whiteboard mode less useful than it could be.
Office Lens works well for scanning business cards, too, though the path to getting them into your iOS contacts is slightly circuitous. For example, you first select "Document" in Office Lens, scan a card, then export it and save it to a OneNote notebook. Next you see a list of "Recent Uploads," and you can tap the file you just created to open it in OneNote, where you'll see a business card icon representing a .vcf contact file at the bottom of the page. Finally, you tap it, click "Open," and then select "Create New Contact" or "Add to Existing Contact." That's quite the process, but it is (a little) easier than creating a new contact from scratch.
Office Lens, not surprisingly, also lets you export scans to OneDrive, Word or PowerPoint, and you can save them as a PDFs; attach them to email; or save scans in your Photo Library.
If you're firmly ensconced in the Office ecosystem, you'll appreciate Office Lens.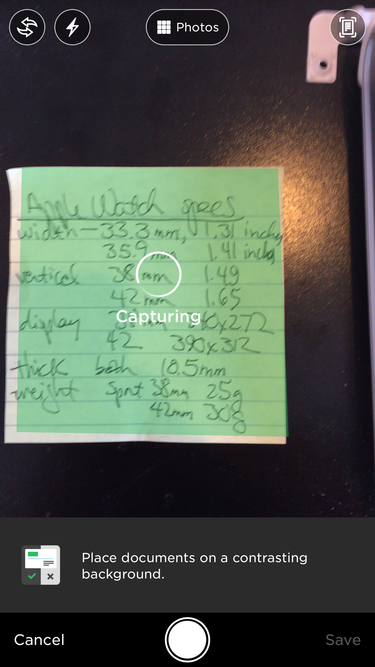 I wish I could say the same for Evernote's new iOS scanning. Evernote's Scannable app was released earlier this year, and at the time I reviewed it favorably. The app provides the updated scanning capabilities now available in Evernote, including auto edge detection, automatic lighting adjustment, quick scanning and OCR. You can also scan handwritten Post-It notes, and the text becomes keyword-searchable in Evernote, as long at it's legible. And Evernote's color-coded Post-It note settings let you automatically send notes to assigned notebooks based on their colors.
Unfortunately, the Evernote app crashed every time I attempted to use the scan features on my iPhone 6 Plus. Scannable crashes often on my iPhone, as well, though only when I try to scan multiple pages of a document. The camera function also apparently caused many Evernote crashes in the past, according to comments on a 2014 post in an Evernote forum.
Evernote is supposed to have a cool business-card scan feature, but I was unable to test it. When you scan a business card, the app pulls additional information about that person from his or her LinkedIn profile, as long as your LinkedIn and Evernote accounts are connected. (Note: This feature is only available to Premium Evernote users, and that service costs $5 a month. Users of Evernote's free service can scan five business card scans for free, however.)
Of the two apps, Office Lens is more reliable as an iPhone scanner by far; it didn't crash once during my tests, and it's a new app. I hope Evernote resolves the issue, because its scan features have (mostly) worked well for me in Scannable, and I much prefer Evernote to Microsoft's OneNote.