Document access and sharing represent the bulk of enterprise collaboration using Microsoft tools, according to a new report from harmon.ie, a company that makes software to combine Microsoft's cloud and social utilities into a single interface. Online and offline access to private or shared documents represents 81 percent of all business activity in harmon.ie's mobile apps and email products.
The research, which is based on data from 1,500 harmon.ie users from 800 companies in more than 75 countries, stresses the importance, and dominance, of documents in enterprise collaboration.
[Related News: Google Drive for Work gets new IT-friendly features]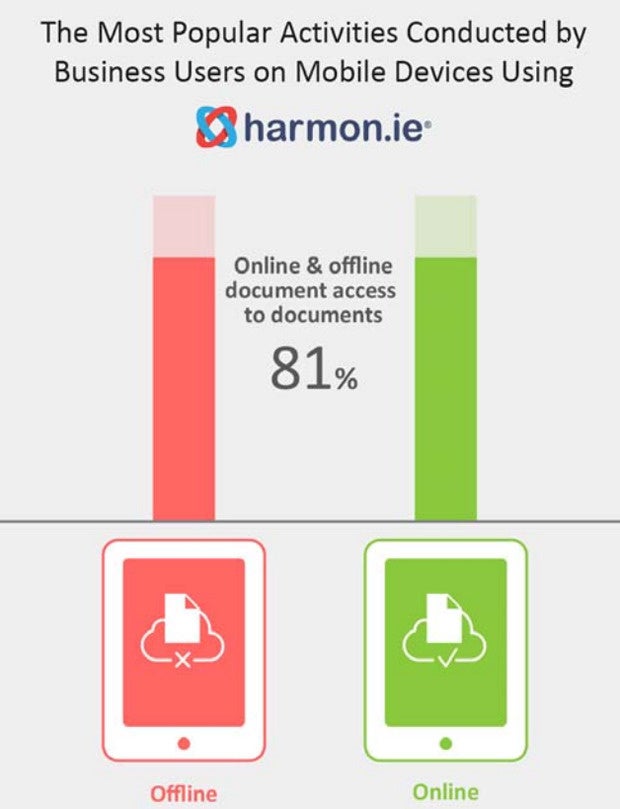 Four of every five minutes spent using harmon.ie apps are dedicated to document access, but the social conversations associated with the documents are comparatively few and far between, according to the research. For example, business users opened documents 68 times more often than they participated in Yammer discussions.
The next most popular activity behind document access was adding SharePoint sites; seven percent of respondents said they add SharePoint. Just three percent of users conducted document searches, and less than two percent participated in Yammer discussions, viewed activity streams or looked up a colleague's SharePoint profile, according to harmon.ie.
[Related Analysis: Google for Work vs. Microsoft Office 365: a comparison of cloud tools]
The research also suggests Monday and Tuesday are the most popular days of the week for opening SharePoint or Office 365 documents. Finally, the company says 24 percent of its mobile customers now use Office 365 in the cloud, up from 18 percent six months ago.