Unless you're Pharrell Williams or Tim Cook, you'll have to wait until April 24 (or later) to wrap an Apple smartwatch around your wrist. But many developers have already released updates to their iOS apps with support for Apple Watch. Here are three such apps specifically designed for productivity geeks. It's worth checking them out now, so you'll be ready to go when your watch arrives.
[ Related: 16 awesome accessories for your new Apple Watch ]
IFTTT's Do Button and Do Note
The 'Do' apps, released in February for Android and iOS (free), let you manually instigate an action by tapping a button. Example: Within the Do Button iOS app, you press a big button to 'Get yourself out of an awkward situation' (the recipe's actual name.) Using this recipe, the app calls your iPhone and plays a pre-recorded message. As you listen, you can nod your head, look concerned, and tell the person you're hoping to ditch that you've got to go, something's come up.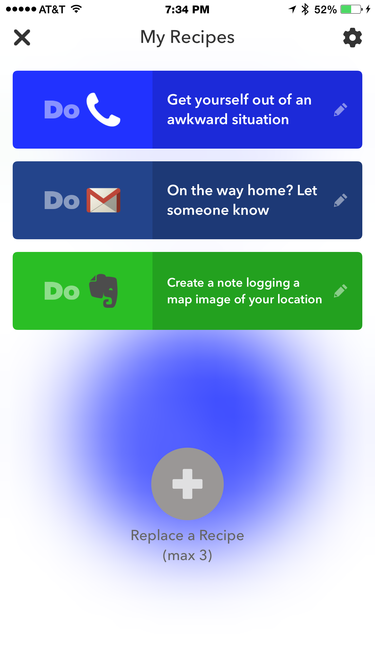 You can have up to three 'Do' Button or Note recipes active at any given time. All three can also be set up as Today screen widgets, making them even easier to access.
With the latest Do Button and Do Note updates, the apps will also be accessible on your Apple Watch. Need to dictate a quick email reminder to yourself? Create a message in Evernote? Do it from your wrist. (The new Do apps will also support iPads, by the way.)
I'm an IFTTT fan, and I like Do Button and Do Note, though I wish you could have more than three preset actions available at any given time.
Workflow
Workflow, a $3 app for iOS, is similar to IFTTT, except that its workflows include more steps and, as a result, are a bit more complicated. They're also pretty cool, once you get the hang of them.
Example: I take a lot of screenshots of apps on my iPhone. Workflow includes an 'Upload Screenshots' workflow that, when I double-tap its icon, will automatically upload screenshots to my Dropbox account and, if I want, delete them from my iPhone afterwards. That feature alone saves me multiple steps. Alternatively, I could use the 'AirDrop Screenshot' workflow to send screenshots directly to my Mac. There's also a cool 'Make GIF' workflow, just for the heck of it. And you can save any of your workflows to your home screen.
On an Apple Watch, you'll be able to tap to access your own workflows or choose one from among the gallery of prebuilt workflows. This could save you some time. For instance, though Uber has announced Apple Watch support in its iOS app, Workflow includes an 'Uber to Next Event' workflow. When you activate the workflow, it will automatically plug in your destination (if it's in your calendar appointment), tell Uber your current location, and specify which type of Uber service you want. All that, without taking out your iPhone.
We'll soon see if these apps are true time-savers when used on an Apple Watch, or if they're just a distraction, or—this is probably the most likely scenario—both.