When production is ramping up quickly, it's all too easy to push IT upgrades to the back burner. But manufacturers that fail to implement robust ERP systems risk pushing product quality to the back burner, too.
Just ask Accuride and Firstronic. Frustrated with a lack of accurate and timely data, executives at these two fast-growing manufacturers went looking for ERP software solutions that would allow them to more closely manage quality at every point along the supply chain.
Wheel and wheel-end component manufacturer Accuride aimed to restore its core operations to reliable, profitable performance. But because the company was built through acquisitions, different business units had their own systems and ways of doing things.
"Data was disconnected from the reality of our plants, and we were spending more time gathering and interrogating data than we were making decisions with it," recalls Paul Wright, IT director at Accuride.
Firstronic, a leading electronics manufacturing services (EMS) company, is one of many American manufacturers that's winning back business previously outsourced to other regions—a trend known as "reshoring." Part of Firstronic's strategy is to focus on product quality. But its executives realized that to manage the growth driven by reshored business, they would need to connect their proprietary program management automation and MRP tools with a more robust, integrated ERP system.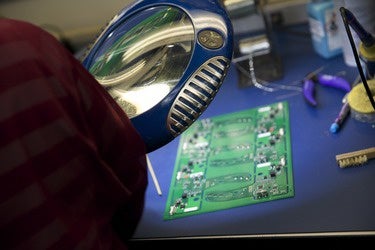 For both of these companies, the answer was cloud ERP provided by Plex. With the right information at their fingertips, executives have not only united the top floor with the shop floor, but also turned quality management into a way of boosting profits.
For Accuride, cloud ERP has enabled much better product quality and traceability. "Should there be a problem with a part, we can see where it went to, retrieve it, understand which components were used in its manufacture, and then predict where other quality issues may arise before they happen," says Wright. "That kind of visibility turns quality management into a profit center."
The Plex Manufacturing Cloud allows Firstronic to smoothly manage hundreds of communications and transactions with component suppliers each day. For example, although new engineering change requests (ECRs) come in rapidly, Plex allows the company to react quickly. Suppliers and customers can use web-based portals to monitor plans and operations in real time, reducing the need for tedious phone calls and emails.
"Our reshoring strategy is simple," concludes Firstronic CEO John Sammut. "We focus on what we can offer that nobody else can. Our differentiators have become better shop floor controls, advanced technology, speed-to-market, and flexibility—all things that Plex helps to make possible."