When you think of good customer service, Amazon and Zappos may come to mind, but a major commercial airline may not. JetBlue is working to change that perception by incorporating new technologies that focus on improving customer service, streamlining transactions and making flights more enjoyable.
The customer-facing technology transformation at JetBlue ramped up three years ago with the appointment of its new CIO, Eash Sundaram. He says JetBlue needed to be about customer service and technology as much as it was about getting passengers to their destinations.
"We think of ourselves as a customer service company that happens to fly planes," says Sundaram. "So when you think of the customer service aspect of JetBlue, it's all about personalization and how we take care of customer needs. Technology plays such an integral role in addressing our customer needs."
Bruce Temkin, managing partner and founder of Temkin Group, a customer experience research firm, says in terms of airlines, JetBlue is a leader in customer experience, in big part because of technology. JetBlue earned the top ranking for airlines in the 2015 Temkin Experience Ratings, a list of the top customer experiences by companies. "They're committed more to the in-plane experience than just about any airline," he says. "Technology is a key component of their customer experience strategy."
Skipping airport check-in
JetBlue deals with customers on multiple fronts — in airports, online and on planes. So it started with the low-hanging fruit, the check-in process at the airport. "Our mission is to have a transitional airport experience vs. a transactional airport experience," Sundaram says. "The first step in the process was to eliminate transactions or automate transactions that don't add value to the customers."
Using JetBlue's Auto Check-In process, customers are automatically checked into their flight 24 hours before departing, assigned a seat based on previous preferences and sent a boarding pass – all without logging into a computer or the mobile app. Customers receive an email confirming the check-in. JetBlue has processed 700,000 auto check-ins since rolling out the service last year and is currently expanding it to more customers.
"When you think about it, check-in was such a 1960's process where airlines had no clue when they sold paper tickets through agencies where the customer was and they forced you to come stand in a line and check you in," Sundaram says. "Today, with the technology we have, we don't need to check you in, so we eliminated the step and our customers love it."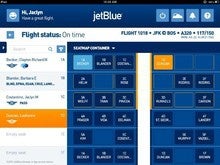 Temkin says technologies like auto check-in, along with JetBlue's mobile app, are steps toward giving customers more self-service options, which is especially important during delays due to weather events or mechanical problems.
"Technology is key to helping people get over some of those disruptive situations," Temkin says. "The problem with those situations is that they hit a lot of people at once, it's not like it happens to one or two people, it happens to hundreds at once. You can't solve that problem with human beings."
Auto check-in also helps to reallocate the availability of JetBlue employees toward more critical interactions, instead of ones that could be completed more efficiently with technology.
"Instead of spending time checking you in, which the technology has now already done for you, I have the time as a crew member to think about how I can be one of three things: helpful, personal and simple," says Sophia Mendelsohn, JetBlue's head of sustainability and a key member of the team working on the check-in process.
In-flight technology
JetBlue also looked at technology inside the plane, first rolling out free inflight Wi-Fi as the foundation to support all other devices and technologies. Called Fly-Fi, it can handle 12 megabits per second per passenger, but if you want to stream a video, for example, you'd have to pay for the faster speed. Sundaram says they weren't satisfied with any of the inflight Wi-Fi offerings in the market so they went a different route.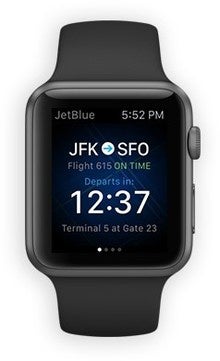 "Three years ago when we launched this program, we had two choices — either to go out of a market product and launch it which is very slow, very expensive, or do something that is really, really skipping a generation of itself," says Sundaram. "We chose to launch our own satellite from Kazakhstan, in partnership with ViaSat."
The addition of Wi-Fi gave JetBlue the capability to roll out iPad Minis for flight attendants and crew members. The iPads not only replace the heavy flight manuals, but provide a single customer view to deliver more targeted customer service.
For example, using the Inflight Service Assistant app, flight attendants can view a seat map, click on a customer and know if they are a Mosaic loyalty member or if it's their birthday. Flight attendants can also see if a passenger has a connecting flight and in the case of a delay, suggest other flight options.
The iPads are also equipped to accept Apple Pay from customers. As the first U.S. airline to offer Apple Pay, JetBlue developed a reader that attaches to the tablets and scans the iPhones using NFC technology for inflight purchases, like snacks or Birchbox cosmetics boxes.
Sundaram says embracing Apple Pay was all about working toward the more simplified customer experience. "When you do transactions inside the plane or in the airport, it's much easier for you to use your phone to touch and go vs. taking out your credit card to handle that transaction," he says.
The iPads also include an app for the flight manual, a language translator, a point-of-sale system and other JetBlue employee apps. The company expects to have all flight attendants equipped with the tablets by the end of this spring.
The latest rollout for the company is its Apple Watch app, which was just released last week. It features capabilities such as a mobile boarding pass, flight updates and the capability to make inflight purchases with Apple Pay.