It's like a classic Hollywood screenplay: Boy meets girl. Boy loses girl. Boy gets girl. Replace the boy and girl with manufacturers and suppliers, and you'll see the same storyline play out every day across the supply chain. Relationships that used to be marred by constant pushing and pulling have warmed into long-term, collaborative relationships.
But the love story can only happen if companies integrate their business operations in ways that streamline processes and improve communication for everyone involved. Three U.S. manufacturers have done just that—and are reaping the benefits of stronger, more profitable relationships and better decision-making capabilities.
Shortly after launching their wildly successful WestCoast IPA, Green Flash Brewing Company's founders drew up a plan to tap into the growing taste for artisan beers in the U.S. by expanding their product range and distribution network. But first, they needed a reliable way to analyze their supplier relationships, identify their best partners—and dump the rest.
Electronics manufacturing services (EMS) provider Firstronic understands that its success relies on integration with many component suppliers. Amidst a flurry of new project launches, Firstronic knew that its infrastructure and information system capabilities might not be adequate to support aggressive growth. The company set out to enhance its proprietary management automation and MRP tools with scalable yet budget-friendly ERP software.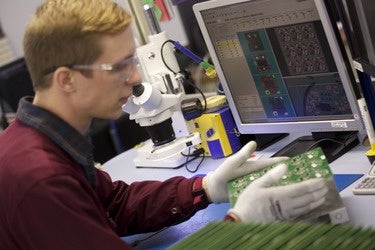 Inteva Products, LLC is a global tier-one automotive supplier. Originally part of Delphi Corporation, Inteva launched as an independent company in 2008. During its transition, the company needed to ensure it could manage a network of about 2,500 suppliers worldwide, including 350 direct material suppliers. But any potential solution had to fit the company's lean IT budget.
Switching to cloud-based Plex ERP has helped all three of these manufacturers build better relationships with suppliers—without all the drama of implementing costly on-premise solutions.
Sometimes, it's about not ruining a good thing. Shortly after going live on Plex ERP, Green Flash planned to switch malt vendors to what appeared to be a lower-cost supplier. But when the brewery's team dug deeper, they discovered that the less-expensive supplier was also lower on yields. "We were able to see that our current provider was far more efficient," explains Green Flash's CFO Steve Googder.
Other times, it's about knowing how to communicate. Inteva used Plex ERP to create a portal that notifies its suppliers of plant-specific requirements and provides them with the latest versions of the company's standards, policies, and procedures. The ERP software also enables Inteva to share the details behind any non-conformances and to document the associated sorting, scrap, freight, and downtime costs.
"All parties quickly view in real time any issues by plant, by supplier, repeat non-conformances, and summary data," says Erin Clemente, Inteva's supplier quality supervisor, global supply management. "This helps us all work together to reduce and better manage non-conformances."
Meanwhile, Firstronic is there for its clients when it matters most. The company exceeded the time-to-market requirements of its first new customer by beginning production in less than four months—two months sooner than the client's other largest supplier. And Firstronic was the only supplier that could commit to launching another customer's new product within an eight-week deadline.
"Because we perform so well, we've achieved preferred supplier status on the new business we've launched since Plex," says Firstronic's President and COO, Rick Herndon. "In an environment built on tight customer relationships, this is huge."