We know the pattern. Innovation stems from consumer markets and slowly makes it way into the business world. Mobility is one of many a beneficiaries of this innovation. This innovation has brought us new types of devices, new types of apps, and new ways to share information. Ultimately, this consumer innovation has delivered us new ways to work…better ways to work.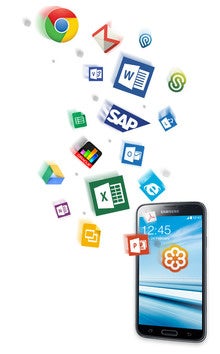 Android for Work brings built-in security to mobile devices
A couple of months ago, we heard about a great new program from Google that will bring all of their great consumer innovations in mobile operating systems, applications and devices to the business world. With Android for Work, organizations can now embrace Android-based devices with the confidence that they have a secure, flexible, economical, and consistent mobility platform.
But, is this built-in security enough to center your mobility initiatives around?
Leading mobility strategies focus on heterogeneity: apps, data, networks, devices and people
A secure device is a core tenant of any mobility strategy – especially if that device is corporate-owned – and it is great to see Google making huge strides forward in bringing the loved Android OS to businesses. But the device is only the beginning. To successfully embrace mobility for true business value, organizations need to also focus on the content – the apps and data – needed on those devices, how people are connecting to this content, and the reality that people will use many different devices to get their work done – not just a "secure" one. So, how can organizations take advantage of these new innovations while also ensuring business value?
Focus on the apps and data people need. Mobile employees need access to the same apps and data they have when sitting at their desk in their office. This means providing all business applications (which can be Window, web, SaaS, or mobile), all data, and all services to people on their various devices. Unfortunately today, this is not happening. According to Forrester Research, 71% of employees do not feel equipped with technology necessary to get their jobs done outside the office. Content drives productivity and this should be a goal of any mobility initiative.
Provide secure access regardless of how people connect. People no longer solely connect to company resources via a LAN/WAN. Today, people use the network that is most frictionless at a given time – in many cases, this means WiFi or 3G/4G connection. Given you now have little control over how people connect, it is important to focus on ensuring that the services you deliver are optimized, accelerated and secured over any network. Doing this goes a long way in delivering a great user experience.
Embrace device diversity. As much as you want to build your mobility strategy around one or two platforms (such as Android and iPhone), you can't – people will always bring in the latest "bling" that will need IT support. In addition, devices come in all shapes and sizes. People use all types of laptops (such as Chromebooks, Macbooks, Windows PCs) and want to use their choice of device in the workplace. Your mobility initiative will drive more value when you recognize you cannot control the devices people use, so plan your strategy around supporting all of them!
Remember, people work their own way. People today are connected with technology is all aspects of their lives. They know how to best use technology to enable them to work in a way that best enables their own productivity. When building your mobility strategy, remember this. Remember that a personal preference for a device, an app, or a service can change and the most successful strategies are built with this in mind. So, like all of the tips here, it all comes back to embracing heterogeneity (and change).
Business-ready mobility is here. Are you up to the task?
So, are you ready to deliver business-ready mobility? Great new innovations in platforms and devices with build-in security are a great step. But more is needed to bring true productivity to the mobile workforce. Technologies, like mobile workspaces, will bridge this gap. These technologies ensure that employees have seamless access to all of their apps and data, on any device they choose, over any network. And most importantly, people have the ability to make computing personal again, by having flexibility to choose their own devices while at the same time having all of their work at their fingertips.
It is great to see innovation coming from all sides of the ecosystem to make business mobility possible. With collaboration from device and platform manufacturers, application developers, management solutions and more, the workplace will be reinvented and people will be able to work better.
Have your say: Are Android and Chrome ready for business? Will you embrace these new devices in your organization?