Editor's note: Traction Watch is a new column focused obsessively on growth, and is a companion to the DEMO Traction conference series, which brings together high-growth startups with high-potential customers.

This is the first in a series of posts profiling the spring 2015 Demo Traction Champions. Judges and attendees at the one-day DEMO Traction conference, held April 22 in San Francisco, chose five startups that are using technology to solve big problems in innovative ways. Expect Labs was crowned the Traction Watch: Information Technology champion. Read more about the winners in "Traction Watch: Meet The Spring 2015 DEMO Traction Champions."
One year ago, Internet traffic generated by voice was "negligible," said Tim Tuttle, CEO and founder of Expect Labs, during his spring 2015 DEMO Traction presentation. Today, about 10 percent of the Internet's traffic comes from voice input — which should grow to more than 50 percent in five years. "This is a massive change in user behavior," Tuttle said, fueled by the increase in voice queries a la Siri and Google Now on smartphones and wearables, such as Apple Watch. "So a lot of companies right now are scrambling to figure out how to integrate (voice) into their applications, and today, it's a very difficult technical challenge."
This is the problem Expect Labs aims to solve with MindMeld, its speech recognition platform for software developers. With more than 1,300 companies currently using MindMeld to integrate voice into their applications, devices and websites, Expect Labs is clearly gaining traction. Revenues last year were $1.4 million, and Tuttle expects that to grow fourfold in 2015.
Without a platform like MindMeld, companies that want a voice interface to their software must build a custom knowledge graph and a natural language understanding model as well as implement sophisticated machine learning, Tuttle explained. All of this is needed to fulfill a user's spoken demand or request.
"Companies that try to do this today can take a year or more to get their applications running," Tuttle said. "And for many, it's technically out of reach."
This is where MindMeld comes in. MindMeld takes all this technology and makes it available as an easy-to-use platform so companies can build a solid voice experience in a matter of days, not months or years. Once integrated, Expect Labs charges developers per API call completed.
Without naming names, Tuttle said Expect Labs' customers are using MindMeld to build applications that enable users "to quickly find a video to watch" on TV "using simple voice commands from the couch" or find products in stores with a voice search on a smartphone. Also, developers are using MindMeld for connected home appliances and wearable applications, "where voice is the only input option." (Think: Apple Watch).
Founded in 2011, Expect Labs spent three years building MindMeld before launching it in beta in 2014. Early on, the startup raised about $2 million in seed funding, according to The Wall Street Journal. In December 2014, Expect Labs announced $13 million in Series A funding. Backers include Google, Samsung, Intel, Telefónica, and Liberty Global.
Expect Labs hopes to ride the wave of the "voice revolution," Tuttle said. "In the past 18 months, advances in speech recognition have dwarfed the advances we've seen in the past 30 years combined," he added. "In 18 months or less, we'll be using speech recognition systems that are better than humans for the first time since the dawn of AI."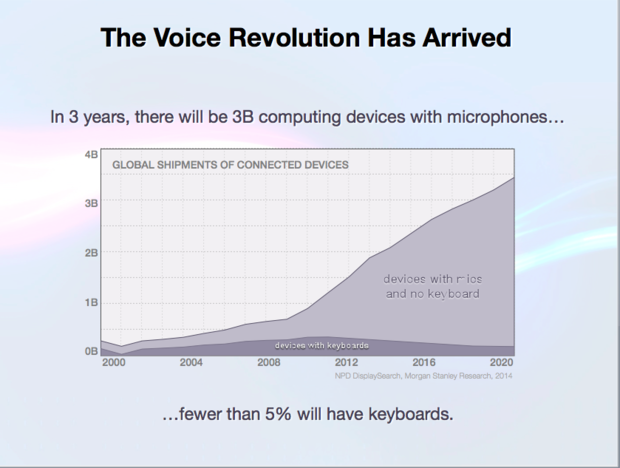 The revolution is coming "not a moment too soon," Tuttle continued. Within three years, there will be 3 billion computing devices with microphones, and fewer than 5 percent of them will have keyboards. In that environment, voice input will be critical.
"In the next few years, you'll see voice starting to appear in many of the apps you use every day," Tuttle added. "It's already starting to happen."
Expect Labs isn't the only company chasing this opportunity, of course. Apple and Google, not exactly minor players, both have big stakes in the speech recognition game. Despite its struggles, including a three-year decline in its stock price, speech recognition company Nuance Communications is another contender in the market and counts Carl Icahn among its investors.
Tuttle said he grew up "watching sci-fi movies that paint a picture of the future, where we talk to machines." While earning a Ph.D. at MIT's Computer Science and Artificial Intelligence Laboratory, he wanted to solve the problem of man-to-machine verbal interactions. But at the time, 10 years ago, the technology wasn't available.
After starting other companies, including Web messaging company Bang Networks Inc. and Truveo Inc., a video search engine, Tuttle was hooked again by the advancements in AI.
"I'm convinced we're on the verge of solving this problem, and within a couple of years, you're going to routinely be able to talk to other machines the same way you talk to other humans," Tuttle said. "That's why we started Expect Labs."