Microsoft wants you to abandon your preconceived notions of a laptop and embrace the Surface as more than just a tablet. In fact, Microsoft wants you to ditch your cumbersome notebook and one-dimensional tablet — presumably your iPad — and replace them with one device: the Surface 3. But even with an adjustable kickstand and full Windows 8.1, can the Surface 3 compete with a traditional notebook, or tablet for that matter?
In 2012, the answer would have been — and often was — a resounding "No." However, the Surface line has come a long way in delivering the performance and usability you would need in order to dump your notebook. And Microsoft is not alone in its hybrid efforts. The trend is for notebook and tablet manufacturers to throw everything against the wall to see what sticks. As a result, the hybrid market is booming, and we've seen a slew of tablets that do a great impression of a notebook, and vice versa.
Surface design principles
Microsoft has stayed true to the design of the Surface tablet, which means the Surface 3 looks a lot like the Surface 2. It maintains the same rectangular shape, which — as with past models — makes it awkward to hold in portrait mode. Landscape mode is comfortable, largely because the device weighs in at just 1.37 pounds without the keyboard. It's light and easy to hold in one hand while navigating the device with your other.
The 10.8 inch display feels roomier than expected and the 1920×1280 Full HD resolution offers a great visual experience. It measures 10.52 x 7.36 x .34 inches and boasts a full USB 3.0, Mini DisplayPort, microSD card reader, MicroUSB charging port and headphone port. All of which — with the exception of the headphone jack — you won't find on an iPad.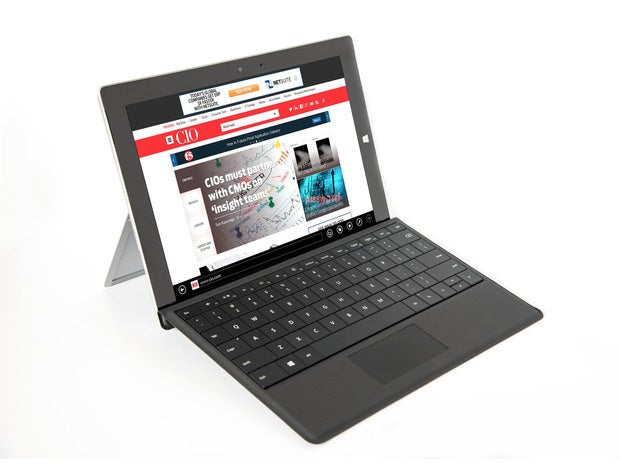 The Surface 3 also features a 3.5-megapixel front-facing camera and an 8-megapixel rear-facing camera, which will suffice for video chatting or snapping a photo in a pinch. The device also features optional 4G LTE connectivity, which means the Surface 3 can really become a device that will let you be productive on the go, even away from Wi-Fi.
Microsoft ditched the proprietary charger found on past Surface models in favor of a standard microUSB charger. This is attributed to the device's quad-core 1.6Ghz Intel Atom x7-Z8700 processor, which is less power hungry than past processors. It's a convenient change, and one less charger you'll need to throw in your bag.
You'll find the famous — or infamous — kickstand on the Surface 3, a feature that has followed every iteration since the first Surface. The Surface Pro 3 has a kickstand that will adjust to any available angle, but the kickstand on the Surface 3 has only three different angles. The limited angles become frustrating fast. I found myself regularly thinking "If only I could tilt it back just a little bit more."
A typical notebook will rest comfortably on your lap and move with you, and a tablet is at the mercy of your hand. With the Surface 3, I kept grabbing it from the base, causing the display to flop over. It can become unbalanced quickly, which gets annoying when you are trying to use it on your lap or while lying down.
Overtime, I got used to the kickstand and I eventually remembered to grab the Surface 3 by the display, and not the keyboard. But when you compare it to the keyboard on similar Asus Transformerbook hybrids, which offer the clamshell design and stability of a traditional notebook, it's uncertain why Microsoft doesn't offer a similar option.
Overall, the design is sleek, compact and portable. Microsoft keeps adapting the kickstand with every generation of the Surface. It's disappointing, however, that Microsoft didn't use the Surface 3 Pro kickstand design on the Surface 3.
Surface by the numbers
The Surface 3 packs an Intel Atom x7-Z8700 Quad-Core processor under its hood, which delivers speeds of 1.6GHz with Intel Bursts up to 2.4GHz. You can choose from two configurations, one with 64GB of onboard storage and 2GB of RAM and one with 128GB of onboard storage and 4GB of RAM. We reviewed the latter, and the 4GB of RAM makes quite a difference if you are planning to use the Surface as your main computing device.
The Surface 3 is also compatible with the Surface Pen 2. It might come in handy if you are in a crowded area where using the kickstand and keyboard might not be feasible. It's also useful if you want to ditch the keyboard. Because the screen's resolution is so high, using the pen, rather than your finger, allows for better accuracy. Are you going to buy the Surface 3 because of the pen? No, but it's certainly an added perk over competitors, including the iPad Air 2.
Performance and battery life
In terms of performance, you will have a better experience if you go with 4GB of RAM. While I wasn't able to test a 2GB model, I have used other Windows 8.1 devices with only 2GB of RAM, and it can result in a frustrating Web browsing experience. If you plan to use the Surface 3 as a computer, and not just a tablet, go for the 4GB.
Web browsing on the Surface 3 is smooth and speedy, and the device had no trouble balancing a number of open tabs alongside apps and desktop programs. The high resolution makes streaming Netflix a delight, and you won't have any problems watching video content on the go.
You won't be playing high-powered games on the Surface 3, but the same can be said for most entry and mid-level notebooks. The Surface 3 packs enough power to get you through your day with average use and maybe some light gaming. Think Microsoft Office, Web browsing, video streaming, playing some tunes and email. It does all of this without noticeable lag, but I can't assure the same experience with only 2GB of RAM.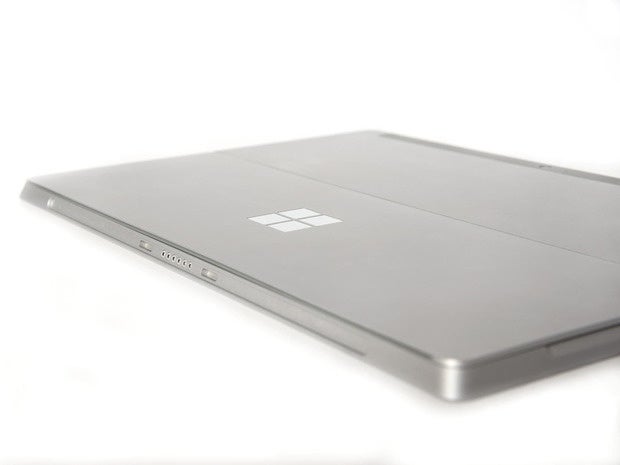 Having full Windows 8.1 on a tablet is a treat — you aren't limited to an app store, you can snap two apps or programs side-by-side, and the desktop experience allows for true productivity. The keyboard is comfortable and the trackpad is smooth and accurate. In fact, the trackpad performed better than any other device I was using alongside the Surface 3; which includes an HP Spectre x360. By the end of the week, I turned to the Surface 3 over my work computer and personal computer more often than not. It's not just fun to use; you can really get to work on the device.
The Surface 3 touts a 10-hour battery life, which seems accurate in real-world testing. It's enough to get you through your day browsing the Web, using different programs and streaming a little video. Of course, your battery life will always depend on personal use factors, including Bluetooth, Wi-Fi, streaming content, 4G LTE use and gaming.
Surface 3 vs iPad Air 2 pricing
If you're trying to decide between the iPad Air 2 and the Surface 3, price won't sway you too much. Pricing for the 64GB Surface 3 model with 2GB of RAM starts at $499, while the 128GB model with 4GB of RAM starts at $599. The iPad Air 2 will run you $499 for just 16GB of storage, $599 for 64GB and $699 for 128GB.
Another important factor in price is that the Surface 3 has expandable storage in the form of a microSD port. The iPad Air 2 — or any iOS device for that matter — does not. With iOS 8 hogging nearly 6GB of space, you're essentially buying only 10GB of storage if you go with the 16GB model. It won't take you very long to fill that up with apps, let alone multimedia content.
There is one aspect of the Surface 3's price-point to consider, and it's the same caveat that comes with every Surface past and present; the Microsoft Surface Keyboard. Microsoft has famously shipped its Surface tablets sans keyboard — instead letting users purchase it separately for around $100. Now that the tablet has been out for a while, you can find cheaper keyboards on retailers like Amazon, but it's something to consider. The pen isn't included either, so that will run you another $40. Suddenly, the 128GB iPad Air 2 doesn't seem much more expensive. Mainly, because it's not.
Best of both worlds?
It seems Microsoft finally struck a balance between performance, price and usability with the Surface 3. Microsoft stayed confident with its Surface design, tweaking it over the years to fit user's needs. And the changes from the first iteration of the Surface to the latest Surface 3 show the company is paying attention. Whether or not the Surface 3 is a "tablet that can replace your laptop," will ultimately boil down to personal preference. For me, I could use the Surface 3 as my regular device — tablet or notebook. I think it's an especially great option for anyone who doesn't want to carry a notebook and a tablet when traveling.
If you are more interested in a tablet for entertainment, and you just want to stream video and use apps, the iPad Air 2 is a great option. But if you want a workhorse that can take you from the office to vacation, without skipping a beat, the Surface 3 is the way to go.
It was hard to find any real cons on the Surface 3, other than the nagging kickstand issue that persists — but lessens — with each passing iteration. And, of course, the lack of available apps in the Windows App store. But with the desktop experience, you really won't miss the apps, and you will find you have access to far more content than you would on an Android or iOS tablet. The only other question is price, once you factor in the keyboard, the 128GB model will cost you around $700 in the end.
While even Microsoft wants you to compare the Surface to the iPad, the iPad isn't trying to be anything more than a tablet. Apple isn't asking you to type emails and create Excel spreadsheets on the iPad even though you can. And it certainly isn't asking you to ditch you're notebook — they have a whole line up of Macs to complement your iPad. But ultimately, if it's one device you want, rather than two, the Surface 3 is one of the best options out there. It will give you the mobility and performance you want out of a notebook or tablet in a decent price range.