BMW this week showed off prototype augmented reality (AR) glasses designed to improve and enhance the driving experience in its fleet of MINI vehicles at the Auto Shanghai 2015 show in China. BMW's MINI subsidiary announced the concept smartglasses earlier this month, but it hadn't publicly demonstrated the device until this week.
The MINI Augmented Vision glasses project navigation information, speed limits and other related travel information into the wearer's field of view via two stereoscopic HD displays. They are currently being tested in MINI vehicles, while driving and parking, for example, but they can also perform travel related functions outside of the car, such as the capability to capture and record specific locations while walking around, for quick navigation when users return to their automobiles.
From a related BMW press kit:
"A MINI app runs on the glasses both inside and outside the vehicle. Inside the vehicle, MINI Augmented Vision is linked up with MINI Connected and operated using controls in the vehicle, such as the steering-wheel buttons. When outside the vehicle, the AR glasses can be operated with the controls on the right temple, comprising a touchpad on the top and three buttons on the bottom.

"When in the vehicle, the driver is even able to control certain functions of the glasses with a simple turn of the head. While parking, for example, the glasses will show external camera views of the wheels when the driver turns their head toward the appropriate wheel. Eye-tracking or voice control have not been integrated as yet, but are certainly a feasible option for future applications."
MINI Augmented Vision is designed to work with vehicles that are outfitted with specific components, like those exterior cameras, so it will not work with all autos. However, the company says the glasses could potentially work with any vehicle that is "suitably equipped."
The AR glasses are notable because they take a "look through" approach to AR, as opposed to the "look to" method that's required in other popular AR and smartglasses, such as Google Glass. In other words, the MINI Augmented vision glasses project images directly in front of wearers, so they look through relevant, overlaid information, instead of having to glance upward or to the side, as is the cases with Google's first-generation Glass smartglasses. The glasses use tracking technology to ensure that overlaid information doesn't obscure drivers or other potential road hazards.
Wearers are visually notified when they receive new SMS, email and other messages, and the glasses dictate messages upon request. For safety reasons, the glasses don't let wearers read new messages on the display. The glasses do not have a built-in cellular radio, but they can connect to smartphones via Wi-Fi or Bluetooth to download new data.
BMW's MINI AR glasses are also somewhat stylish, in a steampunk sort of way, and they can be fit with prescription lens. The concept behind MINI Augmented Vision is similar to the Skully AR motorcycle helmet, which generated a lot of buzz when it was first unveiled in the fall of 2014.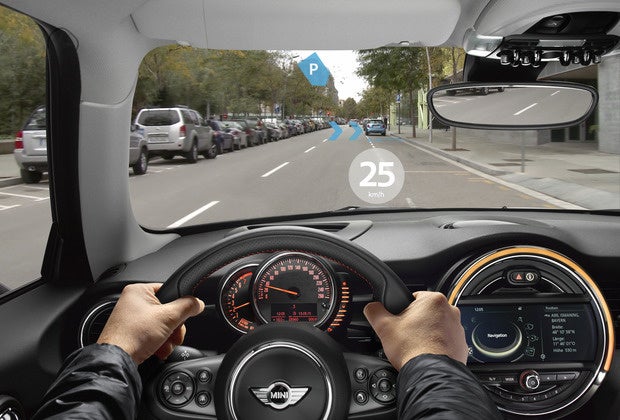 Here's a high-level look at the MINI Augmented Vision technical specifications:
Processor: Qualcomm SnapdragonTM 805 processor
CPU Frequency: 2.3 GHz per core
RAM: 2 GB
Display resolution: 720p (1280 x 720 pixels), stereoscopic display
Format: 16:9
Field of view / field of display: FOV 28°
Projection / display technology: LCoS displays
Operating system: Android 4.4
Camera technology: 5 MP
Again, the AR glasses are just a prototype, and it's not clear when, or if, they will be publicly available. You can learn more on BMW's website. Fortune.com also got a hands-on demo with MINI Augmented Vision, so you can check out its related story for details on how well the early prototype works.
AS