During the Microsoft Ignite keynote in Chicago today, only one customer graced the stage, but it was a doozy: Real Madrid, the world's no. 1 sports franchise.
Together with Microsoft CEO Satya Nadella, Real Madrid CEO José Ángel Sánchez announced a new, expanded partnership with Microsoft under which the club will embark on a total digital transformation built on the Microsoft Cloud platform.
"Having more than 450 million supporters around the world is really a challenge," Sánchez tells CIO.com. "This partnership with Microsoft will help us understand who they are, to really get to their passion and love for Real Madrid."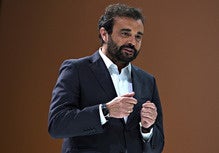 Sánchez says it is critical to understand who the clubs supporters are so it can engage them in more personal ways.
As Sánchez notes, Real Madrid boasts 450 million fans globally, but only about five percent of them are in Spain. In fact, both the U.S. and Indonesia individually have more Real Madrid supporters than all of Spain. Orlando Ayala, chairman and corporate vice president of Emerging Businesses at Microsoft notes that China too has become a strong base of Read Madrid supporters. Creating engagement with all of those fans — especially two-way communication — is no mean feat.
"At the center of this partnership are the 450 million fans that Real Madrid has around the world," Ayala tells CIO.com. "We're going to ensure that Real Madrid is going to get access to an incredible amount of information about their fans."
That data will include age, location and gender, he says.
Real Madrid-Microsoft teamwork continues
The expanded partnership builds on an existing relationship between Real Madrid and Microsoft established in 2014. Last year, Microsoft began working with the Real Madrid Foundation on social projects for Latin American youth around the globe.
"We worked together to create a situation where children could have access to technology and be able to develop themselves," Sánchez says.
Now Real Madrid has asked a Microsoft Services team to develop a new technology solution that provides it with a cohesive structure for digital services that will help it engage fans, but also put data in the hands of players and business users to help them transform the way they work.
"The Microsoft Azure platform is helping us rebuild and reinterpret our business in a way that makes it possible for us and our fans to do things that used to be impossible," Sánchez says. "It is really a complete disruption of the business model that football has had over the past 15 to 20 years."
The starting lineup
The new platform is based on the Microsoft Cloud and Office 365 platform. It includes the following:
Fan Engagement Platform. This component is the marketing back-office engine of the solution. It captures and stores every interaction with a fan, including mobile check-ins at its stadium, online fan profile updates and online merchandise purchases. The platform is hosed on Microsoft Office 365 and makes use of Microsoft Dynamics CRM Online, Dynamics Marketing and Power BI. Microsoft Social Engagement collects club mentions and other data from Twitter, Facebook and other social media sites. The data resides in Azure Table Storage and Azure DocumentDB, which is used for querying the data.
Extended Video Platform. This platform is hosted on Azure Media Services and features both new and historical video content, including Real Madrid's previous games. It uses Azure App Service to integrate the apps to Azure Media Services, with Azure Media Player used to present content. Azure Search is the search engine, allowing fans to search content by criteria. For instance, a fan could search for games in which the club scored a certain number of goals.
Consumer App. This mobile interactive app serves as the key interface with fans. Designed for iOS, Android and Windows platforms, it was built with .NET Framework with Microsoft Visual Studio 2013. The app can be used to virtually access the stadium and search for data on all the club's past and present players as well as detailed statistics from specific games. The app uses a preview version of the Azure Active Directory Business to Consumer identity service for user authentication and profile storage.
Telemetry and Data Analysis. From the cross-platform mobile applications to the supporting web services, the solution uses Visual Studio Application Insights to provide rich telemetry on application usage by fans and in-depth technical and operational insight across the entire infrastructure. The majority of the telemetry data is automatically collected and can be surfaced through Power BI.
The platform will help Real Madrid capture and discover fans' personal preferences, allowing it to provide more relevant content to individual fans through the mobile app. When fans check in at the stadium for a live match, it can automatically provision a personal QR code for a loyalty in-stadium offer, or just a message thanking the fan for investing time and money to see the game.
By collecting all this data and creating a detailed user profile of each fan, Sánchez wants to help Real Madrid marketers offer more targeted, customized marketing initiatives.
Microsoft and Real Madrid plan to launch the platform on May 19.