Late last year I attended a breakout session with a group of executives at an MIT leadership event. The group was discussing the challenges involved in becoming a digital business, and specifically the role of IT leaders in enabling that objective.
Digital is a hot topic. After all, it's the opposite of business-as-usual, inviting managers across organizations to think differently, to reexamine their contributions to the company's future, and to upend existing norms. It was clear that this smart group of leaders got it—they knew they could help shape the digital vision. But more importantly, they understood that they would soon have to deliver on it.
"If we only had a digital playbook…" said a CIO, his sentence trailing off as heads nodded.
"Yes!" cried another. "If we had a playbook, we could all move in the same direction. We could mobilize our resources."
As the discussion continued participants became energized by the prospect of the playbook, imagined as a document—available online and in color—full of process diagrams, RACI charts, and, most importantly, a project plan with clear delivery dates for digital features. A roadmap we could all follow, circumscribing the journey away from analog and toward the brightly-lit world of sensors streaming their data to mobile dashboards, a veritable yellow brick road toward a bright digital future.
But, just like the wizard in Oz, the promise of a digital playbook is exaggerated. Digital business capabilities will be applied in different ways, and for different purposes. And each one of those applications is likely to be its own project, with its own technologies and its own measurable business objectives.
Consider the figure below. It shows a series of strategic objectives, including the goal, "Drive retention through digital outreach." While retaining customers in new ways is certainly a corporate-wide goal, the company's marketing department is expected to direct its execution.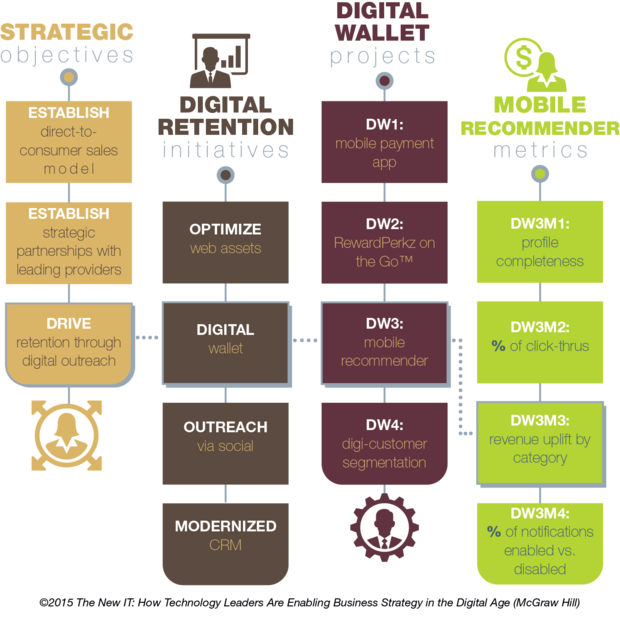 In this example, one of the ways to retain customers will be to offer them a chance to pay for products and services via their mobile phones, using a "digital wallet." (The most widespread digital wallet might be at Starbucks, which lets its customers pay for coffee and merchandise with a swipe of a bar code on their smartphones.)
The digital wallet in turn is comprised of several different projects, including one that pushes "next best action" recommendations to the customer's mobile device. That project in turn will have multiple success measures.
The example illustrates a truism in the new digital age: that a company's ability to be specific about not just a digital vision but by digital capabilities, the functions it will deploy with digital technologies, is proportional to its likelihood of successful digital delivery. There will be other objectives enabled by digital, and they will likely be owned by different departments in the company, all deployed in different ways, based on different timelines, using different resources.
Building a unique and centralized "playbook" for digital defeats this purpose. It enforces a consensus that is artificial and often constrained by diverse perspectives that might not matter. Marketing's digital wallet initiative has very little to do with the operations department's digital supply chain. In this case a single playbook for heterogeneous digital initiatives would be misguided and even a waste of time.
To quote Dorothy in The Wizard of Oz: "If I ever go looking for my heart's desire again, I won't look any further than my own backyard."