The New York Times Web paywall lets you read up to 10 free articles a month online. If you want more, you have to pay for a digital subscription.
However, there's a legitimate, though somewhat limited, workaround: the Times' NYT Now app for iOS. This free app, updated earlier this week with new features, now gives you free access to all of the articles available in the app. Previously, if you wanted to read more than 10 articles per month using the app, you had to pay for a subscription. (For more specifics, read my April 2014 review, "Free New York Times iOS App Isn't Entirely Free.")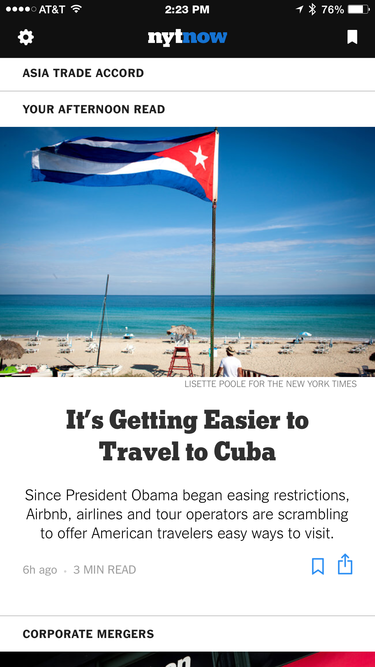 So how is the workaround limited? NYT Now only gives you a "selection of the best stories" from the Times. You don't get access to all Times articles.
I'm not complaining, though. The New York Times still reigns as the newspaper of record. And it's a business, after all. You want Pulitzer-Prize-winning investigative journalism? Well, you have to pay for it.
The NYT Now app also serves articles from other respected journalism sources. Among the articles I saw on Tuesday were a piece about venture capitalist Marc Andreessen from The New Yorker, an article about the Pope's views on climate change from The Associated Press, and a look at the perils of "space junk" from The Economist. Other included articles in my news feed Tuesday came from Slate, WCVB in Boston, and even RogerEbert.com. In other words, not a bad selection.
The updated version of the app includes a "Morning Briefing," which is an early summary of the day's top stories. If you turn on notifications, you receive alerts when the briefings are ready. The revised app also now places the most recent articles at the beginning of the news feed, which is a welcome change.
NYT Now's interface is well suited for reading news stories on iPhones. (The NYT Now app is currently iOS-only.) However, NYT content isn't as easy to digest as the articles in the free Circa News (for Android and iOS) or Yahoo News Digest (Android and iOS) apps. And the bottom of NYT Now articles don't include links to related content, such as Wikipedia articles, as many other news apps do.
Even so, NYT Now is a much-improved news app that delivers quality journalism on the go. Now that the majority of Times articles are available for free, the app is worth a fresh look.