As you head out on your Memorial Day getaway, you'll likely use a smartphone navigation app to guide you. However, GPS device maker TomTom hopes you use one of its portable navigation devices (PNDs) along with the companion smartphone app.
This makes sense for GPS makers; instead of being marginalized by smartphone apps, they're using mobile apps to add features to their core product lines. But does it make sense for you?
TomTom, the Dutch navigation and mapping company, recently released MyDrive, a free online service and app (Android and iOS) that work in cahoots with newer TomTom PNDs.
You can use MyDrive and a supported TomTom PND to search for locations using the app or website and then send destinations to your TomTom PND, which creates routes to the destinations and guides you along the way. You also can check out traffic before you leave.
[Related: The Best (and Worst) GPS Navigation Apps]
As you travel, the TomTom app uses your Bluetooth-connected smartphone's data network to feed real-time traffic updates to the supported PND. You see delays on the PND's screen, and it shows you where they begin and end so you can figure out the fastest routes. (For safety reasons, you probably want to pull over to absorb this information.)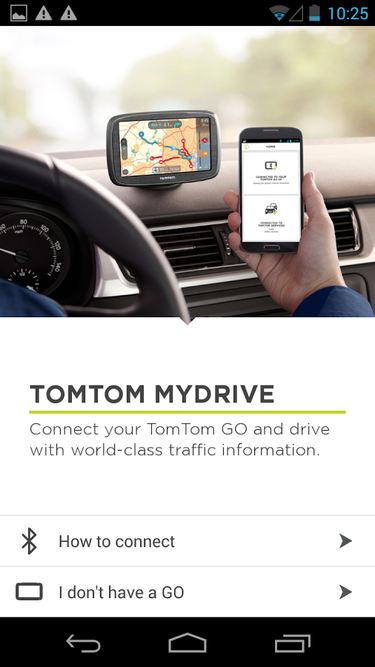 I tested the TomTom MyDrive service using a TomTom Go 500 ($200, or $174 on Amazon) and the MyDrive app on my iPhone 6 Plus. It mostly works as advertised, and it alerted me to traffic jams (as well as red-light cameras) along my routes. Driving direction accuracy is as good as I've received from any other GPS device or app — which means there were a few head-scratchers mixed in with other the sensible directions. (For more on this topic, see "How (and why) GPS directions lead you astray.")
I like how the TomTom Go 500 showed me heavy traffic around my starting location and intended route before I even touched the gas pedal. I also appreciate that I didn't have to bring along a bulky car charger to receive traffic updates on the PND, as is the case with some portable GPS devices. (For example, the car charger doubles as a radio to wirelessly receive traffic info for some Garmin models.)
Do you really need a PND when so many smartphone navigation apps, including Waze and Google Maps, already incorporate real-time traffic data? For most people, probably not, but if you plan to regularly talk on your phone during GPS-guided drives, a PND makes sense.
Another argument in favor of PND is that they don't eat up your cellular data plan, like smartphone navigation apps. However, as PNDs increasingly rely on smartphones for real-time traffic alerts, the less water this argument hold.
TomTom says if you drive an hour per day during peak traffic, you use about 7MB of data a month for traffic updates. If accurate, that's low compared to how much data smartphone navigation apps use, because they're constantly downloading and updating maps and points of interest (PoIs), as well as receiving traffic data. Maps and PoIs are installed on PNDs, so they don't need to download additional data.
TomTom's approach makes sense, and the TomTom Go 500, though bulky, is a quality PND for the price, but you should also check out Garmin's PNDs, including the Nuvi 3597LMTHD. At $330, it's more expensive than TomTom's Go 500. However, it's also slimmer and has a brighter touchscreen that switches between landscape and portrait modes.