Facebook Messenger is currently the most popular mobile instant-message (IM) app, though the majority of people prefer SMS texts to IMs and 80 percent use texts for business purposes, according to a new survey of 509 people commissioned by RingCentral. RingCentral is a cloud-based communications system for SMBs with desktop and mobile apps, SMS capabilities and a variety of additional features.
Survey respondents were split evenly between men and women, with the majority (34 percent) between the ages of 25 and 34, followed by 26 percent ages 35 to 44, and 17 percent ages 45 to 54.
Here's a look at some of the survey's most notable findings:
The majority of respondents (48 percent) has one or two messaging apps on their phones, while 30 percent have three or four. This isn't particularly surprising. Who wants to deal with a bunch of messaging apps? It's still good to know.
Most people (41 percent) use two messaging apps "on a regular basis."
When asked if they feel "communications overload" when using multiple apps to check for messages every day, 42 percent said "sometimes"; 36 percent answered "no" (which is surprising to me); and 22 percent answered "yes." I thought more people would say they felt overload, but maybe it's just me.
Among messaging apps, Facebook Messenger reigns supreme (51 percent), followed by WhatsApp (14 percent) and Snapchat (12 percent).
The clear majority (72 percent) prefers SMS messaging to messaging apps. The reason? It's easier (according to 74 percent) and faster (56 percent).
About half of respondents say they receive and send between 1 and 20 texts a day.
How long can the respondents go without responding to a text? Survey says: Between 2 and 10 minutes (34 percent) or between 11 minutes to 1 hour (28 percent).
File this one under "believe it or not": 53 percent of respondents say they "never" text while driving. Never? Seriously?
A total of 80 percent of survey respondents say that some percentage of their texting is for business.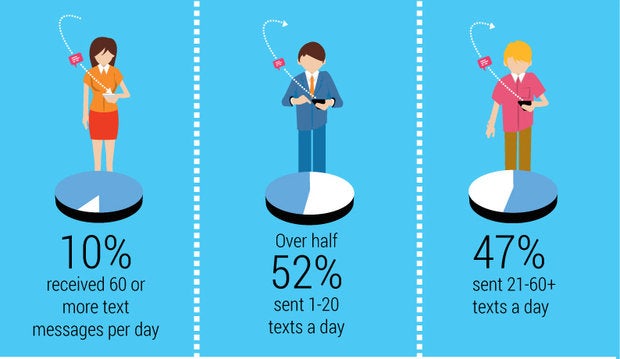 Like the respondents, I prefer SMS to messaging apps. It feels more direct, and more difficult to miss (or ignore). As for messaging apps, I use Facebook Messenger because most of my friends and family are on Facebook — I don't have to convince them to download another app.
However, I don't communicate with business contacts (who aren't also friends) via SMS or messaging apps. I use email for business. Somehow, sending a text or IM feels like overstepping a boundary, unless the recipient specifically asked me to communicate that way. SMS and messaging apps are for your inner circle and email is for everyone else, at least for me. However, I may be in the minority here, as explained in John Brandon's "Why 2015 will bring the death of email overload."