When Apple first introduced iOS 7, there were some folks who did not appreciate the parallax effect and increased motion of the new version of iOS. The Apple Watch also has similar interface animations, and seeing them might not be right for everybody.
Don't worry though, in this tip I'll show you how you can turn on Reduce Motion to get rid of animations in the Apple Watch interface, and I'll also share a surprising bonus effect of using Reduce Motion.
How to reduce motion on the Apple Watch
It's easy and quick to reduce motion on your Apple Watch. Just follow these steps to change the motion settings on your watch:
1. Open the Settings app on your Apple Watch.
2. Tap on General.
3. Tap on Accessibility.
4. Tap on Reduce Motion.
5. Tap the Reduce Motion switch to the on position.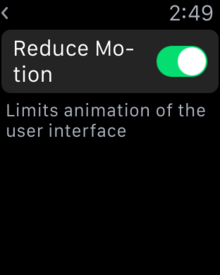 And that's it. Now when you press the Digital Crown to go from the watch face to the home screen, you'll notice that the icons don't zoom in the way that they did before.
How much of a difference does Reduce Motion make to the Apple Watch's battery life?
It's very hard to accurately predict exactly how much of a difference in battery life you'll see when you turn on Reduce Motion on the Apple Watch. But since iOS animations on the iPhone consumed additional battery power, it's probably going to be the same thing for the Apple Watch.
My recommendation is to try it out and see what kind of battery life you get with the Apple Watch's interface animations turned off. If it's significant enough then it's probably worth keeping them off to take advantage of the increase in battery life.
Battery life isn't the only reason to turn on Reduce Motion on the Apple Watch
Battery power aside, some people just don't like seeing the interface animations on the Apple Watch (or the iPhone for that matter). I can't blame them as it can be a bit nauseating for some of us to see icons zooming in when we load the Apple Watch's home screen.
Motion sickness is very real for some folks, so I'm glad that Apple has wisely offered a way to reduce motion on the Apple Watch. I think the company learned its lesson when it encountered the motion sickness problem back when iOS 7 first hit the iPhone and iPad. And they clearly wanted to avoid that happening again with the Apple Watch.
Bonus: Reduce Motion also makes all Apple Watch home screen icons the same size
One very interesting tidbit that I noticed was how the home screen icons on the Apple Watch all increase to the same size with Reduce Motion on. The ones on the periphery no longer shrink in size and that can make tapping on them much easier for some Apple Watch owners.
So if you want all your Apple Watch home screen icons to be the same size, be sure to turn on Reduce Motion. It might make it much easier and more comfortable to see the icons and tap on them.
Here's a screenshot of the Apple Watch home screen with Reduce Motion off:
And here's another one with it on: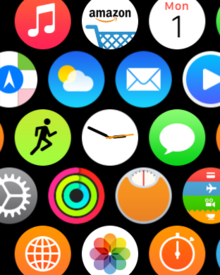 I turned on Reduce Motion on my Apple Watch and immediately found that I liked the same size icons much better than when they got smaller at the edges of the home screen. Frankly, it makes me wonder why Apple doesn't offer that option without having to turn on Reduce Motion.
Did you miss a post? Check the Eye On Apple home page to get caught up with the latest news, discussions and rumors about Apple.