My top exercise goal is to keep my heart rate in my peak zone for 15 to 30 minutes at a time. Despite the seemingly endless array of activity tracking apps and devices I've used, however, I had never found anything that made it easy to know exactly how long I am in my peak zone while I'm exercising.
Fortunately, that's changed thanks to the free Polar Beat Android and iOS apps. If you want to be sure you're in your target heart rate zone for a specific amount of time, I strongly recommend this app.
Polar Beat clearly displays your heart rate zones while you exercise. During workouts, you can see which of the five color-coded zones you're in, as well as how long you've been in a specific zone. For example, red is your maximum zone (90 to 100 percent of your heart rate), and orange is "hard" (80 to 90 percent).
The app is ideal for anyone who regularly uses stationary exercise equipment, such as treadmills, ellipticals or rowing machines. Many of these types of machines have places for you to put your smartphone. When I use my gym's elliptical machine, for instance, I place my iPhone 6 Plus on a shelf just under the machine's display. Polar Beat keeps my iPhone's screen lit, so my heart rate data is right there for me to see throughout my exercise. Love that.
Now, some caveats.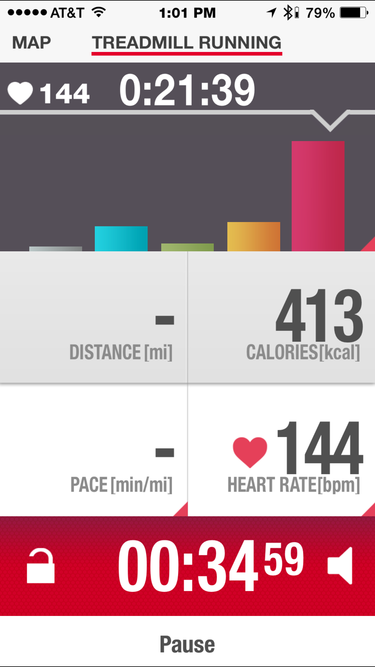 If you listen to music while exercising, this setup practically demands a pair of Bluetooth earbuds. (I use Beats Electronics' $200 Powerbeats2 Wireless Headphones.) If you use wired headphones, your arms may hit the cord during exercise and cause your phone to fall off the exercise machine. It could even be dangerous if you run very fast on a treadmill.
Aside from heart rate tracking, Polar Beat (or any other mobile app) can't track much of your workout if you're not actually wearing your smartphone. Many running or workout apps use GPS to determine the distance you travel, but GPS doesn't usually work inside a gym, so you're probably not missing much in this regard. If you'd rather keep your phone on your body for tracking purposes, consider wearing it in a sport armband from Tune Belt or another manufacturer. Armbands make it relatively easy to keep an eye on your heart rate via Polar Beat during exercise — though it won't be as easy as placing your smartphone in front of you on a workout machine.
I saved the biggest caveat for last because I didn't want to scare you away. To send heart rate data to Polar Beat, you need a separate, $80 Polar chest strap, which beams your data to connected devices via Bluetooth.
I know, I know, I dislike wearing chest straps too. But guess what? Both Consumer Reports and The Wall Street Journal declared Polar's H7 chest strap the most accurate heart rate monitoring device for exercise. The Apple Watch seems to be almost as accurate, according to other reviewers and my own experience, but it doesn't show you how long you're in your peak zone. Over time, I got used to wearing the H7, and I suspect you will too.
On a related note, I also tried Polar's $250 M400 sports watch with GPS and a chest strap. The watch syncs with another Polar app for Android and iOS, Polar Flow, and it doesn't show you how much time you spend in your heart rate zones while you exercise. The M400 is also a bit tricky to set up and use, at least when compared to the simplicity of the Polar H7 strap and Polar Beat.