Is Wunderlist, a to-do list manager app, worth between $100 million and $200 million? That's the amount Microsoft reportedly paid to acquire the German app developer, 6Wunderkinder GmbH.
When you consider that Facebook spent $21.8 billion on WhatsApp in 2014, acquiring any quality mobile app for less than, say, $1 billion should be a comparative steal. And Wunderlist is a good app, as to-do list managers go. It's available in both free and paid versions, it's ubiquitous, it's attractively designed — and thanks to its latest upgrade, it plays nicely on Apple Watch.
The free version of Wunderlist is more than enough for my needs. For example, the free plan lets you put to-do items in folders, and create and share lists. If you want more collaboration features, you can pay $5 a month for Wunderlist Pro. And if you need team-management or other business features, there's Wunderlist for Business, which costs $5 a user, per month.
Wunderlist is available for Android, Android Wear, iOS (and Apple Watch), Windows 8.1 and Windows Phone, and Mac OS, as well as in a browser-based option. All versions sync automatically and quickly. The interfaces for the various versions are all very similar, and that's a good thing. If you change the app's photo background on your iPhone, for instance, you see the same photo on the Wunderlist website.
Wunderlist's interface is also more pleasing to the eye than some other to-do list and project management apps, such as Things ($10, iOS only). Wunderlist uses a photo background, which helps set off your to-do items for better visibility. And you can change the background using other Wunderlist images, some of which are behind a paywall.
Wunderlist's most recent iOS update (version 3.2.4, released June 1) improved the app's previously lackluster Apple Watch support. (To be fair, many of the first Apple Watch apps from third-party developers weren't exactly dazzling, because most of them had to create their software without Apple Watches to test it on.)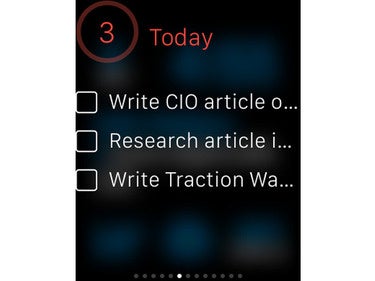 Wunderlist's Apple Watch app now offers a "Glance" that provides a circle to indicate how far along you are toward completing the day's tasks. It's a nod to the Apple Watch's own Activity app circles, which close when you finish your daily move, exercise, and stand goals. However, the concept isn't unique to Wunderlist; Things also uses a similar progress circle in its Apple Watch Glance.
Wunderlist should be a solid addition to Microsoft's growing family of mobile apps, which already includes Acompli, an excellent email manager Microsoft absorbed into Outlook, and Sunrise, a helpful calendar app.
That said, if you use Evernote, Microsoft's OneNote, or any other collaboration apps, you probably already have to-do list capabilities, and Wunderlist may not provide a lot of unique value.