Anyone involved in the business of data storage knows we have many serious challenges on our hands: an explosion of unstructured data, ever-tougher compliance and regulatory issues, and increasing storage complexity.
In addition, storage is one of the roadblocks that impede the journey to cloud. Why? Today's storage solutions lack interoperability, have different management consoles, and do not scale well. This historical reality for enterprise storage creates an enormous management challenge for data center operators implementing cloud environments. Without fundamental changes, these problems will be magnified in the data centers of tomorrow.
To move forward into the world of software-defined infrastructure and cloud data centers, IT teams need an open, intelligent, and flexible framework for dynamically managing storage resources. These resources will be from different vendors with different characteristics: They will include open and proprietary products; they will utilize different protocols; they will have different levels of performance and reliability. With enterprise demand focused on the choice of best-in- breed storage solutions across a wide array of usage scenarios, the requirement for interoperable solutions is only going to grow more acute.
At Intel, we are committed to working with our industry partners and the broader storage ecosystem to create this open framework—and clear the path to software-defined storage (SDS).
From Intel's perspective, SDS is really about bringing cloud benefits to storage, including auto-provisioning, self-service models, and single-pane-of-glass management. Historically, these benefits have been elusive because of the lack of standards, interoperability, and common management across the wide and expanding range of storage systems.
While our full vision for an SDS framework will have to wait for another post, one of the key elements is a central control plane that unifies storage management and enables the orchestration of storage resources.
A key enabler of the new SDS architecture is a single-pane-of-glass management control plane.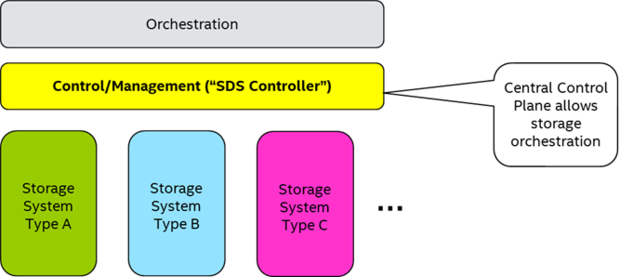 There is, however, a big caveat here: In order for the SDS control plane to fully resolve management challenges, it must be able to interface with and control a large variety of storage systems—which brings us back to the need for open APIs that drive interoperable systems. No single storage provider can solve this problem; this is a challenge that can be addressed only by a broad community working together to deliver common storage standards.
This is where Intel—with its long history of driving standards, enabling open APIs, working with and developing communities, and cultivating open source capabilities where they make sense—can help. Intel is very supportive of open approaches that enable simplified management and interoperability to benefit end users. Our goal is to work with the entire storage ecosystem to support the development of open APIs that enable interoperability and simplify storage infrastructure management.
With these thoughts in mind, we support the just-announced Project CoprHD initiative to create an open source version of the EMC ViPR Controller. The project makes the code for the ViPR Controller, including all of the storage automation and control functionality, open for community-driven development. We think moves like this are a step in the right direction.
If you'd like to contribute to the industry's efforts to drive open approaches to SDS, please connect with us