Yesterday I shared my thoughts about running the iOS 9 beta on the iPad Air 2. Today I'll take a look at the watchOS 2 beta on the Apple Watch. The watchOS 2 beta is available to anyone with an Apple Developer account. You can get one by paying $99 and the membership lasts for one year.
I installed the watchOS 2 beta yesterday on my 42mm Stainless Steel with Classic Buckle model. Installing watchOS 2 beta is a bit more complicated than installing the iOS 9 beta and it will take a little bit longer.
Rather than list out how to do it, I'll just let you watch this YouTube video that explains how to get the watchOS 2 beta installed on your Apple Watch:
Once you complete the install of the watchOS 2 beta, you can then start playing with some of the new features. I'll share my thoughts below about them, and you can make up your own mind about whether or not it's worth it to install the watchOS 2 beta on your Apple Watch.
Please note that I've only included the things I was actually able to use and test. Some things such as FaceTime Audio calls, native apps or additional complication customization based on app store apps aren't available yet in the watchOS 2 beta.
New time-lapse watch faces in watchOS 2 beta
One of the neat things about watchOS 2 is the new time-lapse watch faces. The new watch faces add an interesting wrinkle to the Apple Watch by showing you images of places like Hong Kong, London, New York, and Shanghai. The videos in the watch faces show were taken over the course of 24 hours, and you can see each location differently depending on the time in your own location.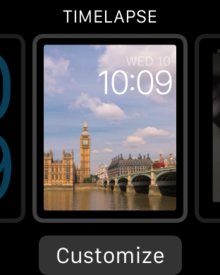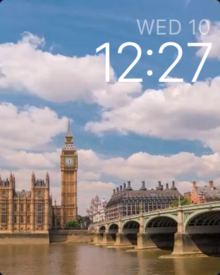 I looked for the new watch faces after I'd installed the watchOS beta on my Apple Watch. But they are not available by default, you have to add them yourself. Press down using Force Touch to bring up the watch face selection screen, then scroll to the right and tap on New. Then just look for the time-lapse watch face option.
Once you've added the time-lapse watch faces, you can use Force Touch to select which one to have running on your Apple Watch. The time-lapse watch faces look very cool indeed, and they are definitely different than the other watch faces on the Apple Watch.
However, after running them for a while I actually went back to my favorite watch face: Modular. While the time-lapse watch faces are cool, you can't add complications at this point so you can only see the time on them. Modular, on the other hand, lets you have a number of complications and provides a lot more information with a glance.
It remains to be seen if Apple will add complications to the time-lapse watch faces. Remember that this is beta 1 of watchOS 2, so it's entirely possible that we'll see some complications added in a future update. For now I'm in a "wait and see" mode.
Still, the time-lapse watch faces are undeniably cool and I'm glad Apple has added them. They add a little variety to the current selection of watch faces, and I'm looking forward to see what Apple does with the time-lapse watch faces. I suspect they'll add more locations at some point too.
Single Photo and Photo Album watch faces
Two other new watch faces are based on your own photos. You can set up a new watch face using a single photo, or you can set your Apple Watch to show you random photos from an album. Both options offer a neat way to personalize your Apple Watch.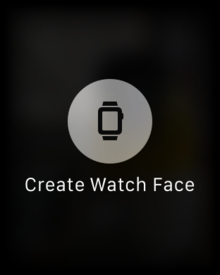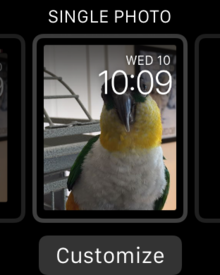 Before you use either option, you'll need to make sure that you've chosen an album in the Apple Watch app on your iPhone. Just go to My Watch, then tap on Photos to choose your preferred photo album. Once you've picked an album, it will sync over to your Apple Watch.
If you want to use the Photo Album watch face, you'll need to add it as a new watch face. Just press your current watch face to use Force Touch and then scroll to the right and tap the icon in the watch face selection screen. Find the Photo Album watch face and add it. After that you can select it like you can any watch face.
If you want to use a single photo, just tap on the Photos app on your Apple Watch home screen. You'll see all of your synced photos. Use the Digital Crown to zoom in and then press on it to use Force Touch to add it as a watch face.
I ran into a problem trying to customize the single photo watch face. Each time I tapped the customize button, my watch rebooted. So there's a clearly a bug or something going on with that right now in the watchOS beta. I'm sure it will be fixed in due time though so it's not a big deal.
The Photo Album watch face does not currently have a customization option. But I'm sure Apple will probably add one at some point.
I must say that it was great to see a different photo load each time I raised my wrist. It takes away the tedium of seeing the same thing all the time. I think the Photo Album feature will be very popular among Apple Watch users since it personalizes the device in a very fun way.
Time Travel in the watchOS 2 beta
Time Travel is another cool feature in watchOS 2. With Time Travel you can use the Digital Crown to move forward or backward in time. This can be quite useful if you want to see what the weather will be or what you have on your calendar if you're using it as a complication.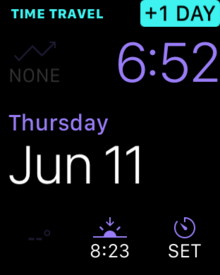 I had no problems using Time Travel in the watchOS 2 beta. It worked very well for me and I think it will be a popular feature when watchOS 2 is finally released. It adds a certain kind of convenience to the Apple Watch that isn't in watchOS 1.
Nightstand mode in the watchOS 2 beta
Nightstand mode is Apple's way of turning its watch into an alarm clock. By putting the watch on its charger, and then on its side it essentially becomes a handy clock. I tested this and it worked perfectly in the watchOS 2 beta. When your alarm goes off, you can use the Digital Crown to snooze or the side button to turn off the alarm.
While it's not my cup of tea since I rarely use alarms, I can see nightstand mode being very popular with travelers and anybody else who relies on an alarm to wake them each morning. It removes the need to use your iPhone as an alarm clock and takes advantage of the watch's time-keeping abilities.
The performance of watchOS 2 beta 1
Unlike the iOS 9 beta on the iPad Air 2, the watchOS 2 beta definitely feels more like…well…a beta. It is slower at times than watchOS 1 and also seems less stable than the iOS 9 beta.
However, this is beta 1 of watchOS 2 so all of this is to be expected. I'm sure it will improve significantly in future updates. Apple seems to be moving at warp speed with its Apple Watch development efforts so stay tuned to see what happens with future watchOS 2 betas.
Hold off installing the watchOS 2 beta if you can
My advice, as always, is to avoid installing beta software on your devices. But if you are seriously considering installing watchOS 2 then I suggest holding off for a little while until it's a bit more polished and more new features are added to it.
That said, the watchOS 2 beta is off to a pretty good start and it definitely lays the groundwork for a much better Apple Watch experience in the fall. Some of the new features that have been added work reasonably well considering it's beta 1, and I'm looking forward to seeing what comes in the next few updates of watchOS 2.
Did you miss a post? Check the Eye On Apple home page to get caught up with the latest news, discussions and rumors about Apple.