The Apple Watch is a terrific device for certain uses, but no matter how good it is there will always be times when you need your iPhone. Fortunately, Apple has made it very easy to switch to the iPhone from your Apple Watch via a feature called Handoff.
In this tip I'll show you how to enable Handoff on your Apple Watch and how to use it to switch between the Apple Watch and your iPhone.
How to enable (or disable) Handoff on your Apple Watch
Turning Handoff on (or off) on the Apple Watch is very easy. Just follow these simple steps:
1. Open the Apple Watch app on your iPhone.
2. Tap on My Watch.
3. Tap on General.
3. Tap on the Enable Handoff switch to turn it on.
4. Tap on the switch again if you want to disable Handoff
Please note that in order for Handoff to function properly, you need to have your iPhone near your Apple Watch.
Handoff works with all of these apps:
Mail Maps Messages Phone Reminders Calendar Siri
How to use Handoff on the Apple Watch
Actually using Handoff is quite simple, it just works. Let's say you are looking at a message in Messages on your Apple Watch. To see it on your iPhone, just turn on your iPhone and then swipe up in the bottom left corner (you'll see a small Handoff icon there).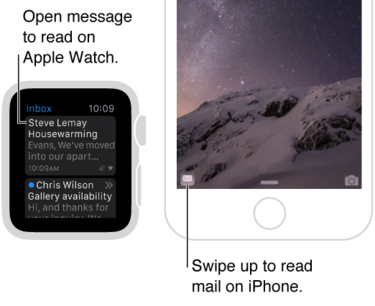 I have to admit that Handoff works extremely well and has proven itself quite useful when my Apple Watch isn't quite right for something. Don't get me wrong, I love my Apple Watch and I prefer doing as much on it as I possibly can. But, sooner or later, all of us run into a situation where it's easier to use Handoff and switch from the Apple Watch over to our iPhone.
I give Apple a lot of credit for realizing that — as good as the Apple Watch is — it doesn't cut it in every situation. There are times when you need the bigger screen or on-screen keyboard of the iPhone. Thankfully, Handoff makes it easy to use the right device for every situation.
Did you miss a post? Check the Eye On Apple home page to get caught up with the latest news, discussions and rumors about Apple.