The iPhone is a terrific device, and most iPhone users would never part with theirs. But we're all human and it's inevitable that we will eventually misplace our iPhones. This can be a terrific aggravation if you need to use your iPhone, but you can't remember where you left it in the house or in the office.
Fortunately, you can now use your Apple Watch to quickly locate a misplaced iPhone. In this tip I'll show you how to do it with just a few taps on your Apple Watch.
How to use the Apple Watch to find your iPhone
Locating a misplaced iPhone is easy with the Apple Watch. Just follow these steps to do it:
1. Swipe up on your Apple Watch's watchface.
2. Swipe to the Settings glance on the Apple Watch.
3. Tap the Ping iPhone button.
4. Your iPhone will emit a loud sound that will let you know exactly where you left it.
Thank goodness for the Apple Watch
I must admit that since I've gotten an Apple Watch, I've been using my iPhone less and less. I can do so much on the Apple Watch that my iPhone has been relegated to being second banana when I choose between the two devices.
And this means that I don't pick the iPhone up as much as I used to before I got my Apple Watch. Thus I've developed the bad habit of just leaving the iPhone wherever it's convenient when I come into the house.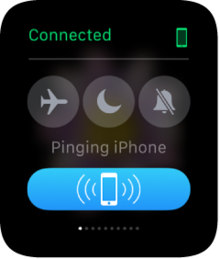 The end result of this cavalier attitude is that I misplace my iPhone sometimes and then can't remember which room I left it in! This can be a huge pain in the rear end when I actually do need to use the iPhone. So I've found the Apple Watch's ability to locate my iPhone to be a huge help. Whoever stuck that feature into watchOS should get a medal from Apple.
When I first got my Apple Watch, my mind was on all the cool features and things it could do. Never in a million years would I have thought of it as a handy tool to find a misplaced iPhone. But that's exactly what it has been doing for me, and I'm very grateful that Apple included that feature in watchOS.
So don't forget about your Apple Watch when you find that you can't locate your iPhone. Just a tap or two on your watch, and you'll know exactly where you left your iPhone. Thanks Apple!
Did you miss a post? Check the Eye On Apple home page to get caught up with the latest news, discussions and rumors about Apple.