Two weeks ago, Amazon announced its quarterly earnings, reporting a much larger net loss than expected. There was much speculation by pundits about the reasons for the scale of the loss (including me in a CNBC segment). Many commentators placed responsibility for size of the loss on Amazon Web Services – after AWS responded to an approximately 30 percent price cut by Google, the size of the "other" AWS category, in which Amazon places AWS revenues, fell 3 percent from the previous quarter.
After the announcement, a number of tech commentators discussed the implications of this 3 percent revenue drop:
Quentin Hardy of The New York Times says that, despite the quarter "other" category being up 35 percent over the previous year, AWS growth may be slowing. Now that it faces additional competition from Google and Microsoft, along with the need to do more handholding of potential enterprise customers, it may confront tough times ahead.
Barb Darrow of GigaOM agrees that AWS faces competition from Google and Microsoft, but notes that these companies are coming from way behind AWS; the potential for harm is prospective, not something that's happening today. Implied in her commentary is the fact that steep price cuts triggered by actions by Google and Microsoft have much more of an impact on AWS than on those companies exactly because their revenue base is so much smaller.
CRN UK notes that, with increased competition from Google and Microsoft, AWS can no longer maintain it has more deployed infrastructure than its nearest four competitors combined.
Beyond these assessments, one well-known venture capitalist says AWS is overpriced. Beyond a certain amount of monthly spending, users are better off building out their own infrastructure. Moreover, he states, AWS offers terrible support and mediocre service offerings. Because of Amazon's inability to change its low-cost, low-touch nature, which he refers to as Amazon's "Scorpion Problem," Google and Microsoft have a tremendous opportunity.
According to these commenters, Amazon faces a watershed moment. Before this quarter, effectively unopposed, it ran wild and built a huge business; however, from now on it faces unending competition, relentless pricing pressure that will lead to dropping revenues and abandonment by customers seeking better quality solutions who also feel AWS is overpriced.
AWS Not Likely to Worry About One Quarter of Revenue Drop
While all of these reactions to Amazon's most recent quarter are, no doubt, well considered, they're guilty of analyzing one quarter's results and assuming they predict serious long-term trouble for AWS. Instead of foreseeing trouble on the horizon, you could have taken this quarter's Amazon results and interpreted them this way:
Taking a 30 percent price cut and suffering only a 3 percent drop in revenues implies, to my mind, around 25 percent quarter-over-quarter growth in usage. Annualized, that implies about a 100 percent usage growth rate and, assuming that each quarter doesn't see a 30 percent price cut, an increase in revenues of around 40 percent. This doesn't include any additional growth due to price elasticity – of which, as this memo regarding its ebook pricing dispute with Hachette indicates, Amazon is keenly aware. So the AWS usage growth rate might actually increase as a result of this price cut.
Don't count AWS out as a result of price competition from its newly energized competitors Microsoft and Google. While they undoubtedly have deep pockets, Amazon historically focuses on driving prices lower and has enormous skills in increasing efficiencies and reducing cost factors. It's unlikely that it was surprised by a competitor using price as a differentiator and has undoubtedly prepared for ongoing price competition.
The companies most damaged by this fierce price competition aren't the AWS, Google and Microsoft troika. It's everyone else. They view these low prices as an existential threat. (This piece, for example, bizarrely argues that low cloud computing prices are a disservice to users, instead of more honestly saying that brutal price competition merely exposes those unable to sustain their business absent high prices). You could view Rackspace's move to providing only managed cloud services as an admission that, like a Tour de France rider who falls back from a breakaway group to the peloton, it can no longer keep up with the tougher competition. The ongoing price war has turned this market into one that requires deep pockets, constant innovation, intense operational efficiency and steely competitive nerves. The biggest losers will be the would-be providers that find themselves in desperate financial condition as time goes by.
Little noticed amid all the wailing (or gloating) about Amazon's AWS prospects is a report released recently by Pacific Crest Securities. Far from predicting doom for AWS, it states that AWS will do $5 billion in revenues in 2014 and goes on to say, "AWS remains on a hypergrowth trajectory despite the law of large numbers and remains on pace to essentially double revenue every two years."
[ Case Study: How AWS Helped Scale App for World Cup Social Media Hub ]
This is, in effect, an upgrade from previous AWS revenue estimates. Last year, I gathered all the estimates I could find for AWS revenues, drawing on numbers from GigaOm, MorganStanley, MacQuairie and RW Baird. The blue line in the chart below shows those estimates, which placed potential AWS revenues in 2020 at $20 billion.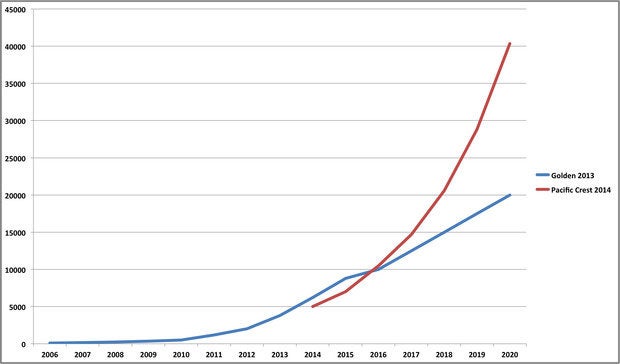 Pacific Crest's numbers, identified by the red line, call for around 40 percent growth per year, in line with my previous point. They come out far larger – to around $40 billion, twice the previous estimates. This kind of increased opportunity for AWS (as noted by Gartner's Lydia Leong and InformationWeek's Charlie Babcock), to my mind, proves more persuasive than the threnodies described earlier.
Of course, these are estimates. Amazon refuses to break out actual AWS revenues, preferring to bury them in its "other" revenue category. However, given AWS revenue growth, we're probably only one or two years away from a time when financial regulations will force Amazon to report actual AWS revenues. At that time, all of this discussion will move from speculation to fact, and we'll know exactly how well AWS is doing – unlike some others in the space, who have had the SEC come after them about how they're accounting for what they dump into their cloud revenues.
The Real Message About AWS Revenues and Growth
Those who view this price war and revenue guessing as merely something confined to handicapping cloud provider competition make a serious mistake. In my view, the biggest impact of the growth of the cloud provider market is its effect on traditional IT and its vendors. R.W. Baird estimates that every $1 spent on a cloud provider displaces $4 that would have been spent on traditional IT gear.
[ Analysis: As Cloud Apps Soar, CIOs Take on Cloud Service Broker Role ]
Amazon's 2020 revenue won't just be $40 billion spent on AWS. It will be $160 billion not spent with traditional vendors. As Leong notes, the ongoing growth and price reductions on the part of public cloud providers makes on-premises infrastructure – and therefore kit from legacy infrastructure vendors – decreasingly appealing. Cloud computing will dramatically change the nature of IT organizations as well, transforming their charter from asset ownership to infrastructure management.
So, while many viewed Amazon's Q2 financial results with glee and more than a little schadenfreude, it's too early for AWS skeptics to break out the champagne. Instead, it's time to recognize where we really sit: On the crest of a sea change in the way IT is done around the world.