Twitter is moving away from its cost-per-engagement model for ads and putting objectives like app installs, follows and leads front and center. Campaigns on Twitter will now begin with the end goal in mind, enabling advertisers to only pay for specific actions they deem most effective in achieving that objective.
Instead of trying to force a certain ad unit to deliver the results they're after, campaign managers will be directed to the best ad format based on predefined goals. This work happens automatically in Twitter's new objective-based workflow, which also makes it simpler to create ads and customize rich media, the company says.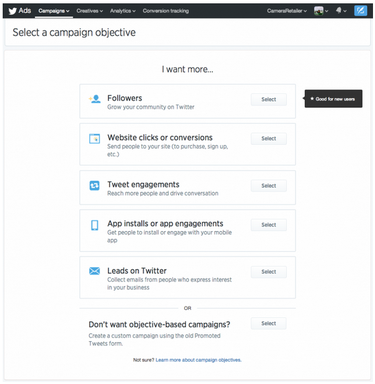 The shift in Twitter's ad pricing and structure is important, not because it's unique but because much of the industry is already moving in this direction. Page views and clicks with no purpose carry far less meaning for brands than actual conversions or leads.
[Related: Twitter Readies Design Changes As It Unveils New Ad Offerings]
Facebook has been selling ads from an objectives-based approach since October, after it killed off a series of redundant ad products to make it easier for ad managers to set up and track their campaigns.
Advertisers and marketers are always focused on driving business outcomes, so it makes perfect sense for Twitter to do the same. Facebook's momentum of late may not be entirely linked to its refined ad structure, but its fortunes have grown exponentially since last fall and Twitter surely must have noticed.
In flipping the script, Twitter is also taking on most of the risk by essentially guaranteeing that its ads will deliver results up front. When, for any reason, those objectives aren't reached Twitter won't make so much as a penny.
[Related: Has Social Media Become the Wild, Wild West for Marketers?]
"Objective-based campaigns are designed to help you drive the highest possible ROI (return on investment) from your ads," Christine Lee, senior product manager of revenue, writes in a blog post detailing the changes coming to Twitter ads. "Objective-based pricing ensures that you only pay for the results that impact your marketing goals."
Advertisers can choose from various objectives, including tweet engagements, website clicks or conversions, app installs or engagements, followers or leads. A campaign aimed at driving app installs or app engagement will be charged on a cost-per-app-click model while a lead-generation campaign will be charged based on how many users submit their information via Twitter's lead generation card in a promoted tweet. (See video below.)
The new ad campaign framework and pricing structure is now available in beta to small- to medium-sized businesses and API partners globally. Twitter says it also plans to make the service available to managed clients via invite over the coming months.
[Related: Twitter Scores by Moving the Goal Posts]
The change for direct marketing on Twitter comes on the heels of the company's surprisingly strong quarter in which revenue grew 124 percent year-over-year to $312 million, but net losses also jumped 71 percent over the same period to $144.6 million.