LinkedIn is unbundling itself at an increasing rate as it approaches its "mobile moment" later this year when more than half of its 313 million users access the site via mobile devices. The company has released a series of mobile apps for specific use cases — seemingly throwing everything at the wall to see what sticks.
But this isn't an attempt to cook pasta al dente, it's more like family planning as LinkedIn sees it. That family of apps now stands at six and the company shows no signs of letting up anytime soon.
"We've placed mobile at the center of innovation for LinkedIn," says Tomer Cohen, head of the mobile product team at LinkedIn. "Every year now for the last three years we've been developing and releasing new experiences from scratch."
When Cohen first joined LinkedIn almost three years ago, fewer than one out of every five users was accessing the site via mobile devices. The rapidly approaching inflection point with mobile has been driven by two major trends, he says. Professionals from every walk of life and industry are clamoring for rich mobile experiences on LinkedIn and more of those users are accessing LinkedIn on mobile devices every day, Cohen says.
[Related: How To Improve Your Job Search With LinkedIn's Mobile App]
'Fulfilling a Very Simple Wish'
"Why do we need to innovate fast on mobile and why is mobile in a way changing every year? It's really because the audience is changing, the industry is changing… We're literally, in a way, not only trying to catch up but also innovate for that industry," Cohen says.
"When you're trying to fit the richness of the desktop experience into mobile it's actually very hard to do within a simple mobile app," he says. "We're not limiting ourselves to one app. We strongly believe in creating intuitive simple experiences… We believe that every mobile experience should be fulfilling a very simple wish."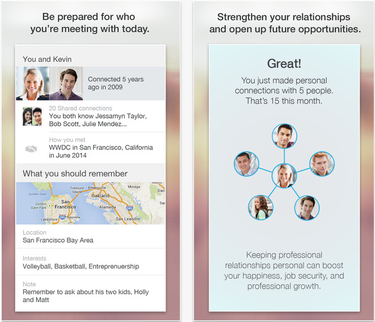 Those simple wishes are being tailored to meet different objectives that users are likely to encounter throughout their career. LinkedIn embraces the fact that certain apps will make more sense than others during certain points in an individual's career. It fully understands, and indeed, designs its mobile apps to be used a la carte.
"If you take a quick tour of the family of apps, you can see how they cater to the member life cycle and to the different use cases you might have for LinkedIn," says Cohen.
Of course the member life cycle begins with the flagship mobile app, in which LinkedIn aims to provide all the essentials of its platform on mobile. Five additional apps, two of which have been released in as many recent months, comprise the remainder of LinkedIn's family today.
[Related: How to Generate Leads From 4 Top Social Networks]
A Family of Six and Counting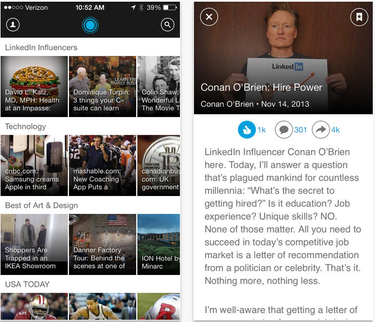 The Connected app, which was released on July 10, is a "high-touch experience" that allows users to nurture and expand their network, says Cohen. LinkedIn's Job Search app, released June 19, is the first standalone app dedicated to helping its members find, research and apply for jobs in a more discreet medium.
"A lot of folks are coming to LinkedIn to think about their next career move," says Cohen, describing the app as a "rich, simple, intuitive way for you to find your dream job." The Jobs Search app is an obvious move for LinkedIn to make, considering 60 percent of its total revenue was derived from job postings and other talent solutions in the last quarter.
Pulse, which is LinkedIn's answer for news and content tailored to its users' interests, surfaces the top stories and a stream of recommended articles in real time. The Slideshare app, which is only available on Android now but coming soon to iOS, enables users to present content in a slideshow format. Slideshare is the top online destination for slideware today, according to Cohen.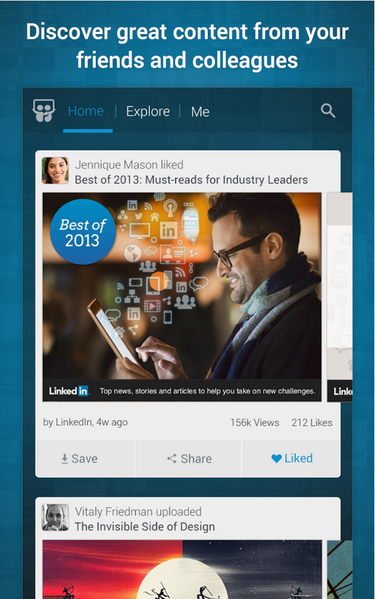 Finally, there's LinkedIn's Recruiter app, which helps recruiters expand their funnel by making the right contacts as they search for the most appropriate candidates for open positions.
[Related: Smaller Businesses See Big Returns From Social Media]
"For you to achieve your task, whether it's a job search, whether it's news, whether it's connecting with your network, if we can extend that and provide a much richer experience, we will," says Cohen, explaining LinkedIn's multi-app strategy.
"Users come to LinkedIn in many shapes and forms," he says, but the overall objective for all of them is to be more productive and successful. "We want to make sure you're productive and successful. At the end of the day what's important for us, whatever notion in mind you're coming to the platform with, whatever skill set, from whatever place, from whatever device, we can help you accomplish that task and provide value," says Cohen.
"If we decide we found another great use case that could be extended to mobile, it's actually part of the DNA now that you can extend and build," he adds. "When you build a family of apps, what you want to keep in mind is how do you transition between those apps and when do you want to give birth to a new member of the family?"
LinkedIn isn't targeting a specific number of separate apps so much as it is extrapolating certain uses cases that could be improved on an individual basis, says Cohen. "At the end of the day, it's one LinkedIn ecosystem," he adds. "We see them as experiences that are more holistic and flow" from one app to another.