Samsung today unveiled the latest member of its Gear family of wearable devices, the Gear VR Innovator Edition. The headset is Samsung's "first VR experience powered entirely by your cell phone," according to Nick DiCarlo, vice president of portfolio planning and product marketing, Samsung Telecommunications America.
The gadget is a companion device to the brand new Galaxy Note 4 "phablet," which was also unveiled today, along with the Galaxy Note Edge smartphone.
I was on the scene at Samsung's shiny new Marketing Center of Excellence and Enterprise Customer Briefing Center in New York City's Meatpacking district. After kicking the Gear VR's virtual tires a bit, a handful of notable facts (some good, some bad) were immediately apparent.
1) Galaxy Note 4, and Only Galaxy Note 4
The most important thing to know about the Gear VR headset right now is that it's strictly a Galaxy Note 4 companion device. In other words, if you're not interested in Samsung's latest and greatest phablet, Gear VR isn't for you. The headset doesn't currently work with any other smartphones. This includes other Samsung Note smartphones, such as the new Galaxy Note Edge.
Samsung hinted that future versions might support addition devices, but it didn't say for sure.
2) Samsung Gear VR Availability and Pricing
Samsung didn't release any specific availability or pricing details for the Gear VR headset, but it did say the gadget will be available "later this year" and "through the Samsung online channel and selectively by carriers."
T-Mobile says it will offer both the Galaxy Note 4 and Galaxy Note Edge some time this fall, but it didn't mention the Gear VR headset. AT&T confirms that it will offer all three devices, but didn't say when. Sprint says it will offer the three devices, but also didn't say when. Verizon has a product page listed on its site for both new Galaxy phones but hasn't said when it will release them. Verizon hasn't mentioned Gear VR, either.
The Galaxy Note 4 and Gear VR headset will likely be offered as a package via one or all of these U.S., carriers, with a price tag in the $500 range for the pair. (You'll also need a separate set of headphones if you want the full audio experience of Gear VR, which could set you back another significant sum.)
3) Gear VR is Wireless, Has Its Own Controls
As previously mentioned, the Gear VR headset is designed to work alongside the Galaxy Note 4 smartphone, which serves as the device's "brains," but it's also completely wireless and it has its own set of controls so you don't need to connect any sort of controller or joy stick.
For example, the right side of the Gear VR headset has a touchpad and separate back button for navigation, as well as volume up and down keys. A focus-control dial is built into the top panel, too, so you can adjust your view for a clearer focus.
4) Gear VR Isn't for Everyone
Samsung is targeting a very specific set of users with the Gear VR headsets — specifically gamers, film and entertainment junkies, and gadget geeks who seek the latest and greatest tech. The company's first set of related partnerships includes pacts with Marvel, IMAX, DreamWorks Animation, Cirque de Soleil Media and video site VEVO. That paints a picture of the target Gear VR user.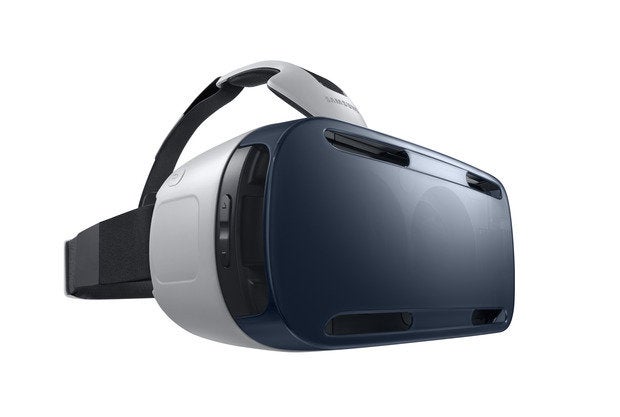 The potential market for Gear VR gets even smaller when you take into account the need for a brand new Galaxy Note 4 smartphone. So while Gear VR is intriguing, it's not for everyone — at least not yet. According to Oculus, which provides the VR tech for the Gear headset, the first version is "an early-access, beta-version of the device for developers and enthusiasts rather than a final consumer product."
5) Gear VR/Galaxy Note 4 Display Resolution and Immersive View
The Gear VR headset uses the Note 4's impressive display as its own, and as such the Gear VR has a cutting-edge screen resolution — at least for a device of its kind — of 2560×1440 pixels. This level of HD is important because it adds to the life-like Gear VR immersive experience.
Gear VR offers a 96-degree field of view, according to Samsung. The headset is suitable for people with both nearsightedness and farsightedness, and it offers "interpupillary distance coverage" of between 55 millimeters and 7 millimeters, Samsung says. (Interpupillary distance, or IPD is "the distance between the center of the pupils of the two eyes. IPD is critical for the design of binocular viewing systems, where both eye pupils need to be positioned within the exit pupils of the viewing system," according to Wikipedia.)
6) Gear VR Works Surprisingly Well
Before I put on Gear VR, I was quite skeptical of the whole idea. The device looked immediately like a shameless effort to sell more Galaxy Note 4 devices and lock users into Samsung's ecosystem — and, let's face it, it is.
But the fact is that Gear VR works quite well, and the overall experience is impressive.
As soon as I slipped the headset on, the vivid colors of the Coldplay concert on the display gripped my attention. It looked stunningly lifelike, and the idea was very intuitive; I immediately knew to move my head from side to side, up and down, to get the full immersive experience.
The sound quality was also impressive — though the audio quality was a product of the headphones provided by Samsung. At one point, confetti shot up into the air during the concert. It was probably the most lifelike example of 3-D virtual reality I've ever seen.
My only complaint is that I couldn't seem to get the focus right, so my vision was always a bit blurry. However, it's hard to say if the issue was related to the device or some other factor.
Overall, Gear VR pleasantly surprised me. Both Samsung and Oculus might really be on to something.
You can learn more about Samsung's new Gear VR headset on the company's website and Oculus.com.
AS