As I watched Apple's big unveiling of its new iPhones, Apple Pay, and Watch on Tuesday, I just had to start writing up an "endangered" list. My relationship with the following apps, devices and other stuff could come to an end once I get my hands on an iPhone 6 Plus and Watch. However, there is one gadget that no iOS device will likely topple in terms of my affections.
1. iPad mini. My friends joke that I have more tablets than a medicine cabinet. And for a while, the iPad mini was my favorite. It seemed the ideal "take-anywhere" tablet. But I'm already planning to sell my mini to help finance my iPhone 6 Plus purchase. The mini just seems unnecessary, caught between the 5.5-inch iPhone 6 Plus "phablet" and my 9.7-inch iPad Air.
2. Mio Alpha heart rate watch. Not long ago, a Starbucks barista I'm friendly with noticed I was wearing two "watches": a Mio Alpha heart rate monitor and a Fitbit Force. "Looks like one watch too many," he said.
I'm thrilled at the prospect of slimming down to a single watch during exercise. It remains to be seen how well the Apple Watch's heart rate monitor works, of course. But if it's as effective as the Mio Alpha in continuously recording my heart rate during a workout, I'm kissing the Mio goodbye. My Fitbit Force watchband recently, and irreparably, broke, so we've already parted ways.
3. A Fitbit wearable device. In lieu of the Force, I'm now using a Fitbit Flex wristband. Will I still wear the Flex in addition to an Apple Watch when the latter may do everything a Flex does and more? Probably not.
Of course, I might. Over the past two years as a loyal Fitbit user, I've convinced half a dozen close friends to buy one. We can view each other's daily step totals in the Fitbit app's leaderboard — which is an incredible motivator. I'll really miss the competition when I switch to an Apple Watch, and I seriously doubt all my friends will opt to follow me there. Even if they did, will we be able to see each other's step totals, as we can with Fitbit? So far, I've not read anything about a similar leaderboard feature with the Apple Watch and its Activity and Workout apps.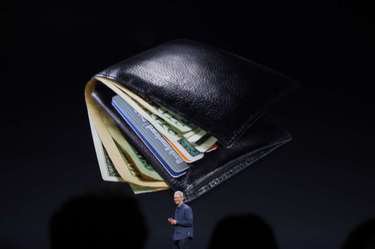 4. A fat wallet. My wallet bulges with too many cards. With the new Apple Pay digital payment system, which lets you pay for merchandise using an iPhone 6 or Watch and your linked credit cards, I could start carrying a much slimmer wallet. Good thing, too, because I'll be devoting a lot of pocket space to that big iPhone.
5. Most third-party camera apps. Apple's upcoming iOS 8 (due Sept. 17), coupled with the iPhone 6's camera improvements, could make me less dependent on some third-party photo apps. Example: I've used the GorillaCam iOS app a lot for its rapid-fire burst and time-lapse modes — two features that are built-in to Apple's Camera app in iOS 8. (Burst mode is already available on the iPhone 5s, but older devices will get it with iOS 8.) The iOS 8 Photos app also delivers some image enhancement tools that were previously available only in third-party apps.
One Thing That's Safe — For Now. Though I suspect the iPhone 6 Plus will make an ideal e-reader in many situations, I'm hanging onto my Kindle Paperwhite. Its screen is much more legible in bright sunlight than any iPhone or iPad screen, making the Paperwhite ideal for afternoons in the park or at the beach.