By Roger Bjork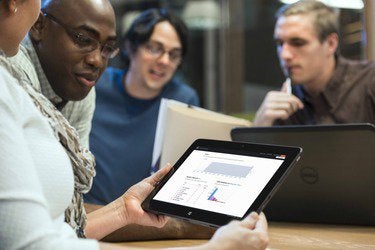 After talking to thousands of customers and reviewing many BYOD implementations, it's become clear that successful deployments are always tied to a broader business initiative. For example, the desire to improve productivity or increase the size and effectiveness of a mobile workforce. In addition, for the business initiative (and BYOD) to be successful, IT, HR, legal, security and the all impacted parts of the business must be aligned on goals, policies and how to measure success.
Take increasing the mobile workforce. Simply giving employees the ability to access network services using a smartphone or tablet won't necessarily make them productive remote workers. What facilities will they use? How will they get office supplies? What if they need technical assistance? How will they attend meetings? What if they need other equipment or better collaboration tools? What are the expectations around when and how many hours remote employees should be working? Does the office need to be reconfigured to accommodate more "guest" workers? Only after these and many other questions are answered can executives understand the value of BYOD to the broader initiative and decide how to measure success.
With this in mind, here are five best-practice recommendations for developing an effective BYOD strategy:
1. Create a cross-functional team from IT, HR, legal, security and respective business units to understand all applicable use cases where mobility will support the broader business initiative and help employees work better or faster. Anticipate the number of millennials who will be joining your company as they rely more heavily on mobile devices. In the context of the broader initiative, establish what you will measure to gauge the success of your BYOD program.
2. Work through the potential devices (e.g., phones, tablets, touch vs. point and click, etc.) and applications that users will need to be most productive. Also determine the appropriate technology to deliver applications and data to the devices: a virtual environment, secure enterprise workspace, web interface or native applications.
3. With input from the cross-functional team, establish policies and guidelines that will apply to mobile users and devices. Then set employer and employee expectations for mobile workers and determine which other tools will need to be acquired to manage the mobility infrastructure, enforce policies and ensure security and compliance. Also set up your service and support cycle and guidelines. How will employees get the help they need and get their devices serviced?
4. Conduct a pilot program using a small group of users to get feedback on the policies, technology, any training that's required and overall user experience. Make necessary changes based on feedback, then roll out the BYOD program as part of your larger initiative and begin measuring its success.
5. Remember, you're not alone. There are plenty of case studies and whitepapers on the internet that can walk you through these steps in more detail. Also consider soliciting insights from vendors that have developed mobile-enablement best practices. This will assist you in establishing and implementing your mobile strategy.