Social media is as much an art form as it is an ongoing science experiment. Delivering the right message to the right audience at the right time is a key determining factor in the success of virtually every update, tweet or post.
Most of the marketers, brands and media outlets that embrace the opportunity to spread their voice and relevant stories on social media aren't exactly playing in the dark. They've learned to rely on automated tools, data from previous campaigns and real-time engagement metrics to understand when to post with the most effect on Twitter, Facebook and other platforms.
Nothing is a sure thing, especially on social media, so although most social marketers follow a well-designed playbook for their activity on social media, they're also acutely aware of the possibilities that can arise without so much as a hint of importance. Mapping out a game plan and scheduling your activity on Twitter and Facebook accordingly is important, but many are quick to point out the increasing need to act fast and intelligently when opportunity comes knocking.
There is also a wide gap between what's considered the sweet spot for the number of posts made by brands and media companies. Generally, media companies have a much longer runway in terms of how many posts they can make each day without turning off their followers.
The 5-3-2 Rule Still Applies
Timing and frequency isn't everything, though. Other rules and practices are still providing guidance for social marketers at various levels. For example, there's the 5-3-2 rule crafted by T.A. McCann, founder of Rival IQ and Gist.com.
According to McCann's framework for social media, out of every 10 tweets or Facebook posts, five should contain content from others that is relevant to your audience, three should be content created or designed by you and two should be something personal and non-work related to help humanize yourself or your brand.
[Related: How to Make Sure Your Social Marketing Isn't Junk]
The team at Buffer, an app designed to let you manage and automatically schedule content for multiple social media accounts, recently created a social media frequency guide that aims to take at least some of the guessing work out of social media marketing.
Here's how often Buffer posts to its social media channels:
Twitter: 14 times per day from midnight to 10 p.m. (CT) and never more than once per hour; seven times per day on weekends from 3 a.m. to 9 p.m. roughly every three hours
Facebook: Two times per day, seven days a week at 10:08 a.m. and 3:04 p.m.
LinkedIn: 1 time per day at 8:14 a.m., no weekends
That frequency and schedule isn't set in stone for Buffer, nor should it be for anyone else, the company says. Scheduling posts on social media should be an experiment that can be consistently revised based on the latest analytics.
"There aren't a whole lot of shortcuts here, but with the right data, we can at least gain a head start on the prediction process. Saying beyond a shadow of a doubt that X is the best number of times to post to Twitter and Y is the best number to post to Facebook would be misleading," Buffer's Kevan Lee writes in the social media frequency guide. "There is well-researched data, for sure. But consider it as a jumping off point for customizing your own optimal schedule."
Content is Even More Important Than Timing
Adobe's latest social intelligence report, which looks at fluctuations in social media engagements on a quarterly basis, is also a good resource for scheduling brand activity and understanding where engagement is rising.
Comments and shares are driving a larger portion of overall social engagement for brands on Facebook. While likes are still the most popular form of engagement, they continue to decline on the whole. Comments and shares are up in their stead. Comments share of post engagement on Facebook is up 16 percent year-over-year and 40 percent from the previous quarter, Adobe found.
[Related: Facebook Vows to Destroy Click Bait and the Results Could Be Shocking]
Adobe's research also indicates that the type of posts that brands share with their followers on Facebook is probably even more important to achieve meaningful engagement than the time or frequency in which those posts are distributed.
Posts with images still provide the highest engagement rates overall, but they're also on the decline. Text-based posts are seeing engagement rates of less than 1 percent while posts with links and video continue to gain interest among Facebook's users. Video post engagement is up 25 percent year-over-year and 58 percent from the previous quarter while posts with links are up 77 percent year-over-year and 167 percent from the previous quarter.
It's Friday and You've Got Something to Do
Social media marketing becomes more of a science when scheduling comes into play. Video plays on Facebook, for example, occur most frequently on Fridays with nearly one-quarter of all brand post video plays occurring as the traditional work week comes to a close, according to Adobe.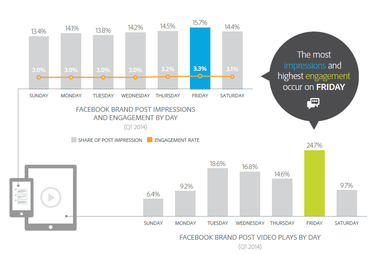 Facebook users are also commenting, sharing and liking brand posts the most on Fridays. For brands, Fridays generate 17 percent of all comments, 16 percent of likes and 16 percent of shares. Adobe suggests that weekends are still the best time for brands to get engagement from consumers, although Sundays are the least likely day for brands to receive a comment on a post.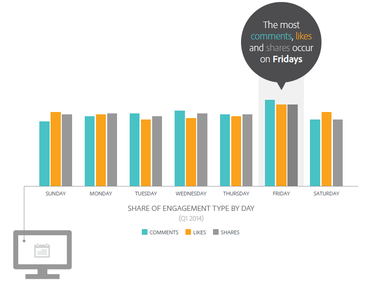 While there is plenty of debate around the best time of day and week to post on Facebook and Twitter, there are some general guidelines that most marketers follow.
[Related: How Social Networks Are Changing Mobile Advertising]
Some research indicates that 1 p.m. is the best time of day for brands to post on Facebook and get the most shares while posts scheduled for 3 p.m. typically get more clicks. However, the broader opening for brand posts spans from 9 a.m. to 7 p.m., meaning that any posts scheduled after dinner and before work are the least likely to drive engagement.
Twitter is even more difficult to pin down because so many of its users will check in on their mobile devices throughout the entire day. While some studies have shown that weekdays provide more engagement than weekends, other research draws the exact opposite conclusion. This is why brands need to experiment with different times to determine when they are most likely to engage with their audience.
Retweets are generally highest around 5 p.m. while click-through rates seem to perform best around noon and 6 p.m. Results will vary accordingly, but tweets posted during the typical morning commute hours and later in the day are more likely to drive the results brands expect and need from social media.