Co-op
Co-op, a no-frills application with a simple user interface similar to Twitter's, is free for everyone.
Features: Post updates, ask questions, share links, track time. Co-op also lets you share your daily agenda with your coworkers, so everyone knows your current projects. The Web app automatically stores records of activity, allowing you to review what your team has accomplished each day.
How are others using microblogging in the enterprise? Click here for three case studies.
Cyn.in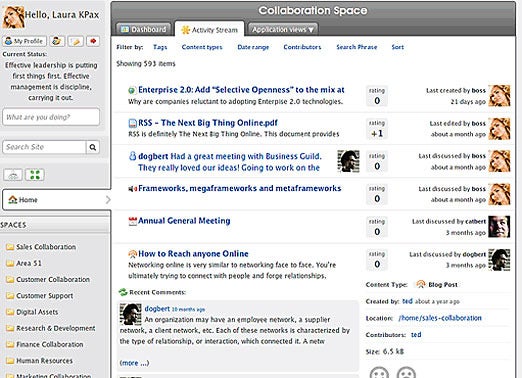 Cynapse's Cyn.in open-source community edition has a robust collection of enterprise collaboration tools. Three versions of the tool are available; the free community edition includes Active Directory integration, application source code, Web-based appliance management console and more. The other editions sell for approximately $4,500/year to $15,000/year.
Features: Wikis, blogs, file repositories, event calendars, discussion boards, image galleries, collaboration spaces, status logs, people directory, crowd rating and voting and more.
Four Tips for a Successful Microblogging Implementation
CubeTree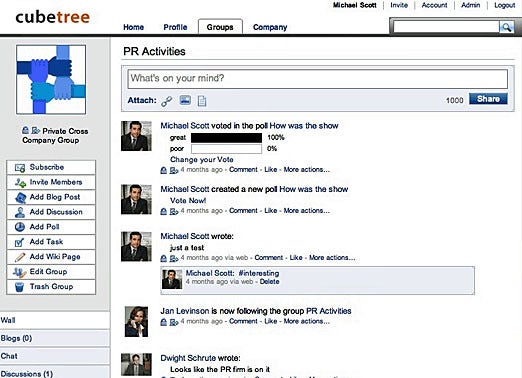 CubeTree, recently acquired by SuccessFactors, is an on-demand enterprise collaboration suite available in free and premium versions. The free version includes user profiles, microblogging, file sharing, wikis, and 10MB per user.
Features: Suite includes standard microblogging characteristics. Status updates of 140 characters; a commenting feature (similar to commenting on activity streams on Facebook); feed filtering, which lets you choose who to follow and what feed items you'd like to receive; direct addressing (similar to Twitter's @name function); and integration with several third-party systems.
Hashwork
Hashwork doesn't require a company administrator; sign up by entering a work e-mail address and you'll become part of your company's community on Hashwork. User interface and function is very similar to Twitter. You get more management features with paid versions.
Features: 140-character posts, direct addressing, groups, hashtags.
Three Dangerous Social Media Misconceptions
Jaiku
Jaiku is a tool similar to Twitter, but powered by Google. Jaiku is free for everyone.
Features: Updates can be posted via Web, instant message and SMS, as well as through third-party applications built by other developers. Jaiku also lets you include icons in your messages, customize your background, add Web feeds and set your location.
Obayoo
Obayoo's enterprise collaboration tool rolls a number of standard tools into a comprehensive package that includes a private network for your company. It's free for everyone.
Features: Activity streams let you connect with colleagues and see what they're working on; ability to archive messages; create unlimited groups; connect with clients and contractors via invitations; share files, images and Websites; guaranteed SSL protection.
Present.ly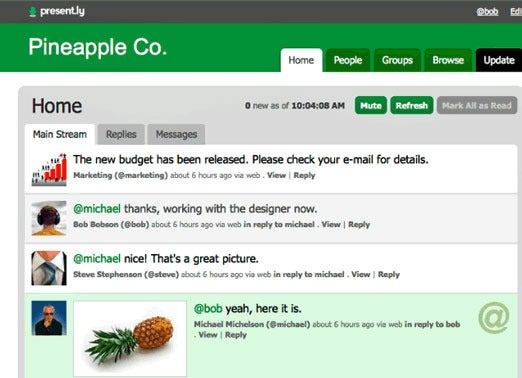 Present.ly's free, SaaS service is hosted on its secure servers. Upgrading to Present.ly's enterprise-grade solution lets you host the application behind the firewall and is suggested for midsize to large organizations with existing IT infrastructure.
Features: Post short updates that are tracked or "followed" by others. Present.ly is secure and private; messages are not visible to the outside world. Present.ly also includes groups to keep conversations organized and the ability to share documents and media with coworkers. Present.ly can be accessed via desktop, iPhone, Andriod, BlackBerry, Windows Mobile and Sharepoint.
Qontext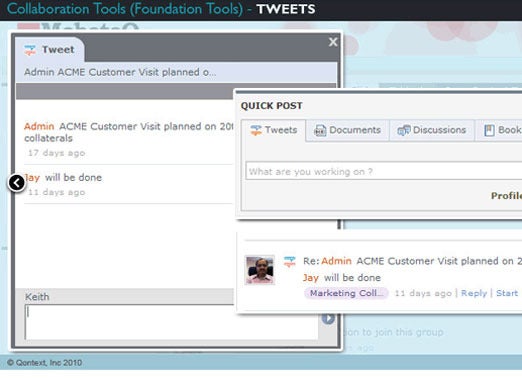 Qontext's free edition is recommended for small organizations and startups (it's free for up to 25 users). Upgraded editions include full brand customization, a desktop client, identity management and more storage.
Features: Customizable activity feeds; user profiles that include a profile photo, contacts, location, work details, interests and more; group profiles; badges for quick identification; ability to share and collaborate with users outside your company; search capability; microblogging; document sharing and more.
Sharetronix
The Sharetronix suite of enterprise collaboration tools is in beta and free to everyone. Unique to its suite are usage statistics and the ability to have content indexed by Google (if you want).
Features: Status updates, real-time dashboard, groups, ability to share multimedia, content tagging, search center, real-time RSS aggregation, Facebook and Twitter integrations, mobile capabilities, reshare function (similar to Twitter's "retweet" button), open API and more.
When to Quit Twitter: A Productivity Guru's Advice
Snipia
Snipia is a very basic Web-based tool for sharing and tracking tasks within a group, as well as sharing files and status updates. Snipia is free for everyone.
Features: Creating project groups, assigning and updating tasks to group members, posting Twitter-like status updates, uploading and sharing files with your team members.
Socialcast
Any employee with a valid company e-mail address can join Socialcast's Basic deployment for free. Upgrades to the premium hosted and "behind the firewall" versions are also available, for a fee.
Features: Activity streams; security and compliance (128-bit encrypted data storage); Outlook connector, SharePoint and other integrations; employee profiles; administration tools; microblogging; mobile accessibility; desktop app, analytics and more.
Socialtext
Socialtext's version with microblogging, social networking and a wiki workspace is free for up to 50 coworkers.
Features: Personal profile where you can add contact information; your picture and tags that include your skills and interests; feeds of your recent activity and your followers' activity; message sharing to individuals or groups; desktop app for an alternate interface.
Socialwok
Socialwok's basic service is free, with customizations available by installing applications and widgets from the Socialwok app platform. Paid subscriptions include additional administrative features, applications and dedicated support.
Features: Share ideas, files, Web links, Google Docs and Google Calendars with everyone or a select group of coworkers. Create feeds for departments and projects in the company; get real-time notifications when new updates are posted; maintain private feeds. Socialwok is accessible via Gmail with its Socialwok Gmail gadget and via its mobile Web version.
Status.net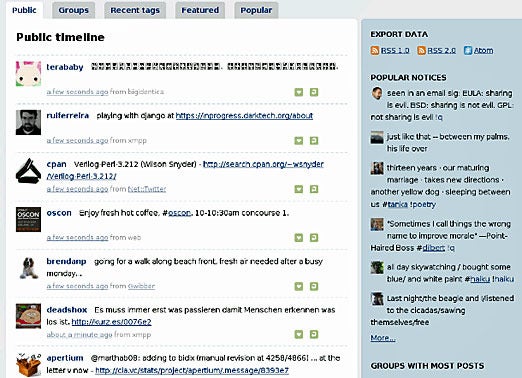 Status.net enables the incorporation of micro-messaging into a business's own Web domain. Two types of free downloads are available: StatusNet and its cloud account.
Features: File sharing, creating groups, tracking popular updates, available plug-ins and apps, customizable themes, integration with other social networks and accessibility via mobile and desktop.
Yammer
Yammer is a private and secure communication platform for companies, groups and organizations. Its basic package is free; upgrading to the silver or gold package costs $3-$5 per user, per month.
Features: Yammer's free package includes use of its microblogging tool; groups; communities (which are secure, spin-off Yammer networks that you can create around a project, customer or partner); user profiles; file sharing; and desktop and mobile apps.