By Tom Kendra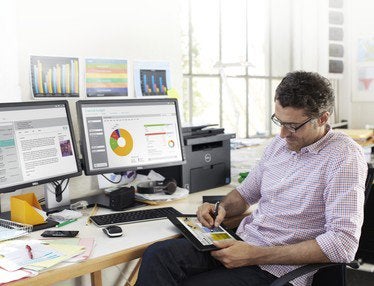 It is interesting that bring your own device (BYOD) exists because employees want to use personal smartphones, tablets and laptops for work. But an enterprise BYOD strategy really isn't about the devices at all; it's about people and productivity, data security and policy management, as well as cost and complexity. And many IT executives think BYOD is about having to support an ever-expanding list of devices… but relax, here's what BYOD is really about.
Business productivity
For most companies, the benefit of BYOD goes beyond employee satisfaction to improving current and future workflows. When employees no longer have to switch between corporate-owned and personal devices, the simplified workflows enable them to get more work done in less time. When IT administrators get out of the business of purchasing, configuring and providing support for corporate-owned devices, IT typically gains significant efficiency thanks to the relatively lower requirements of the simpler BYOD approach. And since employees are willing to keep upgrading to devices that incorporate new technologies, such as facial recognition and fingerprint sensors, organizations can explore how to further accelerate workflows (e.g. simpler authentication schemes) at far lower cost than having IT continually acquire new technology.
Data security
Data security always starts with establishing the right policies, and with BYOD, legal, compliance and HR must collaborate to define the appropriate policies. It is then IT's job to determine the technology solutions needed to enforce them. The solutions can include the corporate firewall to prevent unauthorized access of the network, secure remote access to protect the connection between mobile devices and the corporate network, encryption to protect data stored on devices and in transit and data loss protection (DLP) to prohibit the transfer of corporate data from a mobile device to a cloud app or via copy/paste.
Cost and complexity
Before making a BYOD cost/benefit analysis, recognize that not all BYOD solutions are created equal. To reduce costs, don't consider purchasing multiple point solutions. An end-to-end mobile enablement solution can accelerate time-to-value by eliminating the need for complex integration projects. They can also simplify management by eliminating the confusion of multiple interfaces. In addition, consider a BYOD strategy based on a secure workspace, which makes it easy for IT to allow authorized users through the firewall and can automatically provide the required secure remote access, encryption and DLP. A secure workspace also separates corporate data from personal data, protecting employee privacy.
Users simply download and install the secure workspace as they would any app from the app store. IT remains in complete control of the space and can wipe the corporate data if necessary, without wiping the entire phone. The secure workspace approach also makes it easy for IT to certify dozens of popular devices for use in the organization without having to provide tech support for each one.
By focusing on the right issues from the start, organizations can satisfy the desires and needs of employees, increase productivity, ensure data security, make life simpler for IT and lower costs. That's what BYOD is really about.