For Android folks, the idea of third-party keyboards is ancient news. If you're an iOS loyalist, especially one who's tired of Apple's not-so-helpful autocorrect feature, the arrival of keyboard choices in iOS 8 feels worthy of a ticker tape parade.
Released Wednesday, iOS 8 offers lots of new features without drastically changing the look and feel of the software. A great way to start exploring the features is by downloading or updating apps that utilize new functionality in iOS 8. Here are five to get you started.
SwiftKey
Well known to Android users, SwiftKey is a free iPhone/iPad app that provides a nice alternative to Apple's default keyboard, which was also updated for iOS 8. The big deal here is the ability to type words by swiping your finger across the keyboard from one character to the next without stopping. The motion connects the characters into a string that forms the word you want. For example, if you want to type the word "quit," you start by touching the "q" character, then swing over (without lifting your finger) to "u," next "i," and finally, "t." During this process, possible words that match your character selections show up just above the keyboard. It takes some getting used to, but I suspect I'm going to use SwiftKey a lot.
(I had to reboot my iPhone 5s before it recognized the SwiftKey keyboard. Also worth noting: Nuance offers an alternative called Swype for one dollar.)
Travel Guide by AFAR, OpenTable, Yahoo Weather
The iOS "Today" menu, which is accessed by swiping down on the iPhone screen, can now include Notification Center "widgets" from third-party apps. (Here again, Android users have long been familiar with widgets, but they're new to iOS.) A lot of apps already support this new feature, and it gives them another home on users' devices. I installed or updated the following three apps to test the new widget feature:
* Travel Guide by AFAR. San Francisco-based AFAR magazine has a bit more bite and insight than glossier competitors such as Travel + Leisure. Its iOS app now puts a cool widget in your Today menu that's organized with five topical tabs: Eat, Drink, Do, Shop, and Stay. Each option has a thumbnail image accompanied by business name and distance from your current location. It's a cool way to get quick recommendations.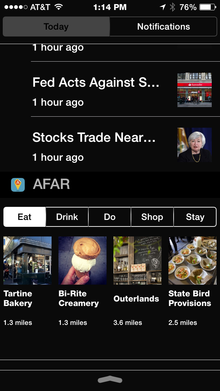 * OpenTable now displays upcoming reservations in the Today menu, which, when tapped, take you to the OpenTable app where you can quickly change or cancel a reservation or get directions to a restaurant.
* Yahoo Weather conveniently displays a thumbnail image of current weather conditions for your geographic area along with current conditions, temperature information and a quick forecast.
Messages
Apple updated its iOS apps with new features, of course. Its Messages update is particularly interesting. The revised app makes it easy to record audio messages or take photos and video, which can then be embedded in your messages. You can also share your location on a map with message recipients. When the upcoming Mac OS X Yosemite is released, you'll be able to start a message on your Mac and finish it on your iPhone or iPad, or vice versa. (Yosemite is already available as a beta download. The final version is expected on Oct. 22.)