BlackBerry has officially announced pricing and availability details for its new Passport smartphone, which was previously unveiled and detailed through a variety of blog posts on the company's Inside BlackBerry blog. (Specific pricing and availability information can be found at the end of this post.)
I was fortunate enough to spend some time with the Passport before the announcement. The device is unlike any smartphone I've seen before. It's big. It's square. It has actual buttons — a lot of them. It's kind of awkward. It's definitely not for everybody.
That's all OK; the Passport is one of the most interesting and unique devices the company has ever made.
Before getting into specifics, I want to specify that this story isn't a full-on Passport review or evaluation. As I sit on a flight from Boston to San Francisco, writing this post on my Passport, I've been using the device for less than a week, not nearly enough time to provide a complete evaluation of the hardware, software and all of the Passport's various features.
Instead, this story is meant to tell you some things (good and bad) that you didn't know about the device and to fill you in on what the Passport is and who might be its ideal user.
What You'll Love About The BlackBerry Passport
BlackBerry Passport Physical, Err, Touch…Physical/Touch Keyboard is Best of Both Worlds
The most unique thing about the BlackBerry Passport is its keyboard, which is both traditional/physical BlackBerry keypad and touch keyboard. It's composed of three sets of physical buttons and up to four additional rows of on-screen touch keys. The physical buttons themselves are touch enabled so you can use a number of gestures for navigation and faster typing. (Check out the video below to see the keyboard in action.)
When I reviewed the BlackBerry Z10 in January 2013, I fell in love with its on-screen keyboard and associated predictive text system. It was completely unique, and it worked well. However, it's still a touch keypad, which can't match a physical keypad for rapid typing, at least not the way I type. As soon as the BlackBerry Q10 was available to me, the first BlackBerry 10 device with a "real," physical keypad, I relegated the Z10 to The Land of Misfit Tech Toys (a.k.a., my dusty bottom desk drawer), where it has quietly resided ever since.
The Passport's combination of touch-enabled physical buttons and on-screen keys is refreshing in a world of cookie-cutter mobile keyboards. Most importantly, it can help you get more work done on your smartphone. The thought of typing out this post on my new iPhone 6 quite literally gives me chills. The job wasn't exactly enjoyable on the Passport, but it was better than whipping out my 15-inch laptop to write on the plane in my cramped economy seat.
The Passport keyboard has a steep learning curve. Not everyone will want to spend the time necessary to master the system. (More on that later.) But the Passport keyboard is the most innovative keypad I've ever used, and I appreciate it more as I spend additional time with it.
BlackBerry Passport Battery Life
The BlackBerry Passport packs a big honking battery. Its capacity is 3,450 mAh, to be exact, and you get about 25 hours of "mixed use," according to BlackBerry.
For context, the new iPhone 6 Plus reportedly has a 2,915 mAh battery, which gets you about 16 days of standby time, according to Apple, compared to the Passport's reported 18 days. Samsung's new Galaxy Note 4 has a 3,220 mAh battery.
I turned on my fully-charged BlackBerry Passport (on AT&T) at 8 a.m. Monday in Boston just before the plane took off. I wrote non-stop for about three hours of my six-hour flight, while listening to music. I surfed the Web a bit when I got to San Francisco, performed other random tasks and took a bunch of pictures at the Oakland A's game that night. I streamed another baseball game for a while and responded to a number of messages. I purposely didn't charge my Passport at all. It still had 38 percent battery life as I edited this post on Tuesday, nearly 29 hours later. That's impressive.
Unfortunately, the battery is fixed and can't easily be swapped out. This is disappointing; the majority of past BlackBerry phones had removable power packs, making this feature a staple of BlackBerry devices.
BlackBerry Passport Design and Build Quality
The BlackBerry Passport is a high-end device, which is evident in its design and build quality. BlackBerry's Director of Software Product Management, Michael Clewley, who gave me a breakdown of the device, says the internal steel structure of Toronto's TD Centre inspired its design; the Passport has a similar brushed stainless steel band that wraps around the entire outer edge of the phone. The band is a solid piece of steel, not a set of connected components. That lends a solid feeling to the handset.
However, it's relevant and necessary to note that I did have a hardware issue with the first Passport device I received, and it was serious enough that I had to swap it out for another device. When I first removed my review unit from its packaging and tried to put on its case, the removable panel that covers the nano-SIM and memory card slots got caught and came off halfway. It wouldn't snap back into place, so I had to force it open. When I popped the cover back in place, my Passport went into a reboot loop, and it was stuck until I removed the cover again. If I replaced the cover, the device rebooted. After some experimentation, I determined that the cover was causing the power/wake/sleep button to stick and start the reboot loop.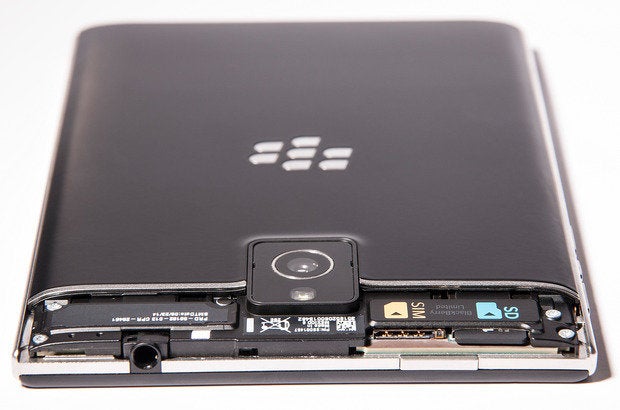 It wasn't a good start with the device, and I don't know if my trouble with the case was the cause of the problem, but I'm sure it didn't help. Either way, the Passport I'm using now feels very sturdy, and it's a great-looking smartphone, but I wouldn't be surprised if I'm not the only one who has issues with the power key.
BlackBerry Passport Speakerphone and Voice Quality
The BlackBerry Passport has a top-notch speakerphone. That's important because it's a phone, after all, and its 128 mm (L) x 90.3 mm (W) x 9.3 mm (D) size makes it awkward to hold up against your face in some cases, especially if you have tiny hands or a weirdly minute cranium.
Two separate speaker ports are built into the base of the device, which helps amplify and direct sound. I use the speakerphones on a variety of different devices regularly for interviews, and the Passport's speakerphone is one of the loudest I've used. Clewley even suggests that it could replace a Polycom or other dedicated speakerphone in some cases.
The Passport also uses a number of fancy-sounding audio technologies designed to improve and enhance call quality through the earpiece, but I haven't used the phone in that way enough to comment.
The BlackBerry Passport and BlackBerry Blend
BlackBerry Blend is a new piece of software designed to let you access a set of native BlackBerry Passport apps using your PC, Mac, iPad or Android tablet. (It doesn't work with iPhones or Android smartphones, according to BlackBerry.) Blend lets you connect your corporate Passport to non-BlackBerry devices and use them to securely access work email, contacts, calendar and various others resources via your VPN connection. No data is ever stored on Blend-connected devices, so it's not a security risk. (You cannot, however, share you BlackBerry's Internet connection using Blend.)
I haven't tried the app yet, because BlackBerry didn't make it available to me along with my evaluation device. The company did give me an in-depth demonstration. Honestly, the software interface I saw looked functional but clunky and outdated.
What BlackBerry Blend represents, though, is perhaps just as important as how well it looks and functions. The BlackBerry Passport is the first BlackBerry device in years that knows what it is and whom it's for. It isn't trying to be everything to everyone. BlackBerry is well aware that its target user also has a Mac and/or a PC, and probably an iPad or Android tablet. Blend aims to improve the interaction with all of your different devices and platforms.
Clewley says Blend is also IT-friendly, because it can lower total cost of ownership per user and address BYOD concerns. Companies that issue corporate Passports can train users on Blend so they never have to connect personal devices to corporate networks, and IT only has to issue one Passport for secure access on a variety of different devices.
The BlackBerry Passport has a clear identity, an apparent purpose, and it is a tangible sign of renewed focus at BlackBerry.
There's a lot to appreciate about the BlackBerry Passport…but it does have some downsides.
What You Might Not Love (Maybe Even Hate) About The BlackBerry Passport
That Unique, But Challenging, BlackBerry Passport Keyboard
As much as I like the Passport keyboard, it will almost certainly be a bit much for some people. As previously stated, there's a significant learning curve. Some of the integrated touch features and gestures work better than others. It takes time to learn them — and in some cases, learn to avoid them.
I suspect more than a few people who at one point loved their old BlackBerry's keyboard will find the Passport's combination of touch and physical keys overwhelming. You need to take the time to not only learn and understand how it works, but also practice a bit to master the features, or you won't appreciate its unique functionality. If you're the kind of person who likes to read user guides and know how to use all of a device's features, the Passport could be a good fit. If you want an interface that immediately makes sense, that doesn't require time and a bit of effort to learn, the Passport probably isn't right for you.
BlackBerry Passport Is Big and Bulky
Like the BlackBerry Passport's keyboard, the device's size and shape take some getting used to. You can call it a large phone – or even a "phablet," though BlackBerry says it's still a phone – but the thing is big and square. Thanks to the physical keypad and the square display — in contrast to the long, thin screens found on most phones and tablets today — the form factor can be challenging, even a turnoff.
The Passport is almost exactly the same size as an actual traveler's passport, but thicker. It's big – but compared to the unwieldy iPhone 6 Plus, it's not too big, at least not for me.
I'm having more trouble getting used to how it fits in my hands. I say hands, plural, because this isn't a device you'll want to use with one hand. It's very awkward typing with one thumb while holding the Passport with the rest of your hand, so much so that it's almost impossible and definitely not economical.
I have large hands, and I'm still trying to find the ideal way to hold the Passport comfortably when typing. The long, short physical keyboard is at the base of the device when it's held upright. You have to slide the bottom of your hand off of it to get a good typing position, which isn't ideal. When you do, the device feels top heavy and unbalanced.
I appreciate the size of the Passport's display, which lets you see more of a Web page and utilize more screen real estate when working on presentations or documents. It can be awkward, though, especially when typing out long messages — or writing stories like the one you're reading.
BlackBerry Passport Buggy Software Mars Experience
My biggest complaint about the BlackBerry Passport: The overall software experience is buggy and seemingly unfinished. (My device runs BlackBerry OS 10.3.0.675.) Apps crash somewhat frequently, and many are momentarily unresponsive when I return to them from other apps. I have occasional problems switching camera modes. The BlackBerry Browser hangs and crashes when I try to adjust certain settings. These are just a few examples.
The level of "bugginess" in the software is surprising. It brings back memories of past BlackBerry device launches plagued with software issues. In this day and age, I frankly expect more.
The Passport is the first BlackBerry device that comes preloaded with the Amazon App Store for Android. There's still an official BlackBerry app store called BlackBerry World, which is for native BlackBerry apps developed in the past and for corporate apps. The Amazon App Store, with more than 200,000 Android apps, is for consumer apps. I think. I'm still not sure. It's confusing — and the two store experiences feel different.
The Passport runs Android apps. All of the apps in the Amazon store are supposed to work on the Passport — but some don't, or at least don't work well. For example, I had to reboot my Passport a number of times to get Amazon's own Kindle, Instant Video and Music apps to work. You often have to zoom in or resize apps to make them look right on the Passport, too, since they were designed for different displays.
The Amazon App Store gives BlackBerry users access to more apps, but the overall app experience is disjointed and poor compared to other leading mobile platforms.
BlackBerry Passport Is One More Device To Add To Your Collection
BlackBerry was clear during my Passport demonstration that the device is meant for a very specific type of user: Someone who likely already carries two (or more) phones, a tablet (or two), a PC, a wearable and maybe even a few more devices, and who prioritizes productivity over anything else. That's the word that came up more than any other during my meeting with BlackBerry: Productivity.
The Passport is a business device, and it excels in many related areas. But it also falls short in some of the others, which means you'll probably need another phone if you want the best possible overall smartphone experience.
There's something to be said about carrying two smartphones — in fact, I said it in a post I wrote a couple of years ago. However, if you're a one-phone person, as some of the most productive businesspeople are, the Passport may not be a good fit. Simply put, the overall experience doesn't match other high-end devices on different platforms. If I had to pick a single phone to use for both work and play, it wouldn't be the Passport.
Things to Love (And Hate) About the BlackBerry Passport: Conclusion
I like the BlackBerry Passport. I like it a lot. It's not a device I'll stop using after I'm done reviewing it. (The Land of Misfit Tech Toys is packed with devices I haven't touched since I finished evaluating them.)
The keyboard is great, if a bit oversized and unwieldy. Battery life is spectacular. It's built well, and its large display helps make me more productive on my mobile device. If you're a smartphone "power user" who values the ability to work on your handset over play, you'll find a friend in the Passport.
However, the software experience is lacking, largely due to general bugginess. The keyboard takes a while to get used to, and some of the keyboard-based gestures don't work as well as they could. The device is big, and it could definitely be too big for certain people. If you only want to carry one device, you could do better overall than the Passport.
That said, BlackBerry deserves some credit for creating a smartphone that's truly innovative, truly unique, and just different. The smartphone world is boring these days, at least from a hardware perspective. Major manufacturers blatantly copy each other. It's refreshing to see a new product such as the BlackBerry Passport.
The unlocked BlackBerry Passport (32GB) is available now for $599 in the United States via ShopBlackBerry.com. BlackBerry expects its wireless carrier partners to sell a subsidized version of the device some time this year for around $250 on contract.
AS