Facebook knows that many of its users are concerned with how their content is shared and has taken steps to simplify the process by which users can manage and control who they're sharing with.
Earlier this month, Facebook released a new privacy checkup tool that popped up when users visited the site.
If you're not automatically alerted to the new feature next time you log in to Facebook, the privacy checkup tool you can access under the privacy icon (it looks like a lock) in the upper right hand corner.
Under privacy shortcuts, you should see "privacy checkup" next to a cartoonish dinosaur staring at a laptop computer. After you click on the funny blue dinosaur guy, you'll see him standing at the control of three levers.
[Related: Most CEOs Still Don't Get Social Media]
These are the three ways Facebook allows you to control what you share and with whom you share it.
Your Posts
This setting, the most important of all to many users, allows you to identify who will see your posts. The same drop-down box appears along the bottom right when you update your status, but you're selection here will be remembered for all future posts until you direct Facebook to do otherwise.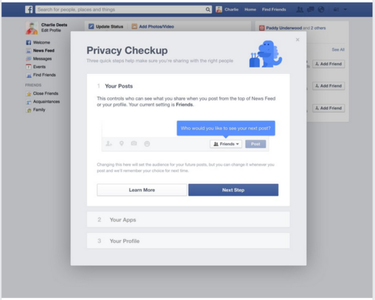 After clicking on the lock icon, you can choose to share you posts with the public (anyone on or off Facebook), friends, family, "only me" or a custom list of specific individuals. Be careful with your selection because all future posts will follow this guideline until you direct Facebook to do otherwise.
Your Apps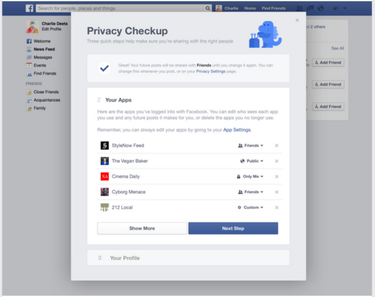 This section displays all of the apps that you've logged into with Facebook. Yo can edit who sees each app they use and any future posts those apps make on your behalf. Users can also delete any apps they no longer use.
To change your app settings click on the lock icon next to the app you'd like to change and select public, friends, family, only me or custom. You can also delete the app from your Facebook profile and permissions by clicking the X along the right-hand side.
[Related: Learn the Science of When to Post on Facebook and Twitter]
Once you've deleted an app, Facebook will ask if you'd also like to remove any posts associated with that app. You can select this option by clicking on "remove associated posts" and then delete posts.
Your Profile
Finally, the last step in Facebook's privacy checkup tool enables you to review the information on your profile and define who will be able to see that information.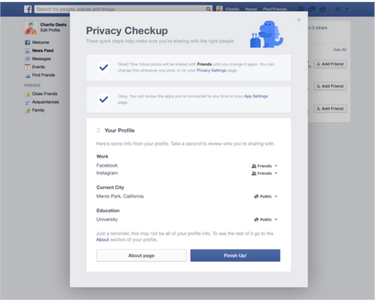 Privacy Settings and Tools
Now that you've completed the three steps in Facebook's privacy checkup tool, you can take things even further by editing additional options in your privacy settings.
You can access this page by clicking the lock icon for privacy shortcuts and selecting "see more settings." From there you can provide even more specific direction to questions like "who can see my stuff?", "who can contact me?" and "who can look me up?"
[Related: Facebook Vows to Destroy Click Bait and the Results Could Be Shocking]
This section allows you to review all the posts you're tagged in, determine who can see your friend requests and who can look you up by using your email address or phone number. You can also decide whether you want to allow other search engines to link to your timeline.
The hyperactive trend to share everything with everyone over the past few years has shifted as more individuals take stock of what they share on social media and with whom.
Remember, when in doubt it's always best to err on the side of caution by limiting the amount of information you share with others. Facebook's privacy checkup tool should at least help you take some steps in that direction.